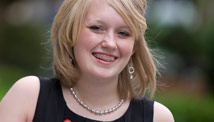 STORY HIGHLIGHTS
Local programs teach teens about the risks of smoking and chewing tobacco
Emily Kile says her state of Indiana has brought down the rate of smoking by high school students
Anti-smoking efforts have been cut by states caught in fiscal squeeze
Kile says Congress should provide funds to keep programs going
Editor's note: Emily Kile is a senior at Greenfield High School in Indiana and National Youth Advocate of the Year for the Campaign for Tobacco-Free Kids, a nonprofit organization that seeks to reduce tobacco use.
Greenfield, Indiana (CNN) -- I'm proud to say I live in a state that has taken tobacco control seriously, and gotten some serious results. Through hard work and constant effort, Indiana has cut our high school student smoking rates dramatically. Unfortunately, we still have the second-highest rate of adult smoking in the country.
Big Tobacco never takes a break, so neither should we.
I work in VOICE, Indiana's youth-led movement to curb smoking by teenagers and combat the tobacco industry's marketing messages that bombard us every day. I joined after I watched the city council in my hometown of Greenfield vote to require smoke-free workplaces. That really opened my eyes about tobacco.
Most people who start smoking do so while in middle or high school. The tobacco industry knows this and exploits us. So our work reaches young people and gives them the tools to resist. We teach a program called "Tar Wars'' to fourth and fifth graders, visiting every classroom in the school district. We tell them, for example, that for what they spend on cigarettes in a year, they could take a trip to Disney World.
In Hancock County, we brought a guest speaker to our high schools to discuss the dangers of chewing tobacco. Smokeless products like snuff cause cancers and other mouth diseases, including leukoplakia, which appears as white patches and lesions on a user's cheeks, gums and tongue.
After the presenter finished, I saw several of my classmates and peers throw their chewing tobacco in the trash. We've also worked to combat the marketing of dissolvable smokeless tobacco. A government-sponsored survey released this week shows that use of smokeless tobacco among some high school students is creeping upward. This is a dangerous development.
In Indiana, our youth smoking rates have dropped dramatically since the state started vigorously funding prevention. In 2000, almost a third of high school students smoked, but that's dropped to about 18 percent.
Calls to Indiana's quit line have gone up by 600 percent over the past two years. More cities and counties are passing smoke-free workplace laws. Still, the tobacco industry spends $1 million every day in Indiana to market its products -- and $12.8 billion annually on marketing nationwide.
As Congress debates health care reform, it's easy to lose sight of what we agree on -- and what we know works to prevent disease and lower costs. Helping people quit smoking and keeping young people from starting are proven ways to reduce the awful toll of cancer, heart attacks and other serious illnesses caused by tobacco, which remains the nation's leading cause of preventable death and adds $96 billion to our health care costs every year.
Yet the Indiana Tobacco Prevention and Cessation budget was cut by 28 percent this year by the state Legislature. The less money we have, the fewer youth we reach.
After years of dramatic declines in smoking, the nation's progress has slowed greatly. According to the latest government data, there's been no reduction in the rate of adult smoking since 2004. To keep from falling backward, Congress must make prevention programs a priority in health care reform.
The Senate in particular must protect these funds as it makes some tough decisions on health legislation in the next few days. You cannot talk about really reforming health care without addressing these avoidable deaths and staggering, unnecessary expenses.
Across the nation, community-based prevention programs like ours are working hard to educate young people about the dangers of tobacco use and to help current smokers quit. These programs save lives and reduce disease. They deserve help from Congress. The health reform measure includes a trust for community prevention programs that already have been shown to work. It is a tiny fraction of the total cost of the legislation, yet it would pay huge future dividends by preventing the diseases that are most costly to treat.
No matter what final direction Congress takes on health care reform, the worst outcome would be to refuse to do what we know works.
The opinions expressed in this commentary are solely those of Emily Kile.