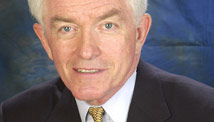 STORY HIGHLIGHTS
Thomas Donohue: Climate policies must improve environment but preserve jobs
He says developing and developed nations must share responsibility for global solutions
Technology should boost coal, nuclear, renewable energy performance
Donohue: Business must have seat at climate policy table
Editor's note: Thomas J. Donohue is president and CEO of the U.S. Chamber of Commerce, a business federation and powerful lobbying organization representing 3 million U.S. businesses.
Washington (CNN) -- There's been a lot of gloom surrounding the climate talks in Copenhagen, Denmark, and let's face it, some of it is well-founded. Trying to get 192 countries to agree on a new treaty would be tough even in the best of economic times, and these aren't the best of economic times.
Nevertheless, I remain optimistic that a workable climate change agreement is possible over time if the governments and business communities agree on some fundamental principles. Let me suggest what some of those principles should be.
First, whatever we do should not harm our economies or destroy jobs. Our policies must embrace the aspirations of people everywhere for a better life. We should never stand in the way of progress that reduces poverty, measurably improves health and living conditions, and restores human dignity. The fact is, we can't have healthy environments without first having healthy economies.
Today China, India, Brazil and other large developing countries are rapidly industrializing and becoming major players in the world's economy and energy markets. But with billions of people worldwide still lacking electricity, providing modern and affordable energy services to lift their people out of poverty remains a priority for many countries. A climate agreement that ignores the desire for economic growth and energy security will not be viable in the long run.
Second, climate change is a global problem that requires a global solution, so we need to ensure participation from all nations. But finding consensus among developed and developing nations has proven elusive in the international negotiations. We need a new approach that can bridge differences between developed and developing countries.
Though it has its admirers, I would argue that the "top-down" approach taken in the Kyoto Protocol hasn't worked. We need a new approach that's flexible and recognizes that countries are vastly different. Each nation must decide for itself the right mix of tools and technologies to achieve results that are realistically ambitious and measurable, and offer those as part of a binding commitment. While our strategies may be different, we share a common responsibility to reduce greenhouse gas emissions while keeping our economies competitive and growing.
Third, we have to recognize the fundamental role that technology must play in any solution. It's the key to tackling the challenges of climate change and ensuring affordable and reliable energy. The pace at which we're able to develop and adopt advanced technologies will be the single most important factor that determines how quickly and at what cost greenhouse gas emissions can be reduced.
Existing technologies can make a start in reducing emissions, but they aren't enough. New and in some cases revolutionary energy technologies, many still years if not decades over the horizon, will have to be developed and adopted commercially. We need an accelerated program to improve the performance and lower the costs of advanced energy technologies of all kinds -- in clean coal, nuclear, and renewable energy and energy efficiency.
Business thrives on innovation. Let's make sure a new international agreement creates the proper conditions for industry to create the technologies that one day will transform the way we produce and use energy.
Fifth, when all is said and done, it will be up to the business community to implement whatever emerges from the negotiations, so it only seems right that business has a seat at the table. We've been leading an effort with other business groups, representing over 25 million member businesses from six continents, on solutions that protect our environments and our economies.
And finally, there are certain things we must agree not to do.
We must fight any attempt to weaken intellectual property protections for clean energy technologies. Such protections are crucial because there is little incentive for companies to invest in advanced technologies that could be expropriated outright by companies in developing countries. The result would be that new technologies would be slower in coming just when we need them most.
In addition, we must resist the urge to use protectionist trade policies to gain domestic advantages in the name of the environment. Slapping carbon tariffs on the products of countries we don't think are doing enough to reduce greenhouse gas emissions is a failed and dangerous approach. Such policies invite a green trade war when the global economy is already on the ropes.
Instead, our governments should be working within the World Trade Organization to remove trade barriers to environmental goods and services in a non-discriminatory manner, so all nations can access the right technology to improve their environment more affordably. That would create jobs here and around the world and improve the environment. This is the type of win-win approach negotiators should be embracing.
Our energy sector also suffers from a lengthy and unpredictable regulatory maze that delays or halts entirely new energy projects, even renewable projects. It has become too easy for energy projects to get wrapped up in green tape. One of the most effective things government can do to promote green jobs is to provide a predictable regulation so that project developers can move ahead with confidence.
This is the message that the business community will be bringing to Copenhagen.
The opinions expressed in this commentary are solely those of Thomas J. Donohue