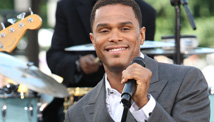 STORY HIGHLIGHTS
In many countries in Africa, AIDS is the leading cause of death
Maxwell says AIDS need not be a death sentence
He says 40-cents worth of pills a day can save a life
Maxwell says campaigns such as (RED) can pay for life-saving medication
Editor's note: On his current tour, R&B singer Maxwell is highlighting the impact of antiretroviral medication in fighting HIV-AIDS.
(CNN) -- Among the many blessings I've encountered in several years in the music business is the ability to use my voice to raise awareness for issues and to help others.
My greatest joy is in expressing compassion for others. It's so important to take time away from your own circumstances and try to walk in someone else's shoes or see the world through someone else's eyes.
As part of CNN's Heroes event last week, I got to see some of the most supreme examples of this from around the world. Tuesday is World AIDS Day, and I encourage all of us to put ourselves in the shoes of those battling this disease and especially consider some of the parts of our global community that are hardest hit.
Consider this: in many countries in Africa, AIDS is the leading cause of death. This is a preventable, treatable disease, but still of the 33 million people living with this disease globally, 22 million are in Africa, and it continues to kill 3,800 people a day on that continent. But the more important thing we should consider is that this is not hopeless. There is something that can be done, and there is a way to do it.
With two pills a day that cost as little as 40 cents, a person dying in Africa from complications from AIDS can be raised from near death and given a renewed chance at life. This transformation is called the Lazarus Effect.
These two antiretroviral (ARV) pills a day are more than just medicine. They are a person's chance to get up on their feet, go to school or go to work and contribute to their communities. This treatment helps people reach their full potential and allows communities and countries to create a future.
The issue now is how do we get this medicine to all who need it. When most of the people in these locations make less than a dollar a day, 40 cents is not easy to come by. And the trained medical staff and facilities are not abundant.
This is where (RED) and the Global Fund come in and why I tip my hat to U2's lead singer, Bono, and others like him who look outside themselves to see where there are problems in the world and how they can make a difference.
(RED) works with the hottest brands, such as Armani, Gap, Apple and Converse, to make unusual (PRODUCT) RED-branded products and direct up to 50 percent of their gross profits to the Global Fund to invest in African AIDS programs, with a focus on the health of women and children.
Since (PRODUCT) RED launched in 2006, it has generated about $140 million for the Global Fund. This money has been generated simply by giving shoppers a choice and asking them to choose (RED), at no cost to them. It's millions of small choices around the world adding up to big change.
This $140 million flows directly to AIDS programs in Rwanda, Ghana, Lesotho and Swaziland, the country with the world's highest HIV infection rate. It supports programs that not only provide ARV treatment free of charge, but creates access to testing and counseling and provides treatment to HIV-positive pregnant women to help ensure their babies are born healthy. These programs give people a chance for productive lives and children a chance to start life on the right foot.
This one small thing reverberates a cause with effects greater than humanly imaginable -- you should choose (RED), but there are so many other ways to give as well: educating ourselves about the issue, spreading the word or getting involved in whatever seems most personal to each of us. But what is most important is keeping in mind that there are worlds out there beyond our own and there is so much that can be done if we take a moment to walk in someone else's shoes.
The opinions expressed in this commentary are solely those of Maxwell.