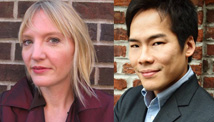 STORY HIGHLIGHTS
Kim and Reed: Sarah Palin pretends she's "rogue" but political insiders made her career
Palin insults McCain camp; aide calls book "fiction;" writers call it GOP "Thunderdome"
They say outsiders don't get $27 million for their town, run No. 1 state for pork spending
Bush last GOP politician to claim "outsider" status, they say Palin's claim almost as absurd
Editor's note: Richard Kim and Betsy Reed of The Nation are co-editors of "Going Rouge: An American Nightmare," available from ORbooks.com.
New York (CNN) -- Sarah Palin begins her manipulation of the readers of her book "Going Rogue" in the title, embracing as a badge of honor the accusation leveled at her by McCain campaign staffers during the last bitter days of election 2008 -- even though she's exemplified the political insider throughout her career.
In "Going Rogue," she describes the campaign as disorganized and defeatist and writes that Republican presidential candidate Sen. John McCain's aides had a "jaded aura" about them.
She's a "diva" who is "playing for her own future and sees herself as the next leader of the party," one anonymous McCain staffer alleged at the time. Now, Palin wants payback.
It's not yet clear who will emerge the victor in this Republican Party version of "Thunderdome." But it's telling that Palin intends to twist the meaning of "rogue" -- an untrustworthy and unprincipled person -- into its very opposite.
She writes that when the McCain team decided to pull out of Michigan, she disagreed and broke ranks by telling reporters about their difference of opinion.
There's no other "average hockey mom" in the world who gets this kind of press.
--Betsy Reed and Richard Kim, co-editors of "Going Rouge: An American Nightmare"
Palin wanted to make an issue of Barack Obama's link to the Rev. Jeremiah Wright, while McCain wanted to give the reverend a rest. Again, she went to the media, this time the ever-adoring William Kristol, then a columnist for The New York Times, with her tale of woe.
In particular, she takes shots at "grim-faced" and "rotund" campaign strategist Steve Schmidt for swearing in front of her daughter, belittling her, criticizing her for being on the Atkins diet and setting her up for a disastrous tête-à-tête with Katie Couric, while unfairly lambasting her for succumbing to a Canadian prankster posing as French President Nicolas Sarkozy.
She's still miffed about election night, when she wanted to give a concession speech, an unprecedented soapbox for a losing vice presidential candidate, and the McCain team kept her off the podium.
Schmidt calls the book a "total fiction" and has said that if the GOP nominated Palin for president in 2012, the result would be "catastrophic."
Beyond the intra-party knife-fight, "Going Rogue" has two purposes: to burnish Palin's credentials as a Washington outsider and refugee from the old boys' club and to cement her image as a victim of the mainstream media elite, who, according to Palin, have never given her a fair shake -- hence her strategy of taking her message directly to the people, instead of speaking through the "media filter."
There might indeed be something charmingly roguish about this maneuver, if it weren't so disingenuous.
As Jane Mayer wrote in her eye-opening New Yorker magazine piece, before McCain picked her from seeming obscurity, Palin was championed by a coterie of establishment conservatives, including Kristol; Michael Gerson, a former Bush speech writer and columnist at The Washington Post; and Fred Barnes, an editor at the neocon bible, the Weekly Standard. These are card-carrying members of the elite media boys' club if there ever was one.
Just recently, she signed onto an open letter organized by neocon usual suspects Kristol and Robert Kagan urging President Obama to ratchet up the war in Afghanistan.
Her book is being published by HarperCollins, a division of Rupert Murdoch's News Corp., the second largest media company in the world.
Palin reportedly received as much as $7 million for the book, which topped the Amazon.com bestseller lists for weeks, and has been interviewed by Oprah Winfrey and Barbara Walters to promote it.
There's no other "average hockey mom" in the world who gets this kind of press.
But it's not just recently that Palin has demonstrated an eagerness to exploit connections in the political and media elite.
While she was mayor of Wasilla, The Washington Post reported, she hired a Washington-based lobbyist, Steven Silver, to secure $27 million in federal earmarks for a town of just 6,700 residents.
As governor, she presided over a state that ranked No. 1 in pork barrel spending in 2008, according to Taxpayers for Common Sense, and hired an East Coast PR company to promote a gas pipeline in Alaska.
Whatever her limitations with the English language, "rogue" is one word Sarah Palin knows well. She's used it to tar her opponents in the Troopergate scandal, and angry campaign colleagues have employed it against her.
Now she wants it as an honorific. Perhaps that gesture is a bit roguish, in a way, but the reality is that her carefully crafted image is entirely conventional.
Recall the last GOP leading light to claim "Washington outsider" status: George W. Bush. Given that Bush was the son of a former president, Palin's claim to that title is slightly less preposterous -- but only slightly.
The opinions expressed in this commentary are solely those of Betsy Reed and Richard Kim.