5 good winter jobs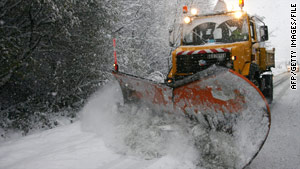 This year's snowy winter is keeping snowplow operators busy.
STORY HIGHLIGHTS
Certain workers are more in demand different parts of the year
Wintertime means greater need for snowplow drivers, tow-truck drivers
Accountants get busy with W-2s in January leading up to April taxes
And January has lots of people seeking help from personal trainers
(CareerBuilder.com) -- What winter means to you probably depends on where you live. You know the postcard scenes of families enjoying a warm fireplace as pure snow falls outside the window? That might be accurate in some towns, but in many Southern locales, that's about as realistic as "Jurassic Park."
In some of the Midwestern and Northern regions where snow does blanket the ground, it's not quite as pretty as you'd think. The ivory snow looks more like mushy charcoal after enough cars drive over it.
Some people love wearing shorts in January. Others can't imagine walking to the mailbox in fewer than seven layers of clothing. Different wintry strokes for different bundled-up folks.
Whether you want to be waist-deep in the embrace of Jack Frost or you want to be baking under the sun, you can find work when the vernal equinox rolls around.
Here are five jobs that are popular during winter:
1. Accountants
What they do: Accountants are knowledgeable on various financial fronts, including tax issues.
Why they're popular in winter: Although many people begrudgingly file their taxes as close to April 15 as possible, many do it as soon as they get all the necessary documents. Beginning in January, when W-2 forms are sent to employees, accountants are busy helping their clients navigate all the messy forms and confusing jargon.
Salary: $54,440
2. Cruise line passenger attendants
What they do: On cruise ships, attendants see that passengers have everything they need to enjoy their voyage. They might help guests with accommodations or assist with group activities.
Why they're popular in winter: Ask anyone who lives in a painfully cold climate where the winters stretch on for an eternity, and he'll tell you that by February, you need to see some sunlight. That's why so many people book cruises in the midst of winter. They get out of their gloomy city and onto a bright, sunny boat deck.
Salary: $23,211
3. Personal trainers
What they do: Work with clients to set fitness goals and help them achieve those goals through exercise at fitness centers or private gyms.
Why they're popular in winter: People worry about their weight during all four seasons, but on January 1, many people vow to get better about eating right and exercising. Of course most people don't stick to these promises, but for the first few months of the year, the gyms are packed with clients eager to begin anew.
Salary: $46,049
4. Snowplow operators
What they do: Snowplow operators clear streets, highways and paths so that snow doesn't prevent drivers and pedestrians from getting around.
Why they're popular in winter: Well, it's hard to use a snowplow in any season other than winter.
Salary: $33,799
5. Tow-truck drivers
What they do: Tow-truck drivers haul vehicles that have broken down or been wrecked.
Why they're popular in winter: Snow and ice wreak havoc on cars, and even the best drivers can end up with a sputtering engine on the side of the road. That's where tow-truck drivers come to the rescue.
Salary: $39,373