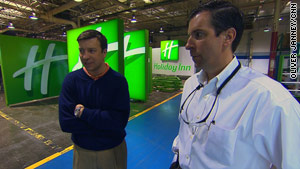 Peter and Marty Brown say the recession forced them to create a smarter and more nimble company.
STORY HIGHLIGHTS
Two brothers built sign-making business up to $30 million a year business
Slammed by recession, committee reviewed company from top to bottom
They invested in new technology and workers learned new skills
Company expects to make "real growth" in 2010
Columbia, South Carolina (CNN) -- Brothers Peter and Marty Brown scraped together $4000 in 1992 to follow in their father's footsteps and launch their own commercial sign-making business called Colite, International LTD.
After a tough first six months, the duo had to cut their salaries to zero and pump personal funds into the company.
But over 16 years, the Columbia, South Carolina-based company became a $30 million a year, worldwide business employing more than 130 people.
Colite manufactures and sells custom large-scale signs -- the type that adorn shopping center storefronts, or appear on the inside of banks -- to national and international companies like Target, Thomson Reuters, IBM and HSBC. Big retailers like Dior, Zales, Kroger and Whole Foods were, in recent years, among their top clients.
Then the recession hit in late 2008. Or, in the half-joking words of Peter Brown, "the whole world ended."
"The retail world was all but gone," he said, marveling at how his primary client base, almost overnight, stopped calling. "People don't open stores any more. Clients that were ordering a hundred signs a year were ordering one sign. Maybe two, maybe five."
The economic downturn's crippling impact on lending, consumer spending and balance sheets meant that for thousands of small and mid-size businesses around the country, the prospect of going under became a grim reality.

Video: Finding ways to adapt
But for Colite, a relatively healthy company which had pumped more than $2 million into technological improvements and moved their headquarters to a shiny new $6 million facility just months before the financial crisis hit, the mission was different. They had to find a better way of doing business. They had to stay competitive.
"Not everybody is to the point where they're going out of business," Peter Brown said. "You just got to get used to doing things differently than you're used to doing."
When 2009 began, Colite's losses were startling. Their revenues were sliced in half. A top competitor and one of the largest sign makers in the industry -- Tennessee-based ImagePoint, Inc. -- filed for bankruptcy.
With retailers effectively out of the game, the Browns' first goal was to pursue new clients. Along with their project managers, they began to aggressively bid on upcoming projects in other areas, specifically targeting the financial and hospitality industries.
While domestic sign orders were dropping off, the Browns said their worldwide clients remained active. Recent orders have come in from Oman, China and Canada. The company maintains three offices in Central and South America, where signs and billboards are a vital component of the advertising industry.
Holiday Inn Express, which is in the midst of its own branding overhaul, is now a top client. During a recent visit to Colite headquarters outside Columbia, the manufacturing floor was overrun by bright green Holiday Inn Express signage in various stages of assembly.
Automated machines crafted green-painted steel into three-dimensional letters that will later become hotel marquees in Ohio and Pennsylvania. Workers assembled enormous Holiday Inn Express signs wired for lighting -- the kind meant to be seen from a distance by weary highway drivers -- that can cost clients as much as $30,000. There is little margin for error or redesign when every dollar is precious.
Without these well-timed technological improvements installed before the recession hit, the Browns believe labor and manufacturing costs would have been even higher, perhaps making their product prohibitively expensive for potential buyers. More new equipment will be put in place next year, they said, to replace some of the clunkier machines they have used for more than a decade.
"We made a big investment in equipment this year and also bringing up our production capacity," Marty Brown said. "You got to invest in this kind of stuff even though you say, 'Well, financing is tight or the economy is tight.' You have to decide what areas do you have to spend money on to be competitive."
Those decisions also had a serious impact on the size of the company's staff, which currently numbers 134 after dipping down to 100 in the middle of the year.
The Browns created an executive committee to conduct a top-to-bottom review of company workflow in an effort to streamline productivity. Front office employees were asked to take on more responsibilities and to constantly pitch new ideas. Workers on the floor rotated into new roles as technology upgrades and new machinery boosted efficiency. New employees with fresher skills were hired this year.
Peter Brown said some workers had a difficult time adjusting to the new demands. Several employees were fired. Others simply quit. Brown makes no apologies.
"There is a tremendous mental aspect to changing everything you do every day, and some people can't handle it," he said.
The brothers predict that their company will end the year with earnings of about $20 million -- roughly 20 percent less than their target, but a much better scenario than the 50 percent dip they suffered in January. "Real growth" is predicted for 2010.
Money aside, the brothers insist that the economic storm and their wild year at Colite will, in the end, make them a smarter and more nimble company.
"I think at the end of the day you'll find out that most companies will come out of this a better company than they were when they got into it," Peter Brown said. "They had to."