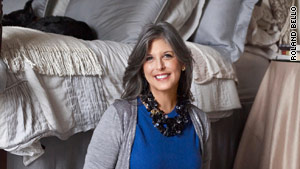 Joan Hornig says she's been enriched by donating $750,000 to hospitals, dance companies, schools, and other causes.
STORY HIGHLIGHTS
Joan Hornig made a fortune in business and focuses on jewelry to fund charities
Profits from her necklaces, bracelets, earrings go to charity of buyer's choice
Lovetta Conto escaped Liberia's civil war to grow up in a refugee camp
Half of her jewelry profits go to shelters for displaced children
(OPRAH.com) -- Joan Hornig's jewelry comes from the heart. And 100 percent of the profits go to a charity of your choice.
When she was in college, Joan Hornig set a big goal: to earn enough money by age 50 to allow her to give back to the world. In 2003 she met that goal, two years ahead of schedule.
Because Hornig, 54, came from a modest background, she learned to design her own jewelry, modeling her pieces after the bold, fanciful antiques she admired in luxury boutiques and museums.
Six years ago, when a friend casually said, "I love your necklace," Hornig replied, "Thanks, I made it." That prompted the friend to call another friend -- who just happened to be a merchandise manager at Bergdorf Goodman -- and say: "I'm looking at something that should be in your store."
Hornig went back to her New York City apartment, gathered up all the necklaces, bracelets, and earrings she'd made (stored in Tupperware containers in her china cabinet -- "I didn't even know there was such a thing as a jewelry roll"), and took them into the Fifth Avenue store.
"The Bergdorf people said, 'We like these things, but are you a business?' I said, 'I believe I can be a business.'" They offered her a trial run, and her first "collection" sold out in five days. The secret to her success? "I think jewelry should do for women what a beauty parlor does," Hornig says. "Enhance them."
Oprah.com: How to get gorgeous this season
But Hornig, who worked in the lucrative field of private equity investing, didn't start designing jewelry to make a profit, so she devised a novel business model: Each piece she sells comes with a card explaining that she will give 100 percent of her profits to the charity of the buyer's choice.
"To my children, Paul Newman wasn't an actor -- he was a philanthropist who made salad dressing," she says. "But he chose the charities that would profit from Newman's Own. I wanted to go one step further and let people choose their own cause."
Through sales of her jewelry, the Joan B. Hornig Foundation has donated close to $750,000 to more than 600 causes, including hospitals, dance companies, schools, and the environment.
"People ask, 'Why wouldn't you want to keep the money?'" she says. "They think success is measured by what you put in your pocket. I get to create beautiful things that make a difference for people. There isn't anyone who's been made richer by this experience than me."
Oprah.com: Where to shop for a change
The silver bullet
Liberian refugee Lovetta Conto transforms used munitions into objects of beauty.
Even as a small child, Lovetta Conto knew she wanted to be a fashion designer. But when she told people, they'd laugh.
"They said, 'You live in a refugee camp, and you think that's going to happen?'" she says. "But I always pictured myself in a higher place, growing up like a beautiful flower out of a mud pit."
Lovetta, now 17, spent a decade in the Buduburam refugee camp in Ghana, home to 47,000 people, mostly Liberians fleeing their country's civil war and its aftermath.
"I often went hungry, and there was no clean drinking water," she says. "Girls were selling themselves to survive, and there was a lot of rape."
But three years ago, Lovetta's talents had a chance to bloom: She was granted a Strongheart Fellowship, under a Liberian program designed to help gifted young people who have been orphaned or uprooted by war create businesses to benefit their communities.
Today she designs Akawelle (the name is a combination of aka, for "also known as," and wel'le, the word for "love" in Kpelle, Lovetta's tribal language), a line of delicate jewelry made from the spent bullets of her country's war. Half of all profits from the sale of the jewelry goes to the Strongheart House, a home in Robertsport, Liberia, for displaced children and other Strongheart fellows.
Lovetta herself was displaced when she was only 8 months old: After rebels attacked, she and her father, Larry, fled their town in central Liberia (her mother was out at the time, and Larry assumed she had been killed). "We walked for one week," he says. "We crossed rebel territory, slept in the bush. If I saw a breastfeeding mother, I would appeal to her to please give Lovetta milk."
After years of moving to escape the fighting, they settled at Buduburam. Lovetta lived with other families while her father looked for work. Cori Stern, founder of the Strongheart Fellowship, met Lovetta when she was just 12 and remembers how self-assured she was, even then.
When officials said there was no need to build a school for disabled students because there were none in the camp, "Lovetta said, 'No -- my best friend is blind, and they won't let him go to school because he can't see,'" Stern recalls. "The men did not like having a little girl go against what they were saying."
Stern brought Lovetta to the United States in 2006 to attend school. In Buduburam, Lovetta's schooling had been sporadic, and she did not learn to read until 2007 (despite the late start, she finished the entire "Twilight" series in six weeks).
Still, the visit to the United States was bittersweet. Lovetta was shocked to see homeless people in a country of such abundance and thought it unfair that some should have so much while others had so little. She also couldn't understand why Americans did not do more to help her country's refugees: "It made me angry that this whole world was here when I was in my darkest moment, and no one came to help."
Oprah.com: Meet the one-man international aid organization
By turning bullets into things of beauty, Lovetta is doing her part to help. Since 2007 Akawelle has sold more than 400 necklaces and raised almost $20,000. Lovetta has also spoken at schools across the United States, and her necklaces have attracted fans like Halle Berry and Angelina Jolie.
"I wear one, and my kids have her necklaces, too," says Jolie. "It was an opportunity to teach them about remarkable people like Lovetta, and pass on her message of love and tolerance."
Lovetta also wants her message to be one of hope: "I believe that whatever you go through, there is always new life, a new beginning. So even a bullet that has killed someone can be the same one to help a new generation."
Oprah.com: One man's record-breaking blood donations
By Aimee Lee Ball from O, The Oprah Magazine, December 2009
Subscribe to O, The Oprah Magazine for up to 75% off the newsstand price. That's like getting 18 issues FREE. Subscribe now!
TM & © 2011 Harpo Productions, Inc. All Rights Reserved.