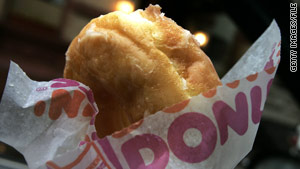 Dunkin' Donuts was born after its founder tried delivering breakfast, lunch to factory workers.
STORY HIGHLIGHTS
Some famous fast food joints originally planned to cook up something else
High cost of bagel equipment sent Ben and Jerry into ice cream business
Creator of Popeye Chicken started out selling doughnuts
Dunkin' Donuts' founder started out with truck delivering breakfast, lunch to factories
(Mental Floss) -- Ben & Jerry's Bagels? Sonic Steakhouse? Be glad that some of our favorite quick-service places evolved into what they are today.
1. When Ben and Jerry decided to go into business, they really wanted to make bagels. But the equipment required to make bagels was rather expensive, so they researched a cheaper product and settled on ice cream.
Although they've released plenty of other breakfast-related ice cream flavors -- Cinnamon Buns, Coffee & Biscotti and Maple Grape Nut among them -- they have yet to create a lox and bagel-flavor. Maybe it's in production?
2. Glen Bell, the founder of Taco Bell (who knew the "Bell" represented a person?), started his career in the fast food business with a meager hot dog stand. It did so well that he sold it and opened a bigger and better stand, and he started selling tacos for 19 cents out of a side window. Before long, the hot dogs were playing second banana to the tacos, and Bell decided to switch the business.
Mental Floss: 10 secret fast food menu items
3. What if Tim Hortons' Timbits actually referred to chicken nuggets? It could have gone that way -- the ex-hockey player originally focused his post pro-sports career on hamburgers and opened a few burger joints in Toronto and North Bay. They didn't do so well.
They retooled the concept and reopened as a small doughnut shop housed in an old gas station, selling coffee for 25 cents and doughnuts for 69 cents per dozen. Today, Tim Hortons employs 100,000 people and has more than 3,000 stores (mostly in Canada, but the company is expanding into the U.S.)
4. What if Dunkin' Donuts had a fleet of vehicles that drove around like the ice cream man, selling sweet, sweet carbs to anyone who could scrounge up some change? Well, they used to, sort of.
After working for just such an ice cream company, William Rosenberg used his war bonds and borrowed some money to start a mobile catering business that delivered breakfast and lunch to factory workers. He noticed that his best sellers by far were coffee and doughnuts, and decided to base the whole business around them. Seems to have worked out OK. (I still like the idea of doughnuts coming to me, though.)
5. On the other hand, Al Copeland, who created Popeyes Chicken & Biscuits, started out in the doughnut biz and ended up in poultry. He sold his car to purchase a Tastee Donut franchise from his brother and then decided to fry chicken instead of crullers. The first one failed, even with the tagline "So fast you get your chicken before you get your change."
But the second version succeeded, making him a multimillionaire. The name, by the way, came from Popeye Doyle from "The French Connection" -- not Popeye the Sailor Man.
Mental Floss: 15 companies that originally sold something else
6. How about a Sonic Steakhouse? The founder, Troy Smith, had big plans for an upscale steak eatery when he originally entered the restaurant business. He opened a small diner called Troy's Pan Full of Chicken to generate revenue for the bigger steakhouse and realized somewhere in the middle of things that he was making a load of money selling just root beer, hamburgers and hot dogs every week. He decided to stick with the low-brow menu and scrap the sirloin.
7. Wilbur Hardee, obviously the founder of Hardee's, ran several inn-style restaurants in North Carolina and took that time to study the habits of his patrons. He got rid of the inns and opened his first quick-service place, selling 15-cent hamburgers under the Hardee's name until the chain was purchased by Carl's Jr. in 1997.
8. Speaking of Carl's Jr., Carl Karcher came from similar humble beginnings. Like a lot of the great fast-food giants, Karcher started with a hot dog stand he and his wife purchased by taking a $311 loan out on their car. They also sold tamales. Somehow, I don't think Paris Hilton biting into a big, juicy tamale would have had quite the same effect as Paris Hilton biting into a big, juicy Six Dollar Burger, do you?
9. Chick-fil-A started out as Dwarf Grill (now Dwarf House), a full-service restaurant housed in a tiny little building with a tiny little door. The original can still be found in Hapeville, Georgia, complete with diminutive door (it has a regular door as well). What might be shocking to Chick-fil-A die-hards is that the Dwarf Houses offer steakburgers and hamburgers. Gasp!! What would the "Eat Mor Chikin" cows think?!
Mental Floss: Was there really a Granny Smith? Fruit and veggie origins
10. Finally, of course, there's McDonald's. Like our other frankfurter entrepreneurs, Dick and Mac McDonald started with a mere hot dog stand in Monrovia, California. They upgraded, but burgers weren't really their main focus -- they planned to capitalize on their delicious BBQ. They were mistaken.
Several years later, they noticed that burgers were the item keeping the store alive and decided to switch exclusively to burgers, shakes, and fries. These days, I suppose they do a little bit of all of that, and more (yes, even the McHotDog).
For more mental_floss articles, visit mentalfloss.com
Entire contents of this article copyright, Mental Floss LLC. All rights reserved.