STORY HIGHLIGHTS
Lisa Strong lost her arms and legs after being misdiagnosed at hospital

Doctors who treated her were found not guilty of malpractice, now face new trial

Her children have become her parents, struggling to take care of her

(CNN) -- Every morning, Lisa Strong's 10-year-old son lifts her heavy prosthetic legs and screws them into the levers in her knees. He reaches for a pair of pants and pulls them up around her waist.
Then, at the bathroom mirror, her 11-year-old daughter gingerly wiggles into the space between her mother's arms, which are big and bulky and plastic, stiff like a mannequin's. The girl twists a tube of soft pink lipstick and glides it over her mother's lips.
"I cook, I clean, I do everything, I, mostly ... I brush her hair," Chloe Strong said. "When I was younger, I didn't understand. Now I understand completely."
The girl was in kindergarten in September 2003 when her mother lost her arms and legs after complications from a kidney stone.
"To have your children take care of you ... sometimes I feel like I look like a monster," Strong said. "You try not to be Frankenstein. I wonder if they are embarrassed by me."
Six years ago, shortly after arriving at the ER at Memorial Hospital West in the Fort Lauderdale suburb of Pembroke Pines, Strong says she told a nurse she thought she was having a problem with a kidney stone. She had had difficulties with stones.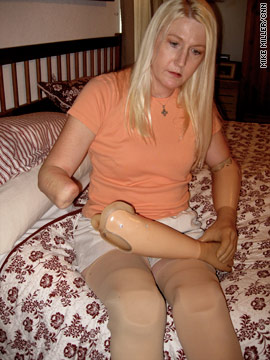 Gallery: Amputee mom leans on kids
But miscommunication between doctors and different diagnoses eventually led to her being discharged without having the kidney stone treated. That led to a rare tissue inflammation called "the line of demarcation," seen as a darkening of the skin in the extremities that slowly creeps upward.
"My fingers were turning black and curling. They looked charred," she said. "My toes were turning blue and black. It wouldn't stop. I had no idea what was happening to me," she recalled.
Strong said she was told she had no choice but to have her arms and legs amputated to save her life.
"It's a bizarre outcome," said Dr. John Pattaras, a urologist and kidney specialist at Emory University in Atlanta, Georgia. "But it can certainly happen. Just imagine shaking a champagne bottle while the cork is still on. If you have a stone, and you're not working to alleviate that blockage, bacteria will grow and grow, and pressure will swell, preventing blood flow, and eventually the tissue will die."
In the tumultuous months that followed, she lost her job and her marriage collapsed.
Strong sued the hospital and doctors for malpractice. They were found not guilty. But in an unusual outcome, the judge called for a new trial, saying that the jury that cleared the doctors of wrongdoing didn't follow the law and the evidence. Any second trial is at least a year away, lawyers say.
I'm mad at God right now for making her do that, for Him doing that to her.
--Jesse Strong, 10
That doesn't mean much for the everyday in Strong's house. When Jesse Strong plays soccer, his mom shows up to cheer him on. It was weird at first, when the other boys stared. They all gathered around her to look at her arms.
"If you act like you're Edward Scissorhands and use some humor -- I showed them my hands and how they rotate," she said. "They were like, 'Whoa!' and then you have their curiosity and you can explain it in a way that's not scary."
Before school, Jesse wakes before the sun comes up and helps his mom cook breakfast. His sister grabs pots and pans and reaches for the refrigerator.
He was 4 when his mother went to the ER and doesn't remember what she looked like before her arms and legs looked this way. He's seen pictures.
"I'm mad at God right now for making her do that, for Him doing that to her," he said.
"I know what's going on, and it's pretty easy," Chloe said. "If that didn't happen to her, she would be the same exact way that other friends' moms are."
She searches for a word to describe her mother. "Unique," she says.
"When I try to go to dance class and get ready for a performance, my mom can't help me ... I practically do it myself or I have somebody like best friend's mom," Chloe says.
"It's pretty hard and weird, too, not having someone right beside me looking in the mirror, like, saying, 'You shouldn't do this and you shouldn't do this and you ... something that sounds like a mom.'"
There's no complaining in her voice. She's an 11-year-old trying to explain.
"Sometimes, I want to break down and fall 'cause I'm tired of helping her. But you have to do it."
CNN's Kimberly Segal contributed to this report.