Don't you dare call me a cougar!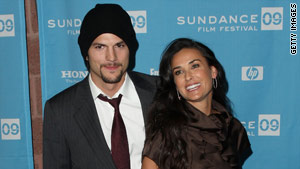 Famous cougar Demi Moore is married to Ashton Kutcher, who is 15 years her junior.
STORY HIGHLIGHTS
Not all older women dating younger men are predators, says columnist
Just as men might object to "sugar daddy" label, she's not fond of "cougar"
But a recent "cougar cruise" was packed, with people turned away
Editor's note: Audrey Irvine is a senior assignment manager for CNN. Her experiences in the dating world inspire her "Relationship Rant" column. Check back every week for her take on dating and relationships.
(CNN) -- In the age of the "cougar," why is there not an equivalent term to describe men in their prime who date younger women?
The term "cougar" has been used to describe older women who profess to dating and having a preference for younger men. However, there has never been a defined term or movement for older men who have been dating younger women for years.
So this got me thinking, is the term "cougar" empowering or offensive?
Recently, Carnival Cruise lines jumped on the "cougar" bandwagon by offering their first international single cougar cruise. The cruise, organized by Singles Travel Company, set sail from California to Mexico for three nights was booked for 300 guests and even had a waiting list.
After all, cougars are everywhere you turn these days. They're on television. One of ABC's top prime-time hits is "Cougartown" with Courtney Cox-Arquette in the leading animalistic role. The show attempts to focus on the comedy behind the cougar phenomenon, showing the sexual exploits of a 40-something divorcee on her dating quest for younger men.
While earlier in the year, a lesser successful attempt by TV Land, the reality show 'The Cougar' featuring a 40-year-old mother of five choosing her mate from a bevy of younger men. The show sought validity by having self proclaimed cougar Vivica A. Fox as host. In the end, the show gave off a rather desperate vibe.
There are famous women who wear the cougar title with pride. Halle Berry and Demi Moore are among a number of other actresses in long-term relationships with significantly younger men. There is of course Madonna, always the pioneer, who led the "cougar" rage years before the phenomenon began. Let's not forget the most famous cougar Samantha from "Sex and the City" who proudly displayed her prowess for many seasons on cable, then again in the movie version.
I say all this to say that I don't have an issue with an older woman dating a younger man. As long as you have a relationship with two mature consenting adults who find love with one another, why would I take issue with that? My problem is with the term.
Older men have been dating younger women for years. I'm sure that every man in this situation would take issue with being called a "sugar daddy," so I have an issue with "cougar." The term implies that the older women are predators while the unsuspecting younger man is the prey.
As a woman who has heard that I look younger than my license states, I have no problem with dating a younger man. But I refuse to be associated with a term that makes my dating life sound like I'm hunting, stalking and forcing my attentions upon some innocent, inexperienced young male.
I know there will be detractors who say I'm being a prude and I should embrace my cougar status.
Oddly enough, there is a term that everyone is familiar with that already exists so there is no need to be labeled a cougar. It describes being confident, self-assured at any age, empowered to make decisions without being influenced by what pop culture states is hot or not, isn't polarizing and addresses the concerns of my younger colleague. That word is woman.