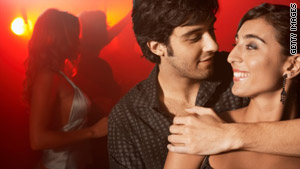 STORY HIGHLIGHTS
Columnist says she can't date a guy if there is no chemistry
Chemistry is stomach butterflies, aching need for person to be in your life, she says
Columnist says she knows couples who've had that passion for 20 years
She would walk away from a great guy who lacks chemistry, hoping to be friends
Editor's note: Audrey Irvine is a senior assignment manager for CNN. Her experiences in the dating world inspire her "Relationship Rant" column. Check back every week for her take on dating and relationships.
Atlanta, Georgia (CNN) -- Chemistry -- just how important is it in any relationship or when you're dating?
I'm not talking about just sex. I'm talking about butterflies in the stomach, that aching feeling of missing and needing that person to be in your presence? I say "very" and here's why.
I'm a big fan of "Dancing With the Stars." I love when folks are taken out of their comfort zone and thrown smack in the middle of competition.
Dating and relationships are a lot like dancing.
On "Dancing With the Stars," unlikely couples paired together are expected to learn and complete the assigned dance.
Inevitably, like dating, you see some couples who you know are going to make it, others who need some work and the ones who are a complete tragedy and need to hang it up. The one thing that all judges agree on is that no matter how technically well each couple executes the dance, if it's danced without chemistry or passion, it is deemed dead.
To go through the motions and steps without having something bigger motivating you makes that dance difficult and awkward.
One of my girlfriends has known a guy for years whom she's considered dating. He's a good guy, good heart, no potential commitment issues, great job, family man who loves his mother and could potentially fulfill any woman's wants and needs. Though for some reason or another it hasn't happened for them.
My girlfriend finally was open to going from talking about the dance to dancing with this man. He came to town with I'm sure the same expectation that the dance would finally become a reality.
She opened the door to his hotel with butterflies in her stomach. New territory is always an exciting yet scary adventure, but she was willing to take that chance.
The door opened and so did her eyes when she realized that after the first hug, there was nothing. Yup, nothing. I mean all the wonderful things about this man were still there. He was still that good person with the big heart who loved his mama.
But what was missing was that one thing we all hope for -- that intangible, unexplainable vibe. The thing that on "Dancing With the Stars" is the difference between a score of 7 and a perfect score of 10: chemistry. So, what to do?
Door No. 1: Hope that all the wonderful qualities in this guy are enough to not notice the lack of chemistry.
Door No. 2: Walk away knowing you can still be friends. And know that you can find all those qualities and chemistry in another person.
I'm sure there are many who will disagree with me. Tell me that chemistry is a myth and not as important as I make it out to be. Don't be afraid to settle realizing all the other wonderful gifts that a person can bring. Blah, blah and blah. Did you ever notice the ones who give that advice either never had it in their relationship or gave up on the possibility of ever having it?
I know couples who after 20 years still have chemistry. They walk into a room and only have eyes for each other. Yes, there is love, friendship and respect, but it's also passion. Chemistry is what makes the dance more beautiful. It's what makes the dance more interesting, lively. It puts more pep in your step on a Monday morning.
So, my girlfriend continues in pursuit of that perfect score of 10 in her dating dance. She will remain friends with that guy realizing their dance will never be. But she will never hang up her dancing shoes.