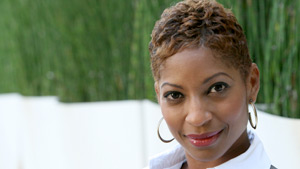 Audrey Irvine wishes her friends would consider more than male, single and breathing before picking a blind date.
STORY HIGHLIGHTS
Columnist Audrey Irvine is fine with being single woman of a certain age
Her friends and family seem desperate to find a husband for her
But these set-ups don't include mutual attraction or common interests
So every day she waits to see what man is behing door No.1, 2 or 3
Editor's note: Audrey Irvine is a senior assignment manager for CNN. This is her first "Relationship Rant" column. Check back every week for her take on dating and relationships.
Atlanta, Georgia (CNN) -- Enter exhibit A: Female, 40 years old, single, career woman, no kids, victimized by 10 unsuccessful "hookups" per year since the age of 35.
Let's see: Math was never my strong suit. But that amounts to 50 unnecessary encounters that culminated in uncomfortable conversations with friends afterward.
For some reason, well-intentioned family members, friends and co-workers feel compelled to help you out with the dating process once you turn 35.
In your 20s, no one is interested in setting you up on a date, maybe because everyone is too busy joining sororities, attending parties and simply trying to graduate on time.
In your early 30s, life is all about work and trying to maneuver your career path. That's not to say there is no time for dating and relationships; oh, they were in there, too.
But if, by 35, you are not in a long-term dating relationship, engaged or married, a memo goes out to the masses that this gal needs help!
Don't get me wrong: No one is against being set up with the second coming of Denzel Washington or Dylan McDermott.
But Dylan and Denzel are not the men people are interested in making the next great date. It's more like the guy behind door No. 1: you know, the one still living at home with Mom. Or door No. 2: that really nice guy with the wonderful personality.
I remember going to a barbecue where I didn't realize I was one of the entrees for another single man in attendance. Somewhere between eating potato salad and rocking out my best Beyonce moves in the karaoke competition, it came to light that my friend thought this "gentleman" and I were meant to meet.
As I wiped my sweaty brow and gazed at him in his circa-1970s outfit, I realized I had just auditioned for this guy. That's when I asked my friend what she possibly thought I had in common with this man outside of us both having a pulse. She had no answer except that we were both single.
Shared interests, mutual attraction? Those got no consideration.
Each year, a new participant joins this "Amazing Race" to find me a date. I even had one of the security guards in the company parking lot offer to find me a date or go out with me himself if I couldn't find anyone.
I wonder if my single male counterparts experience this consortium of eHarmony wannabes willing to "hook them up."
I am confident that, on my own, I can find a suitable date and mate. Until then, I can't wait to drive to work, walk to the cafeteria, sit at my desk and hang with my friends to see who is waiting for me behind doors number 1, 2 and 3.