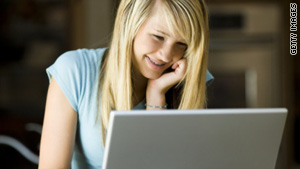 When e-mailing a match from an online dating service, keep it short, don't rant and ask a question.
STORY HIGHLIGHTS
There are dos and don'ts when e-mailing matches while online dating
Don't e-mail more than once before you get a response
Keep e-mails short, don't rant and don't confess all to match
Don't give out last name, home address or tell where you work
(The Frisky) -- When a friend of mine who's dipping her toe back into the world of online dating recently asked for three quick rules to remember when e-mailing potential matches, it occurred to me that if she needed a bit of a refresher course, some of you probably do too.
As convenient as it is, e-mail is rife with opportunities to shoot yourself in the foot and hurt your shot at making a real connection. So after the jump, eight dos and don'ts to remember when emailing a potential online dating match.
1. Do keep it short
Think of an e-mail as an appetizer. Don't ruin his appetite by feeding him entree-sized portions before the main course. Keep him hungry for more.
The Frisky: Top 5 online dating dos and don'ts
2. Don't double-e-mail
One e-mail for each e-mail received, OK? Writing two or more e-mails before you've gotten a reply to the first not only makes you look a little obsessed, it also makes it seem like you don't have anything better to do with your time.
3. Do ask at least one question in each e-mail
Some people have a hard time figuring out what to write in an e-mail, so make it easy by giving at least one question he can respond to. Unless he's got the personality of corduroy, he should be able to carry the conversation for at least a paragraph from there.
The Frisky: 7 celebs who've dated on the interwebs
4. Don't rant
A quick, funny line about people in your building taking the elevator for just one floor is one thing; composing a five-paragraph essay on the growing laziness and general self-absorption of people today is just obnoxious.
5. Do wait at least half a day to reply
Not only do you risk looking like you've got nothing else going on besides waiting by your computer for an e-mail from him, replying too soon can make him feel a little stressed over keeping up with your pace.
The Frisky: Keep the crazy at bay when you're online dating
6. Don't confess all
This isn't therapy -- save your secrets, insecurities, and stifled anger at your mother for your best friend or shrink. If you want to confess something, confess that you skipped your weekend workout to hit a fringe theater fest in your neighborhood instead. At least that gives him an idea about your hobbies and interests.
The Frisky: 15 signs you're over your ex
7. Do be cautious sharing personal info, including your last name, off-site e-mail address, and, of course, home address.
This should go without saying, I hope.
8. Don't give details about where you work
It compromises your job and your personal security.
The Frisky: Passive boy behavior that really annoys us
TM & © 2010 TMV, Inc. | All Rights Reserved
FOLLOW THIS TOPIC