By Wendy Atterberry






(The Frisky) -- Since our wedding day six weeks ago, my husband and I have been busy writing thank you notes, breaking in our new fancy cookware and eagerly awaiting pictures from the professional photographer we hired (we certainly had enough pictures from our guests to tide us over until then).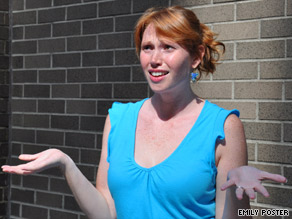 On Wednesday evening, we found two disks in the mail from the photographer and we spent almost an hour going through the hundreds of shots she'd taken. When we were done picking out our favorites, re-living some of the best moments of the day, and both exclaiming at least several times "I don't remember that!" (it really is true what they say about your wedding day being kind of a blur) something I didn't expect suddenly happened.
"I feel a little ... sad," I said to Drew as he ejected the disk and closed his laptop.
"I know," he replied, "I kind of feel a little sad, too."
Where were these blues coming from? I'd been completely fine until that evening. I couldn't be sad the wedding was over, could I? I HATED everything about planning it and was beyond relieved to put it behind me. I was so stressed out by the whole occasion that the days leading up to the wedding I was sick as a dog and hardly slept a wink.
As much fun as the day itself was, when the weekend ended and our friends and family flew back from all the places they came from, I was glad to pack up my wedding dress and get back to normal. Never again would I have to worry about sitting 65 friends and family -- some of whom are estranged from one another -- at eight tables. Never again would I have I have the pressure of creating 10 centerpieces, several corsages and boutonnieres and a bridal bouquet for myself hours before my wedding. The Frisky: Is "trash night" the male version of "date night"?
Never again would I be so glued to the weather forecast, worried that our Central Park wedding would be rained out and moved to a much less picturesque indoor location (it wasn't!). It ended up being the happiest day of my life, but, frankly, I was thrilled to put it all behind me and start living as a civilian again instead of an overwhelmed bride. The Frisky: 5 things I'd do differently if I relived my single life
So it was a curious thing then, to feel this sudden sadness after looking at the photos. Drew called it "emotionally draining," and I guess that sums it up. Reliving the day, from set-up that morning to the moment I passed out fully clothed on my bed during our after-party that night, was really very draining. Just like the actual day, it was joyous, overwhelming, and eventually exhausting, and like the morning I woke up after the last guest had flown home, I felt a twinge of "so that's it, huh?" The Frisky: How did you spend your wedding night?
My whole wedding weekend was a high -- as I'm sure it is for most people -- and I guess after any emotional high, there's bound to be a period for re-balancing. Luckily, we still have the honeymoon to look forward to. After that, we have all kinds of plans and ideas to keep us occupied and fulfilled ... but I can't help feeling a little wistful that I'll probably never again have all my favorite people together in one place. Oh well -- I'll always have the memories (and pictures!), right? And let's not forget the fancy new pans to cook omelets in. The Frisky: Would the world be a better place without divorce?
E-mail to a friend

TM & © 2009 TMV, Inc. | All Rights Reserved