(REAL SIMPLE) -- Find deals on everything from garden supplies and groceries to cell phone plans and school supplies.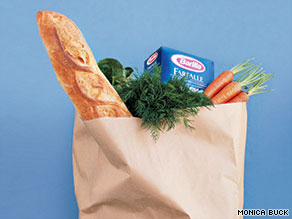 Buy food at the grocery store, health and beauty goods at mass-market stores where they're generally cheaper.
How to save on your grocery bill
Purchase oranges, onions, and potatoes in bags rather than individually. You'll pay roughly half the price, says Kati Neville, coauthor of "Fix, Freeze, Feast." These items are staples that will get eaten before going bad.
Don't buy nongrocery items at the supermarket. Health and beauty goods are usually cheaper at mass-market retailers, like Target. And you'll find the best deals on paper products at warehouse clubs.
Opt for frozen seafood over fresh. Vacuum-packaged salmon, flounder, and tilapia fillets and bags of frozen shrimp cost 20 to 40 percent less than their counterparts at the fish counter. (If that sounds unappetizing, consider that most "fresh" fish has been previously frozen during transport.) Real Simple: 11 money-etiquette issues, solved
Buy ground beef and chicken breasts in bulk or family-size packages and you'll save big: 20 percent on ground beef and 50 percent a pound on chicken.
Find out an item's cost per unit (CPU). It's listed on the shelf sticker next to the price. It will tell you what an item's cost per pound or ounce is, which can keep you from getting hoodwinked by packaging. Real Simple: Money-saving secrets from the pros
How to save on garden supplies
Shop early. Supply and demand rules at garden centers, and the selection is greatest early in the season. In the spring, you'll find one-gallon boxwoods costing about $8 each, but by the end of summer, large plants costing $30 or more will probably be the only ones left, says Marty Ross, a syndicated gardening columnist in Kansas City, Missouri. Real Simple: 10 ways to spend smarter
Stick with one tool. Part knife and part trowel, a hori hori knife ($28.50, leevalley.com) is a gardener's best friend. Use it to plant, to grub, and to remove deep-rooted weeds. Buying tools for those specific jobs can cost around $40.
Cash in on compost. "Many municipalities pick up yard waste and turn it into free compost," says Ross. Ask the office of your town if your community participates.
Purchase cell packs. Buying one large marigold plant for $8 can give your garden a head start, but a four-pack of smaller ones costs half the price and each of the tiny plants will grow to the size of the large one in just a few weeks.
Plant tough varieties. Daylilies, asters, and hostas are all vigorous and low-maintenance, which means you won't have to make another trip to the nursery for replacements.
Attach a timer to the spigot. A sprinkler or a soaker hose left running wastes a lot of water. Spend $15 now on a mechanical water timer (homedepot.com) and save on tomorrow's water bills.
Buy native flora. After one season, they're completely established, so a nasty freeze shouldn't zap them. Purchase cone flowers (native in much of the country), or go to plantnative.org to learn what grows naturally in your region.
How to save on cell phone plans
If you send or receive more than one text a day: Sign up for a texting plan (prices start at around $5 a month; most companies have comparable plans) and you'll avoid the average 20-cents-per-text charge. Have a teenager who texts at least six times a day? Enroll her in an unlimited-messaging plan.
If your phone usage spikes after dinner: Ask about extended calling hours. For an additional $5 to $9 a month, some carriers, such as Sprint and AT&T, offer packages that allow you unlimited calls after 6 P.M. or 7 P.M., compared with 9 P.M. for most typical plans.
If you talk for fewer than 200 minutes monthly: A prepaid plan is for you. "Thirty percent of mobile users who are not on one should be," says Allen Hepner, executive director of the New Millennium Research Council, a telecommunications think tank in Washington, D.C. Big savings come with T-Mobile's Pay As You Go plan (130 minutes for $25) and Virgin Mobile per-minute packs (200 "anytime" minutes cost $20).
If London is calling you (or vice versa): Go to aitelephone.com, which offers rates starting at less than 1 cent a minute to more than 200 countries. Choose a plan (prepaid or receive a bill), then dial from your cell using a 1-800 number. Calling Moscow, for example, costs 1½ cents a minute, compared with $1.60 a minute with Verizon Wireless.
If you signed up for phone insurance: Slash this cost immediately, even if you're clumsy. That $5 to $8 monthly charge adds up, and you'll still have to pay a $50 deductible if you need to replace a broken phone. The replacement, which is often just a refurbished used phone, will cost about the same as a new one.
How to save on car expenses
Forget that "every 3,000 miles" rule. A survey by AAA found that 95 percent of drivers had oil changes too frequently. Only heavily used cars, such as taxis, need one after 3,000 miles. Normal usage typically requires an oil change every 7,500 miles, says Perry Stern, editor at MSN Autos.
Shop around. For out-of-pocket repairs that could cost several hundred dollars, get three estimates. Tell each company that you're shopping around so it will quote you au competitive price, says John Paul, resident car expert at AAA, and feel free to haggle.
Stick with the dealership for tricky repairs. It sees the same makes and models, so it can be better than an independent auto shop at fixing, for instance, a mysterious rattle, says Paul.
Fix windshield chips immediately because a small chip can lead to a full crack. A repair can be done in your driveway for less that $100 (search "mobile glass-repair service" and your ZIP code online to find a company). The cost of replacing a windshield: $500 to $1, 200.
Skip the extra warranty. Car dealerships make big profits from them. Standard warranties generally cover you for three years or 30,000 miles (whichever comes first), and some car are covered for their lifetime, 10 years, or 1000,000 miles, which demonstrates their reliability.
Review your insurance annually. Monitor the value of your vehicle as it ages, and drop collision coverage when the annual premium approaches the car's worth.
How to save on home repairs
Get free DIY advice. Go to youtube.com and type in "askthebuilder" for how-to videos on simple procedures, like replacing a faucet or a light fixture. See When to Do It Yourself, When to Hire a Pro to help you decide if you should take on a project.
Be flexible. "Ask a tradesman if he has a hole in his schedule, then inquire about a discount if you book during that time," says Amy Matthews, a licensed contractor and the host of Sweat Equity, on the DIY Network.
Learn the lingo. Before calling a contractor, check out sites like moneypit.com and diynetwork.com. You'll be better informed -- and less likely to get taken -- if you can speak his language.
Don't succumb to "Your roof is falling" tactics. If your basement floods, say, a cash-hungry contractor might try to talk you into a drainage system that costs around $7,500. But in the majority of situations, you can guard against indoor deluges just by cleaning and extending gutter downspouts and grading soil away from the foundation. That's why you should solicit at least three quotes. And if you anticipate spending more than $10,000, hire a home inspector (find one at ashi.org). He will help you figure out exactly what you need done and how to avoid hidden costs.
How to save on medical bills
• Ask for freebies or discount coupons. Your doctor may distribute samples of everything from over-the-counter cold medicines to asthma inhalers or attention-deficit/hyperactivity disorder medicines.
• Request a three-month prescription. This option, given mostly for medications that treat chronic conditions, like diabetes and arthritis, can reduce costs up to 33 percent (compared with paying monthly).
• Consider generics. According to a study published in the Annals of Internal Medicine, a person under the age of 65 could save an average of $46 annually by substituting generics for brand-name drugs.
• Enroll in your company's flexible-spending account. Yes, it's a bit of work, but you can pay for out-of-pocket expenses with pretax dollars.

Watch easy way to track your medical bills »
• Try mail-order pharmacies. Those affiliated with your insurance company save you time and gas and cost about a third less than retail pharmacies, says Charles Coté, a spokesperson for the Pharmaceutical Care Management Association.
• See a dental student for checkups. Many dental schools have clinics that treat patients. Fees are about 50 percent less, and your care is supervised by a dentist.
• Never assume you're covered. Just because your surgeon is in-network doesn't mean your anesthesiologist is. An out-of-network visit can leave you stuck with a large bill long after the anesthesia wears off. But for true emergencies (like a possible broken bone, poisoning, or a heart attack), seek medical attention at the nearest facility -- you'll be covered.
• Negotiate with your doctor. Some offices offer a cash-paying system that uses a sliding scale, such as a discount based on your income or a volume discount for siblings, says Jennifer She, a pediatrician and a coauthor of "Heading Home With Your Newborn." It's also worth asking if there's a discount when you pay in cash.
• Get silver-amalgam fillings in your back teeth. They're half as expensive as white composite fillings (stick with these on teeth up front), and they can last up to four times longer, says Stephen Halem, a clinical researcher at the Forsyth Institute, an independent dental-research center in Boston.
• Avoid a no-show penalty. Many doctors' offices charge this fee, which can run around $25 (about the price of an insurance copay). So if you don't plan to attend, make sure you cancel your appointment in advance.
• Stay healthy. Some employers and insurers offer wellness incentives that can save a few hundred dollars for employees who visit the gym regularly, eat healthily, or enroll in smoking-cessation classes. Keep in mind that excess pounds are strongly associated with high blood pressure and heart disease, among other chronic illnesses that require daily medication and frequent visits to the doctor.
E-mail to a friend


Get a FREE TRIAL issue of Real Simple - CLICK HERE!
Copyright © 2009 Time Inc. All rights reserved.