By Pamela Redmond Satran





(Parenting.com) -- When my eldest child was about 5, my marriage went through a really rocky patch. My husband and I were always mad at each other; talking about our problems or working on solutions was beyond us.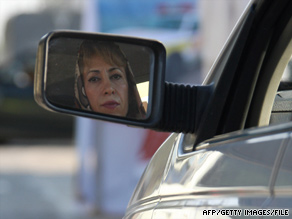 Fighting in the car felt safe, somewhat like being enclosed in a soundproof booth.
So a lot of the time, we just didn't talk at all. We threw ourselves into our jobs and devoted ourselves to our daughter, and when we didn't have either of those distractions, we went to sleep.
Except when we were in the car. Enclosed in that soundproof booth, with our troubles consuming the space like a frenzied dog, we fought.
We'd start as soon as we were out of the driveway -- shouting, confronting, waving arms, stamping feet -- until we got wherever we were going, even if it was 200 miles away.
And through it all, our daughter sat playing in the backseat, absorbed by her Barbies. Every so often she'd interrupt our fury to ask sweetly if we could stop for a drink or to relay some news of her week that had gotten lost in the busy days.
But most of the time, she behaved as if she was sealed off by thick Plexiglas from what was going on in the front seat of the car, as if she couldn't hear us or, even if she could, it didn't bother her. And we chose to believe this.
How could we have acted out the torment of our conflict in front of our child? And worse, how could we have thought it didn't disturb her? I know how: We fought in the car, within three feet of our child, because it felt safe there and nowhere else. Neither of us could walk out, or turn violent, speeding along the highway with the one person we both loved best.
We were fighting for our marriage, we believed, and its salvation was ultimately more positive for our child than our battles were harmful.
But those sound like excuses, and I think what we did was too reprehensible to forgive. When we finally went to a counselor and told him about our car fights, he asked how our daughter responded. And when we told him she seemed unaffected, he grew grave, concerned.
That was the worst sign of all, he said, because it meant she was repressing what had to be her own distress over our battles. Parenting: Stop fighting dirty and use your words instead
This insight did more to improve our parenting skills than all the advice we'd ever heard combined. And it was one of the keys that helped my husband and I begin to temper and resolve our fights.
We learned to talk instead of retreat into silence or hurl sharp words. Once we started talking, we discovered that beyond the fights, we still loved each other and wanted to stay together.
Rebuilding that commitment to each other and our marriage made for better sex. We had another child, and then another, bought a new house, changed jobs; we drew sustenance for our ever-expanding life from each other. Never again did we backslide to those crazy days of 65 mph combat. Parenting: How to drop the scorecard and work as a team
The Fight Club
But did we stop fighting with each other completely? Did we at least stop fighting in front of the kids?
You've got to be kidding.
I've read, and I've told myself, that it can be positive to fight once in a while within earshot of our children, to let them see us confront our disagreements, hash them out, and then finally kiss and make up. Sometimes I even believe this, when we find ourselves in one of those tidy marital fights that start off with a scream, segue into a negotiation, and end -- maybe even within a sitcom half hour -- with a smile, a hug, and a resolution.
Of course, most fights aren't quite that neat. If we feel one brewing when we're with the kids, we may urge them to go ahead and play that loud video game we usually hide on the top shelf, then we retreat to the dining room to "scream" at each other in harsh whispers -- which sometimes makes us feel ridiculous and doesn't always go very far toward resolving the dispute.
We've had fights that have raged through days of silence and late-night tantrums. Once, on the third day of a tense vacation, we left our daughter, now a teenager, in the hotel room babysitting her two younger brothers, hiked into the forest, and shrieked at each other until all the anger was gone.
Before you're parents, a fight that spins out of control, or a relationship that becomes battle-weary, isn't such a huge deal. You can't get along, you've got irreconcilable differences, end of relationship, end of story. But then, after you have a child, the consequences of fighting run amok. They're so much grimmer, so much more permanent, and they affect not just you but your child too. Once you have kids, there are so many more reasons to rein in your temper and resolve your fights.
Yet often, there are many more reasons for you to fight too: Children, as much as you both love them, can up the tension level in a relationship, as they cut into the amount of time you have to lavish on your partner and work out your differences, big or small. Having kids creates work, costs money, and intrudes on your sex life. No wonder we can't help fighting, even when we think we shouldn't. Parenting: How to stop parenthood from breaking your marriage
So my husband and I still argue, sometimes in front of the kids -- but never anymore in the car. Our daughter won't let us. She's never mentioned those car rides from hell. Yet now she can't bear to hear us fight when we're driving together, even for a minute, even a tiny flare-up over something like his braking too short at a red light.
"Stop it! I can't stand it! You two can't fight like that!" she now screams as soon as the first harsh word is exchanged.
And we stop, my husband and I. We stop right away. We may keep fighting forever, but we know we'll never again fight like we did in those do-and-say-anything days.
E-mail to a friend

Try a FREE TRIAL issue of Parenting Magazine - CLICK HERE!
Copyright 2009 The Parenting Group. All rights reserved. Reproduction in whole or in part without permission is prohibited.
Contributing editor Pamela Redmond Satran is the author of "The Man I Should Have Married," a novel.