By Amanda Robb





(OPRAH.COM) -- Nine middle-aged men and women are sitting in a circle in a cluttered, colorful classroom in a church annex in Austin.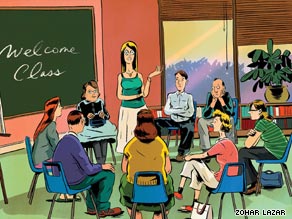 Because sexuality is such an important part of life, a church develops education program for adults.
Judith, the oldest, is an artist, and her long, curly gray hair is piled into a messy halo atop her head.
Larry is a gregarious man who works for the U.S. government.
Elizabeth, an information technology manager at a local government agency, is an athletic woman, efficient in her movements.
Her husband, Eugene, sitting nearby, was raised in Spain and has handsome features and courtly manners.
The teacher, Barbara Tuttle, begins class. "Touch one of your hands with the other," she says. "Feel the smoothness and roughness of all the various parts, the places where it's dry or moist."
Some of the students close their eyes as they follow her instructions. Small smiles play on their lips. Tuttle's birdlike mouth breaks into a huge grin. "Congratulations," she says. "You all just masturbated. And in public!"
Next Tuttle, a retired sex therapist, asks the students about the experience of mindfully touching themselves: "How did it feel? Was that pleasant?"
"It made me wish someone else were touching me," Elizabeth says.
"It was just nice to be touched at all," says Judith.
So begins the fifth session of Our Whole Lives (OWL): Sexuality Education for Adults, at the First Unitarian Church of Austin. Tonight's class is one of 14 in the seven-month course, which is the result of an initiative of the Unitarian Universalist Association (UUA) and the United Church of Christ (UCC).
Since 1998 the institutions have coproduced sex education materials for children ages 5 to 18; as church leadership re-examined the curricula, they noticed a need for age-appropriate material for grown-ups.
"We see sexuality as a very important part of the human experience that is lifelong," says Janet Hayes, public relations director for the UUA. "That's why we named our program Our Whole Lives. Your sexuality doesn't end after you stop having babies or get divorced or after you turn 60. It is who we are in our core. We feel it has to be integrated into our spirituality because, for us, spirituality is about wholeness."
So in 2008, the churches -- which together have about 6,600 U.S. congregations and 1.4 million members -- introduced classes for adults 18 to 35. (In the past ten years, it's estimated, more than 40,000 children, young adults, and adults have taken at least one OWL class.) Oprah.com: How to talk to your partner about sex
Michael Tino, a Unitarian Universalist minister with a PhD in cell biology, cowrote the young adult OWL curriculum and understands why the adult classes have proved popular.
"You can have the best high school sexuality curriculum in the world," he says, "but a lot of critical issues are not going to be addressed in those classes: How do I enjoy my sexuality if I've lost a breast to cancer? How do I manage being a parent and a sexual person? Can I feel sexually satisfied if I don't have a life partner?"
There's one simple reason those questions aren't tackled, Tino says. "Teenagers don't have them yet. Most of what affects our sexuality happens in adulthood -- long-term relationships, breakups, parenthood, illness, sheer exhaustion from managing life."
Although the courses the churches prepared were aimed at adults in their 20s to early 30s, to the organizers' surprise, middle-aged parishioners have stampeded the discussion-based program. Students in tonight's class, for instance, are in their late 40s to mid-60s.
One of the first pilot classes for the OWL program took place in Boston three years ago. Several of the participants say that the course lessons were not only useful but surprising. Sylvie, a 35-year-old medical counselor, signed up for the class after seeing it advertised in the church bulletin. Speaking from her home near Boston, she explains that she'd always felt fortunate to have what she considered healthy feelings about her sexuality.
"My dad was a general practitioner and my mom was a counselor, and they were very open with my brother and me growing up," she says. Her parents didn't shy away from explaining things, and kept books like "Our Bodies, Ourselves" and "The Joy of Sex" in the house.
But in 2005, Sylvie and her husband began struggling with infertility. "It took all the joy out of sex," Sylvie says now. "We were always trying to get pregnant." So she signed up, with the hope of refiling sex under "pleasure" instead of "work" in her brain. Oprah.com: How far would you go to conceive?
The first few workshops turned out to be exactly what Sylvie was looking for. Jane Detwiler, a certified sexuality educator, and her cofacilitator led the group through "anatomy of pleasure" and "understanding sexual response" exercises.
Contacted recently at her office, Detwiler says many people learn about the reproductive capacity of sexual organs in traditional sex ed, but not the "pleasure capacity." She says that despite the sexualization of our culture, many of her students don't know what normal genitals look like, and she has discovered that loads of women worry that theirs are abnormal or ugly.
In Sylvie's class, Detwiler used diagrams and photographs to explain that the truth is, of course, that there's a variety of "normal," as wide ranging as human faces. Her students also discussed the parts of the body besides the genitals that are wired for sexual response -- skin, lips, breasts, nipples, tongue, hands, brain.
Then Detwiler pulled out a model of a penis and the "Wondrous Vulva Puppet." She had labels ready (clitoris, perineum, vagina, glans, PC muscle) and asked volunteers to place them correctly. As students moved through the lesson, they talked about how the different parts contribute to pleasure.
Next, the instructors asked the students to compare the Masters and Johnson linear model of sexual response -- excitement, plateau, orgasm, and resolution -- to a circular model of mutual pleasure.
To explain the idea, Detwiler drew a large circle on newsprint and asked students to think of all sorts of sexy, fun activities and list them around the circle. The students came up with "caress, oral sex, kiss, massage, lubrication, talking, fondling, phone sex, kiss again, snuggle."
In a circular model, Detwiler pointed out, partners can start or stop sensual activity anytime they want, and the activities don't necessarily lead to orgasm.
Sylvie says that some students thought that type of sex would be an exercise in frustration, but others said they could imagine times in their lives when those options would work -- when they were not ready to have sex with a new partner, when they were too tired to have intercourse with their current partner, when they were trying to liven things up with a longtime lover.
After most classes, Sylvie came home and described what she had learned to her husband (who did not attend, because the course was something she wanted to do on her own). "Oh, you know," she'd say at the end of each night's summary, "that reminds me. Let's have sex just for fun." Oprah.com: 3 no-fail relationship tune-ups
Another member of this pilot class, Kim, then 35, had been happily married for more than a decade; she had even taught the OWL classes to middle school students for three years.
"I was functioning well," she says, on the phone from Framingham, Massachusetts. "But deep down, I still had some weird, mixed-up feelings about sex left over from my childhood."
Her parents had divorced when she was 3. "Afterward my mother was very free with her sexuality," Kim remembers. "I would hear a lot, and the sounds scared and confused me. I'd say, 'Mom, what are you doing?' She'd say, 'Kissing.' Well, I knew that wasn't it. I signed up for the adult OWL course to keep peeling back the layers, to keep getting better, healthier, happier."
By Amanda Robb from O, The Oprah Magazine © 2008 To read the full article, click here.
E-mail to a friend

Subscribe to O, The Oprah Magazine for up to 75% off the newsstand price. That's like getting 18 issues FREE. Subscribe now!
TM & © 2009 Harpo Productions, Inc. All Rights Reserved.