By Judy McGuire






(The Frisky) -- When I questioned a friend about why she was marrying a guy whom she found only mildly attractive, didn't enjoy having sex with and wasn't in love with, she told me this: "Marriage isn't about love, it's about finding the person who gets on your nerves the least."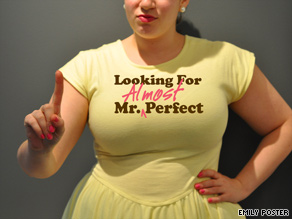 Settling for someone you don't hate -- but also don't love -- may not work out in the long run, says author.
I recall being both horrified and saddened by her cynicism. But as I pondered it further, I wondered if she might have a point.
I was single at the time. A long-term relationship had gone bust a few years earlier and after a hyper-extended mourning period I'd been dating a seemingly non-stop parade of utterly unsuitable suitors.
Among many others, there was the semi-psychotic Eastern-European sculptor, the much-younger scientist-type, the guy who still lived with his girlfriend, and the non-committal bike messenger with substance-abuse issues.
So when I met a seemingly normal finance guy who took me out for expensive dinners and drove me around in his BMW, I talked myself into giving it a go. He wasn't super hot, but then again, neither was I. So what if his favorite book was "The Fountainhead"; I needed to quit being such a book snob. Who cares if he brought up pre-nuptial agreements on our second date -- at least the word marriage was part of his vocabulary. The Frisky: What's your dating type?
But as I lay awake after we'd clumsily consummated our budding relationship, I couldn't stifle the all-consuming feeling of dread that washed over me. What had I done? Was I really that lonely? Or worse, desperate?
Last year The Atlantic ran an essay by writer Lori Gottlieb, wherein she claimed, "every woman I know -- no matter how successful and ambitious, how financially and emotionally secure -- feels panic, occasionally coupled with desperation, if she hits 30 and finds herself unmarried." Her advice to women still holding out for a great guy: settle for an okay dude. The Frisky: To settle or not to settle?
Thirty-three-year-old Alicia, a New York-based floral designer, had been with her boyfriend Fred for four fairly miserable years when she met someone else. "He was tall, hot, British and made me realize I wasn't dead inside."
Though nothing ever happened with the Brit, meeting him made her something was missing in her relationship.
"He hates change so I knew he would never leave me," she told me. "But meeting the other guy made me realize that I wanted to be able to talk to my significant other. I wanted to be with someone who at least acts like he's interested in my life and thinks I'm smart and cool." The Frisky: How to know when it's time to dump him --
Thus enlightened, Alicia promptly dumped Fred. However not everyone thinks she did the right thing. "I went to my gynecologist and she asked if Fred was still in the picture. When I told her no, she scolded me saying, 'No man is ever going to meet all your needs -- can you tolerate him?'"
A year later, Alicia remains single and dating, and despite what Gottlieb claimed in her piece, absolutely does not appear to be either "in denial" or "lying" when she says she's never been happier. The Frisky: Why I'm not envious of my engaged friends --
As I slid out of my great-on-paper guy's bed and tiptoed out the door (shady, I know!), my dread was replaced by relief. Back in my apartment with only my cat for company, I realized that I'd become rather accustomed to being alone and while I wasn't ecstatic 24/7, I was actually pretty happy. I loved my friends and family (and my kitty!) and I knew I'd be okay if my life stayed the way it was.
Of course then six months later I screwed it all up by meeting a great guy who I love to pieces. Oh, and my friend who married the guy who didn't get on her nerves -- she's now divorced.
Settle? I don't think so.
E-mail to a friend

TM & © 2009 TMV, Inc. | All Rights Reserved
All About Dating • Relationships