By Judy McGuire






(The Frisky) -- How much do you really need to know?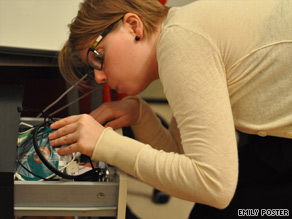 I still remember the day I walked into my house only to be confronted by my entire family staring at me like I was an alien as my mother shrieked through her tears, "Thank god you're home -- I thought you were dead!!!"
Um, what?
Upon closer inspection, I noticed she was holding a familiar looking book. My journal.
I was 17 and, like many teenagers, having a tough time of it. I didn't have anyone I particularly trusted to talk to about my life, so my journal was my confidant. I didn't need to filter my thoughts because a white piece of paper wasn't going to judge me or yell at me.
I knew exactly what passage my mom was referring to -- something I'd written about wishing I were dead. It was a fleeting thought that vanished as soon as I scribbled it down, but now my entire family had listened intently as my mother read extremely personal and excruciatingly humiliating excerpts aloud.
That whole death wish I said had vanished? That came flooding back as I grabbed the notebook from her hands and ran upstairs crying.
"Don't write things down if you don't want people to read them," my mom called out helpfully.
Maybe because of this mortifying experience, I've never been much of a snooper. Sure, if I strongly suspect a boyfriend is cheating and lying about it, I'll poke around, but by that point it's just to confirm what I already know.
I trust my current man, but I also know there's a lot about his past (and probably present) that is a complete mystery and I'm fine with that. The Frisky: Cute or crazy dating habits
Thirty-two-year-old freelance writer Mimi agrees. "Contrary to some depictions of couples, you don't have a single collective brain once you get involved," she tells me.
Mimi doesn't snoop, nor does she tell her husband everything -- again, with a caveat. "If you're confiding in some cute guy over work lunches and don't tell your partner how often you see this person, that's problematic. But," she adds, "say you are having sex dreams about an ex and don't mention it to your partner; that's not emotional infidelity -- that's just a momentary distraction that need not be shared because it doesn't serve any purpose except probably to hurt your present partner." The Frisky: Should you tell someone their boyfriend is cheating?:
Unless you're dealing with a philanderer or a serial killer, most people's secrets are fairly innocent. Vanessa, a 28-year-old marketing exec keeps her spending habits a secret from her girlfriend. "She feels like I spend too much money on luxury items, but it's my money so she can't get mad she just judges." The Frisky: Beauty secrets women hide from men
The past is another topic not everyone chooses to open up about. "My Facebook friends include 20 of my exes," declares Wendy, a shacked-up radio producer. "We never chat and rarely message, but my partner would flip out and obsess unnecessarily if he knew."
She's probably right. I sometimes wish I didn't know that so many of the pretty faces on my boyfriend's Facebook page had actually kissed him. The Frisky: Women do the craziest things on Facebook!
Wendy agrees that many things are better left unknown. "I don't want to know what adult sites my boyfriend looks at or which of my friends he thinks are hot. But if he was spending $1,000 a day on a porn habit and hitting on my friends at parties -- those are 'secrets' that kill the deal." Amen.
E-mail to a friend

TM & © 2009 TMV, Inc. | All Rights Reserved
All About Relationships • Dating