By John Blake
CNN





CNN -- Brace yourself -- there's actually some good news about the economy.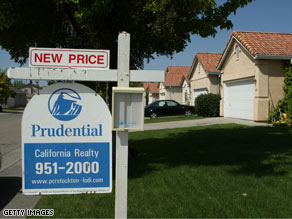 Now may be a good time to refinance, a mortgage expert says.
The economic news may be grim on many fronts, but mortgage rates are low. Now may be a good time to refinance for some homeowners.
Rodney Anderson, executive director of Rodney Anderson Lending Services in Plano, Texas, offers advice to homeowners considering refinancing. He has been in the mortgage business for 20 years.
Question 1: Is this a good time to refinance?
Yes, it is still a good time to refinance, for certain people -- it depends on variables like the borrower's financial situation, the purpose of the refinance and the dollar value of the loan.
In general, if you can make up your closing costs within two years, refinancing could be a good idea. Loan value is one of the primary factors in the equation.
For loan amounts above $300,000, refinancing in today's market may make sense if the borrower's current interest rate is over 6.25 percent. For loan values of $200,000 to $300,000, borrowers with interest rates of 6.5 percent or higher may benefit. For loan values of $150,000 to $200,000, those with rates of 6.75 percent or higher may benefit, and those with loan amounts under $150,000 may need a current rate of 7 percent or higher in order for a refinance to make sense.
Question 2: How much can refinancing cost?
Refinancing costs vary, and can range from $2,000 or less, to $20,000 or more, depending on factors like loan value and the amount of discount points associated with the loan. Borrowers should always be mindful of closing costs. Sometimes they may be tempted to pay a lot in points to get a lower rate, but this may not be the best way to go.
Question 3: What advice would you give to a homeowner who is thinking of refinancing?
Get the process started. If you're in the market to refinance, get all of your paperwork in to the lender. That paperwork should include verification of all income and assets, such as tax returns, W2s, paycheck stubs and bank statements.
Rates fluctuate. If you're looking for a particular interest rate, your window of opportunity can be as little as a couple of hours. By getting all of your paperwork in to your lender, you'll be positioned to get pre-approved for the loan so you'll be ready to lock your rate if rates reach your target range.
Question 4: What's the best way for a homeowner to get an appraisal when home values are plummeting?
A good way to keep apprised of the value of your home at no charge is to establish a relationship with a great Realtor in your area. That Realtor can compare your home to others in your area which have sold recently, and can then give you an approximate value.
I would not recommend paying to get a formal appraisal done if you're simply trying to decide whether or not to refinance. There have been recent changes in regulations that impact the appraisal process, and those changes could end up costing borrowers more money if they're not prudent.
If a borrower decides to pay for an appraisal prior to entering into a mortgage transaction, it's very likely that a lender will be unable to use that same appraisal for a mortgage transaction, should the borrower decide to refinance. Therefore, the borrower would end up paying for two appraisals: one that was used to determine whether or not refinancing makes sense, and another to be used for the mortgage transaction.
If a borrower is going to pay for an appraisal, it makes more sense to start the refinance process. That way, the lender will order the appraisal according to regulations, and will be able to use the appraisal that's completed.
Question 5: Should you refinance if you live in a condo?
The condo financing market is challenging right now. There are usually additional costs associated with refinancing a condo, and a lot of the mortgage insurance companies no longer insure condos.
In general, condo owners are expected to have at least 20 to 30 percent in equity in their properties, which isn't necessarily the case with single family residences. If condo owners want to determine if refinancing makes sense, they should make sure to add up to 1.5 in extra discount points to their calculations. While fees may vary, 1.5 points is a good general guideline.
E-mail to a friend

All About Home Financing • Income Taxes