By Judy McGuire






(The Frisky) -- Though there's still a certain inexplicable stigma attached to it, I am a huge proponent of online dating. I met my long-term boyfriend that way and the majority of weddings I've been to over the past couple years have been for couples who've met via the Internet.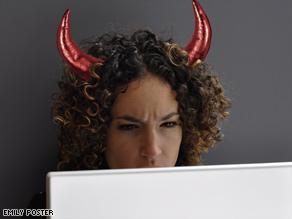 Some people feel free to be meaner online than they would be when face-to-face with someone.
So whenever I hear a friend whine about how they never meet anyone, I give them the online spiel. Heck, Nerve.com should be paying me commission because I've talked so many people into joining.
But as awesome as online dating is for expanding your dating pool, there are also some negatives.
The biggest negative being that it can bring out the worst in people. And by people, I mean you.
Stalk much?
When you hook up with a guy through friends or at a party, you might Google or Facebook him. But unless you're seriously deranged, you probably won't find yourself shadowing him, watching his every interaction with the opposite sex. The Frisky: Online dating dos and don'ts
However, depending on what site you use, it can be all too easy to check up on your latest fling online. I dated a guy who would regularly leave my house and be home, updating his profile, before I'd even had time to brush my teeth! Naturally, I'd want to confront him about being so scummy, but since we weren't exclusive, I didn't really have the right, which, of course, would make me even angrier. The Frisky: A look at online personals sites
Bring on the crazy!
While I sometimes found myself a tad unhinged, yoga teacher Nell became a pathetic shadow of her former self. "I have gazed at their pictures online intently and shouted in my head, 'Call me! Call me!', trying to will it into existence." She makes a good point. After a bad breakup, having instant access to their profile -- photos, updates, or, worst of all, a change in status -- can prolong the agony.
The shallow end of the dating pool
The sheer quantity of people online makes being weirdly picky all too possible. One dater told me, "I find myself vetoing guys for the most shallow, silly reasons. Like I don't like a shirt he's wearing. Or he's shorter than 5'10."
She goes on to add, "But looking back on my exes, none of them were studs -- so why don't I remember that when I'm trolling for dudes online?" Answer: because there's so many of them. When you can afford to rule out some shrimp in a Nickelback T-shirt, why wouldn't you? The Frisky:That's dating compatibility you smell
Instant gratification or bust
"I really hate how so many people online are looking for an instant spark," editor/fox Monica told me. "I went on a lot of dates that I felt had some potential -- no major fireworks -- but I was still interested in testing our compatibility. Unfortunately, so many are looking for that elusive lightning bolt, and if you don't spark on that first date, forget it."
The longest relationships I've ever been in took a while to ignite, but if you're always thinking there's something "better" out there, you might miss out on a keeper. The Frisky: Find a mate In 140 characters or less
It can bring out your inner Mean Girl
When I asked my friend Isabel if online dating brought out her bad side, she shot me back an email almost instantaneously. "I generally consider myself a nice person, but I guess the caveat is that I'm generally a nice person as long as I'm looking at you IN PERSON. Because otherwise, well, not so much."
Isabel confesses she immediately deletes all replies without photos, as well as anyone who confesses they "love to laugh." She sarcastically snaps, "Because really, I hate laughing. Don't you? It usually means something funny has happened, and there's nothing worse than that."
Well, except for a lame cliché.
E-mail to a friend

TM & © 2009 TMV, Inc. | All Rights Reserved
All About Dating • Relationships