By Melissa Balmain





(Parenting.com) -- Teething rings, pacifiers, Mylicon drops: When your baby is difficult and cranky, there are plenty of tools at your disposal to set things right. But what can you do when the grown-ups in your life act like uncooperative, whiny children? No matter how hard you look, you won't find a pacifier big enough to hush your difficult mother-in-law or cranky hubby.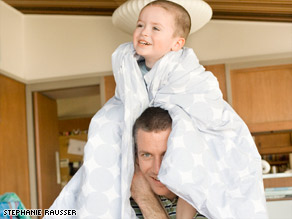 A new father may leave all the work to the mother because he genuinely is clueless about parenting.
These repair jobs require tools of a different kind: communication and diplomacy. Here are three simple steps to better relationships with the people in your life who need a little fix-it job. Get these folks working with you instead of against you, and then you can focus your attention on the person who needs it most: your baby.
Hands-off hubby
The problem: He intentionally avoids doing his share of the babycare and acts totally clueless ("I just can't make that Diaper Genie work!") in an apparent effort to force you to do everything. Parenting: Mad at Dad? You're not alone
The fix:
1. Consider that he genuinely may be clueless about baby stuff. New dads often are, says Carolyn Pirak, a social worker who runs the national Bringing Baby Home program at the Relationship Research Institute in Seattle, Washington. Plus, dads can have different standards than moms. While you're itching to change the baby's spitup-splotched T-shirt, Dad may be thinking, "It's just milk!"
2. Spell out the baby's needs -- and yours. First individually, then together, list every babycare job you can think of. "Once both partners have a copy of the joint list, it's pretty hard for him to say he didn't know you had to do it," Pirak says. Divvy up the list, making sure you each get some stuff you enjoy (stroller rides, birthday-party planning) along with the scut work.
3. Stay positive. If you compliment him on a job well done, he's more likely to do it again.
Family-unfriendly boss
The problem: She sets inflexible hours and/or provides no place to pump milk (or, heaven forbid, to nap). Parenting: Is your job child-friendly?
The fix:
1. Bring out your inner saleswoman, says Neil J. Lavender, Ph.D., a psychologist in Toms River, New Jersey, who cowrote "Toxic Coworkers: How to Deal with Dysfunctional People on the Job." Tell your boss why giving you what you want is good for her and the business -- not just for you. For example, suggest making flextime a reward for top performers and therefore an incentive for everyone to do better work.
2. Don't give up after round one. Keep coming back to your boss (though not in a nagging way) with ever-more enticing arguments and offers. Mine the Internet for studies that reinforce your case, such as those on catalyst.org that show how family-friendly policies can create a much better workplace.
3 If your boss still refuses to budge from her position, try other routes: the human resources department, sympathetic folks in high places (be careful not to bash your boss, though), or even Web sites that let people air workplace grievances via anonymous e-mails, such as anonymousemployee.com.
MORE RELATIONSHIP PROBLEMS
Spoiling relatives
The problem: They offer the baby inappropriate gifts or encourage misbehavior ("Bite Mommy, little tiger!").
The fix:
1. If your relatives are promoting bad behavior, you have every right to say so. Most are so eager to do a good job that if you explain a rule, they'll accept it, Pirak says. Try something like: "We've found that if Johnny eats sugar past about six at night, he just can't get to sleep."
2. Cite an objective authority: your pediatrician or literature from the American Academy of Pediatrics. Advice may be easier for them to take if it's not all coming from you, Pirak says.
3. Don't freak out over every little cookie. Research shows that babies don't really get spoiled by occasional treats from relatives. In fact (surprise!), they prefer living by your rules: "You need to trust that the limit setting and security you provide actually feels better to their system than the sugar rush of Grandma's doting," says Los Angeles, California, psychologist Leonard Felder, Ph.D., author of "When Difficult Relatives Happen to Good People."
Overbearing mother-in-law
The problem: The moment your baby boy was born, she started telling you how to do everything -- and she shows no signs of stopping before the kid graduates from college.
The fix:
1. Imagine you work at Childcare Inc., and you must collaborate with a consultant whose whose advice is helpful 25 percent of the time, suggests Felder. "Find the useful information while ignoring the rest of what she says."
2. Thank your mother-in-law for caring enough to share her knowledge and parenting experience with you, Felder says. "Remind her that you appreciate her, especially when she's genuinely helpful. She'll know that she's respected, which is probably what she wants."
3. If she keeps hounding you to accept all her advice, try the "caring sandwich" technique. Bottom slice: Play up something positive. "I appreciate how much you care about your grandchild." The filling: Lovingly set a limit. "I need you to let me make a few mistakes I can learn from." Top slice: "I hope you'll continue to remind me about anything that's life-or-death for this child, while letting go of the things that are just a question of different styles." Parenting: Making peace with your in-laws
Dueling grandparents
The problem: Your parents and his compete so hard for time with the baby, you're tempted to buy a referee uniform.
The fix:
1. Set some ground rules. Be as tactful as possible -- "Doug and I would love to have you come next weekend since my mom is staying with us this weekend" -- but also be firm, says Pirak. You might say, for instance, "We really can't have all the grandparents at once except on major holidays. We just need things not to be too chaotic."
2. Remind them that you're human, says Felder: "I'm trying really hard to make everyone happy, but a perfect schedule might not happen right away."
3. As early as possible, ask both sets of grandparents, "What are two or three things you really want to do with this baby that I can make happen?" Maybe they're dying to take the baby on her first trip to the zoo, or to pick out her first Halloween pumpkin. "When you toss the ball into the other person's court," Pirak says, "they're almost so thrilled to be asked that they're happy with anything they get."
Flagging friend
The problem: A non-mom friend acts distracted when you discuss your postpartum obsessions (like breastfeeding) and/or keeps inviting you to late-night drinks and movies as if Junior didn't exist.
The fix:
1. Focus on your feelings, suggests Faith Boninger, Ph.D., a life coach in Scottsdale, Arizona: "When I told you about Brian's nursing strike, you started talking about going to a movie. I felt like you didn't care about what I was going through." Chances are, she'll admit that (a) she finds all this baby talk a tad boring and/or gross, or (b) she just feels neglected as a friend.
2. If it's (a): Save the breast report for someone who cares -- grandma or a fellow new mom -- and stick mostly to other topics with your friend. If she refuses to hear about your baby at all, quit hanging out with her so much. Maybe you'll reconnect after she has a kid herself.
3. If it's (b): Show her you still value her friendship. A true pal should understand that you can't have her over for a four-course meal, postpartum -- but maybe you can pump a bottle for the baby and leave him with your spouse while you two go out and grab a drink. It's good for your friendship and your sanity.
E-mail to a friend

Try a FREE TRIAL issue of Parenting Magazine - CLICK HERE!
Copyright 2009 The Parenting Group. All rights reserved. Reproduction in whole or in part without permission is prohibited.
Babytalk contributing editor Melissa Balmain is a writer and mother of two in Blacksburg, Virginia.