By Madelyn Rosenberg




(Parenting.com) -- My husband and I used to fight dirty. It wasn't you-be-the-French-maid dirty, and we never swore unless it was buried under mountains of breath. Instead, we fought the way couples fight when they've been together long enough that every argument echoes with past arguments, even after the statute of limitations has expired.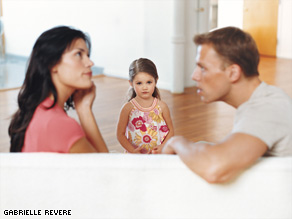 Author applies what she taught her kids to do when communicating feelings to her marriage.
Every fault was exaggerated, every transgression a reminder that the summer of 1999 (or was it the summer before?) might have been the last time I properly did the dishes. I know it was the last time he cleaned the toilet.
My husband would get defensive when we'd argue. I'd glare, yelling at him inside my head and waiting for him to read my mind.
"I can't read your mind," he would say.
Oh yeah? I would think. Read this.
We were sarcastic. We pushed buttons. Verbally, we hit below the belt.
"Isn't your cholesterol up again?" I would ask when my husband walked into the house with a pepperoni pizza.
"It's not like you've made many friends here," he would say, underscoring my isolation as part of a discussion of why he thought we should move to yet another new city.
Passive-aggressive behavior became the specialty of the house. I asked questions when I already had the answers. The messier our bedroom was, the louder my husband cleaned it.
I rarely said what I meant -- a particularly egregious fault, given that communication is supposed to be one of my strengths. My speech was dressed in veils, an angry bride.
We fought about time -- there wasn't enough of it. We fought about money -- ditto. We battled over our move to Boston -- I didn't want to go. And we argued over my housekeeping, which was never as high maintenance as my personality and, if we analyze it, is really an argument about time.
I don't want to give the impression that we fought all of the time or even often, though it seems that way, looking back. I don't believe we fought more than most other couples do. When our battles were over, we managed to find a way to compromise. We apologized (we were experts at that, if we were not skilled at the fighting itself). And luckily, we forgave.
After our son was born, and then our daughter, our arguments centered even more on time, which in our house had become an endangered species. As usual, we littered our fights with dirty looks and unsportsmanlike conduct, clobbering each other with a new argument before we'd recovered from the old one. Parenting.com: Arguing in front of kids
And then one of us (I can't remember who, though I'd like to take the credit) repeated the refrain we'd been using with our kids when they melted down in a mass of lava and tears: "Use your words."
We stopped, mid-fight even, and admired the irony. Use your words. Of course. So obvious! But we hadn't been doing that.
For the past three years we'd tried to help our children sort through their emotions and find the words to tell us, calmly, what they were feeling inside. "Don't just scream," I'd tell my son when his body went rigid and his face contorted in front of the magic doors at the grocery store. "Say, 'Please, Mommy, I want to open the doors myself.'"
But at the same time, my husband and I were engaging in speech that, while more sophisticated in its use of grammar and vocabulary, frequently became muddy when emotions ran high. We could do with a lesson in cool clarity, especially since it's a lesson we were trying to teach.
And so our children, who have altered our worldview and increased our wonder and apple-juice consumption, have also changed the way we argue. Our fights are calmer now. Shorter, too -- a good thing, given that we try to make sure they take place after the kids are in bed but before we collapse. Our sentences are simpler and more declarative. Parenting.com: How parents arguing can raise kids' stress
"I feel uncomfortable borrowing money from your parents."
"I need you to take the kids for an hour because I'm going to take a shower. There will be no hot water left when you return."
We tell each other what we need, though it's still rewarding when the other person knows -- not clairvoyance but tuned awareness.
It's a work in progress. But so is marriage.
When our arguments are over, my husband and I climb into bed. I lie on my side and he puts his hand on my hip. I cover his hand with my own. There is warmth there, and strength, and a feeling so palpable there is no need to use our words.
We use them anyway.
E-mail to a friend

Try a FREE TRIAL issue of Parenting Magazine - CLICK HERE!
Copyright 2009 The Parenting Group. All rights reserved. Reproduction in whole or in part without permission is prohibited.