By Emily Farris






(The Frisky) -- For months I watched women swoon over "The Bachelor," Jason Mesnick, a divorced single father, and I just couldn't understand why.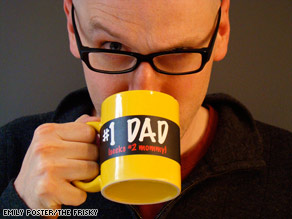 As women get older, the chances of dating a man with children increases.
The whole thing was cute, sure, but didn't these ladies get that people with kids have different priorities than those of us who have yet to procreate?
As a single twenty-something, I am the center of my world, and I like it that way.
While I certainly want kids, I don't want them right now. And I've always imagined that when the time comes, my partner and I will experience all of the firsts of parenthood together. But as I am constantly reminded, life doesn't always work out the way I imagine it will.
When I went to see some live music last week, I found myself more into a bartender than the band. He had a beard, black-framed glasses and a mess of curly hair tucked up into a stocking cap -- exactly my type.
But every time I tried to order from him, another bartender would intercept. While my ill-fated attempt at conversation resulted in a few too many trips to the bar, I at least worked up enough liquid courage to give him my number... sort of.
I scribbled "You, with the hat" alongside my name and number on a piece of paper, and left it by the tip jar on my way out. A few days later he called and the next night we were exchanging shy smiles and embarrassing stories over whiskey on the rocks.
I was smitten. He was cute, smart and much nicer than I expected (in my experience, his look is favored by grumpy hipsters). He played in a local alt-country band and paid for my drinks. Little did I know, he was building up some liquid courage of his own.
"I should tell you something," he said halfway through our third round. "I've been married before."
"Wow!," was all I could muster, followed by, "I think you're the first person I've ever been on a date with who's been married. But it's not like you have kids, right?"
"Well, that's what I was getting at. I have two. I figured I should probably just get that out of the way now."
He explained that when he was 19, he married his high school girlfriend after she got pregnant. They had two kids and divorced a few years later. He now has his son and daughter every other weekend and attends all of their school functions. In fact, his relationship with his kids sounded a lot like the one my sister and I had with our father.
After I got over the initial shock, I was surprised at how much it didn't matter to me. Had my bearded bartender told me he had kids before we went out, I would have found a reason to cancel.
But I already liked him and the fact that he had two munchkins around every other weekend wasn't going to keep me from having fun with him that night, or the next time we went out.
Plus, given my success rate with dating, I figured it was too early to worry about something that wouldn't affect me unless we were to get serious.
I ultimately had to face the fact that as I get older -- and, well, do things like move to the Midwest -- the chances of dating men who have already been married or have children are going increase, which isn't necessarily all bad.
I knew on the first date that I wasn't wasting my time with someone who couldn't deal with life or handle responsibility. And that's more than I can say for most of the men I've dated.
E-mail to a friend

TM & © 2009 TMV, Inc. | All Rights Reserved
All About Relationships • Parenting