NEW YORK (CNN) -- The current stock market presents an opportunity for people who have time to watch their investments grow. Individual retirement accounts are one saving vehicle, but converting from one type of IRA to another involves careful consideration.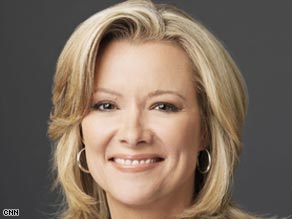 CNN personal finance editor Gerri Willis answers viewer questions on "The Help Desk."
CNN personal finance editor Gerri Willis answers this question and other viewer questions on "The Help Desk."
Question 1: I have rolled over two different 401(k)s from previous jobs in 2007 to one traditional IRA. Should I convert it to a Roth IRA? I am 35 years old. -- Kevin
It's a good move since stock values are way down. But, make sure you can take the tax hit. When you convert a traditional IRA into a Roth IRA, you'll have to pay taxes on that amount you transfer, says Rich Zito of FlynnZito. That could be thousands of dollars.
But since you're young and likely to be in a higher tax bracket when you retire, it'll be worth your while if you can convert your IRA to a Roth IRA. The tax hit you take now will be less expensive than the tax hit you'll take later when you're in a higher tax bracket.
'The Help Desk'
CNN personal finance editor Gerri Willis and her team of experts get answers to the tough money questions Americans are facing, from mortgages and managing debt to saving for college or retirement.
Tuesday & Friday, 12 p.m. ET

Question 2: I recently received an e-mail offering me a work-at-home job opportunity. The offer sounded pretty tempting, but I am very skeptical, especially since they ask for a $197 activation fee. Should I trust this kind of business? -- Eduardo, Virginia
You have good instincts, Eduardo. Don't trust any e-mail solicitations that ask you for money. Work-at-home scam artists usually promise big rewards, tell you that you won't need any experience and never mention anything about regular, salaried employment. And most of them ask for money upfront. The smart move here is to contact your local Better Business Bureau at bbb.org and report the company.
Don't Miss
Question 3: I am challenged with a collection notice from a new debt collector -- and I never had an account with the original lender. It is NOT my debt. What can I do to stop this madness? --Anonymous, California
You must send a letter to the collection agency within 30 days after you receive the notice. Make sure you state in the letter that you do not owe money. The debt collector can't contact you until you are sent proof of that debt, like a copy of the bill for the amount owed. You should report any problems with a debt collector to your state's attorney general's office or the Federal Trade Commission. To get a list of your rights, go to FTC.gov.
E-mail to a friend

All About Individual Retirement Accounts • Better Business Bureau • Consumer Credit and Debt