By Michelle Goodman
Special to CNN





(LifeWire) -- Annabel Newell has grown used to people complimenting her breasts.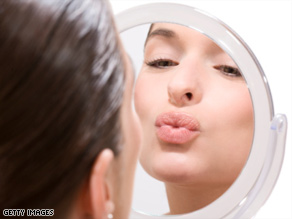 Cosmetic procedures complicate the rules of giving a compliment.
"Complete strangers will say, 'Great boobs!'," explains Newell, 37, who got implants in 1991 because she wasn't happy being an A cup -- especially in her hometown of Los Angeles. "I'll have women pull me aside in a bathroom and ask if they can touch them."
While most people's comments about her C-cup breasts are "very complimentary," some are backhanded at best:
"You can be at a club and a guy you've never met before will come up to you, stare at your chest and blatantly ask, 'When did you get them?' No 'Hi, nice to meet you,'" says Newell, who is vice president of business development for a Web startup.
In this age of nips, tucks, implants and wrinkle smoothers, once-benign niceties like "You look fabulous!" or "Did you change your hair?" can be fraught with hidden meaning.
Which raises the question: Is there a gracious way to compliment the doctored appearances of friends, acquaintances and colleagues? Is it ever OK to be overly nosy about those suddenly plump lips or suspiciously perky breasts? And if you don't like a compliment someone lobs your way, what's the best way to respond?
Don't ask, don't tell?
According to the American Society of Plastic Surgeons, nearly 12 million cosmetic surgeries were performed in 2007, up 7 percent from 2006 and 59 percent from 2000. What's more, 2007 saw nearly 10 million "minimally invasive cosmetic procedures," including Botox injections and dermal fillers like Restylane and Juvederm, a 9 percent jump from 2006.
With some cosmetic procedures now as routine as a trip to the dentist, you'd think we'd have the etiquette part of the equation down pat. But that's hardly the case.
"There's definitely a disconnect between what people want to hear after they've had a cosmetic treatment and what they're afraid they'll hear," says Dr. Joel Schlessinger, a board-certified dermatologist and general cosmetic surgeon in Omaha, Nebraska, who sees about 1,200 Botox and 500 dermal filler patients a year.
Most patients hope their friends and acquaintances will notice them looking "better" or "well rested," says Schlessinger, the immediate past president of the American Society of Cosmetic Dermatology and Aesthetic Surgery.
In other words, "What did you have done?" is a not a question his patients hope for.
"If you notice that something is different with a friend or someone you know, stick with the compliment 'You look amazing' and leave it up to them whether they want to share what they did," says Tom Seery, president and founder of RealSelf.com, an online community for beauty and cosmetic treatment enthusiasts.
Why so nosy?
Newell, who's been asked "Are they real?" more times than she can count, seconds Seery's advice.
"We've sensationalized the whole plastic surgery industry with shows like 'Extreme Makeover' and 'Nip/Tuck,' so now people feel they can discuss it, even with complete strangers," she says. "But it's none of your business, and it's extremely offensive to pry. What if I was a cancer survivor?"
Mary Mitchell, author of seven etiquette books, including "The Complete Idiot's Guide to Etiquette," agrees. "You have to really examine why you're asking," she says.
"If you're asking because you've got some morbid curiosity, because you have some prejudgment, that's pretty rude," says Mitchell, who is 58 and has had a face-lift and Botox injections herself.
"If you're asking because it's something you're considering and you have the kind of relationship where it wouldn't be terribly uncomfortable, that's fair enough."
The snappy comeback
When complimenting someone on their new and improved looks, those who've had work done say you can never be too discreet.
Bryce Gruber, a 24-year-old publicist, learned this the hard way.
"I live and work in Manhattan in the beauty and fashion industries, where it seems just about everyone but myself is Botoxed, Restylaned or Juvedermed at the very least," she says.
"I made the mistake of saying to one socialite, 'Wow, I can't believe you're 55. You look fantastic!' only to hear back, 'That's because I have injections in every corner of my face, sweetheart.' Makes for an awkward moment."
Newell's also no stranger to dishing out the occasional tongue-lashing to careless flatterers who get a bit too personal.
"In many instances, I let them know it's an inappropriate thing to say," she says.
Among her favorite comebacks:
"Of course they're real. It's my breast tissue. What, do you want me to talk about my implant size and how they were inserted?"
Injected and proud
But not everyone who's gone under the knife, laser or needle is so hush-hush about it.
"I'm not uncomfortable when people tell me I look good," says Paulette Cooper, 66, an author from Palm Beach, Florida, who's "very open" about the fact that she's been getting injections of Restylane and Radiesse for the past 18 months.
"I often find that when I tell another woman I've done it, they're interested but didn't know who to ask," says Cooper. "I tell them where I think it would improve their face and what the treatment entails."
Apparently such evangelism works: "Two close friends -- one an on-camera TV personality -- have e-mailed me recently to thank me that they look so good after the treatment I convinced them to have."
E-mail to a friend

LifeWire provides original and syndicated content to Web publishers. Michelle Goodman is the author of "My So-Called Freelance Life: How to Survive and Thrive as a Creative Professional for Hire."
All About Cosmetic Medicine • Botox • American Society of Plastic Surgeons