NEW YORK (CNN) -- As a record number of Americans collect unemployment benefits, some U.S. economists predict that jobless claims are "nowhere near their peak."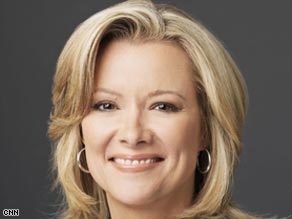 CNN personal finance editor Gerri Willis answers viewer questions on "The Help Desk."
CNN personal finance editor Gerri Willis and her team of money experts offer advice to those in search of work or faced with unemployment.
Question 1: Where can I find one of these entry-level green-collar jobs? -- Casey, PA

Keep in mind that green jobs are often in the same areas of employment that people already work in today. Most jobs in green industries are in construction and manufacturing, and they don't require four-year college degree.
In fact, most require associate degrees or an apprenticeship program through a union. Check out the Laborers International Union to see if there are apprenticeship programs available. Also, idealist.com has some entry-level green-career job postings.
Question 2: I am considering returning to school to get a B.A. I already have two associates degree and would like know if this is a good idea. I have been unemployed for two months, and I figured this would be a good time to reinvent myself at the age of 40. -- Ivet
'The Help Desk'
CNN personal finance editor Gerri Willis and her team of experts get answers to the tough money questions Americans are facing, from mortgages and managing debt to saving for college or retirement.
Tuesday & Friday, 12 p.m. ET

We can't knock the value of knowledge here. But before you take on additional debt, find out how much your career will pay in your area. Go to careervoyages.gov to determine whether your chosen career could sustain your monthly college debt payments.
Question 3: What happens if a person was fired from the job and no longer able to contribute to their 401(k)? If I roll it over, will I lose what my employer has contributed? I've been in the plan for two years. -- Anonymous
First, find out when you're vested; this means that the money your employer contributed to your retirement account is now yours. Most companies have a vesting period that lasts for five years. It's likely that you weren't completely vested.

In that case, you are entitled to what you contributed, but the money your employer put up will be taken away regardless of whether you do a direct rollover or you keep it in the company plan, says Doug Flynn of Flynn Zito Capital Management.
Question 4: I am retired and need to earn income, but I need to work at home. I have tried some companies from the Internet, but they all seem to be scams. Can you point me in the right direction? -- W. Green
Don't Miss
You have a right to be skeptical about work-from-home jobs. There are a lot more work-at-home scams out there today, given the amount of people who are desperate for work and the ability of scam artists to exploit that.

Here are some legitimate places to look for at-home jobs:

Liveops.com or alpineaccess.com are both companies that hire home-based workers for call center jobs. If you want to be a "virtual" assistant, look at companies like Staffcentrix.com, or check out the International Virtual Assistants Association at IVAA.org.

Legitimate work-at-home sponsors should tell you in writing what is involved in the program. Find out if you will be paid a salary or by commission, and get the total cost of the work-at-home program, including supplies, equipment and membership fees.
Be wary of exaggerated claims of potential earnings and demands that you pay for something before instructions or products are provided. And always check in with the Better Business Bureau in the area the company is located in. You can also check in with the FBI at lookstoogoodtobetrue.com.

Are you facing a tough financial decision? Send your questions for timely advice from "The Help Desk" experts.
E-mail to a friend

All About U.S. National Economy • Job Losses