By Judy McGuire






(The Frisky) -- How many people do you know who've been downsized? Terminated? Let go? Fired? However you word it, the result is the same: Bummer, dude!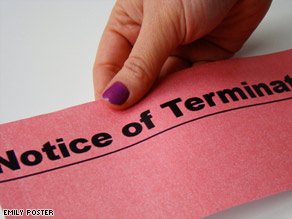 When letting go of someone in your life, keep it clean, brief and to the point.
According to the Bureau of Labor Statistics, 4.1 million people have lost their jobs in the last year alone.
To add insult to financial injury, some of these firings are handled horribly.
Workers report being locked out of their offices, escorted out by security guards, or being replaced by less-experienced (cheaper) employees.
Frequently, those lucky enough to hang onto their jobs are asked to take on more work for less dough.
It got me thinking about how similar firing someone from their job is to firing someone from your life. So, I took a gander through a bunch of employment guides and found some resources that could prove useful in your romantic life.
1. The sneak attack
At a job, you're generally given at least one warning before you're shown the door. Feigning love and happiness, and then dumping the other person out of the blue might not be illegal, but it is 100 percent unconscionable.
2. The direct approach
Have you ever worked for a boss who talked in circles? The kind of job where you were never sure if you were getting a raise or getting the ax? When terminating someone, whether it's from their place of employment or their place in your heart, keep it clean, brief, and to the point.
Do not turn it into a debate by utilizing uptalk. "So, I was thinking? Maybe we should break up?" Whatever your intent, it's a question, not a statement. End it with a period.
3. The disappearing boss
This is a problem that is almost always freelancer-specific, because most people see at least a supervisor during their workday. Clients who don't return phone calls or emails leave you wondering whether they've been laid off or you're being fired.
As in love, vanishing into the ether only breeds confusion and hurt. Especially if you've slept with the person, you owe them at least the courtesy of a dismissal phone call.
4. Clean break
In this economy, it's all too common to be summoned into the boss's office, pink-slipped, and in the next breath be asked to pick up consulting projects on a freelance (i.e., benefit-free) basis. Nice. Similarly, breaking someone's heart and subsequently booty calling them is less than kosher behavior. (Unless you're both over it. In that case, carry on.)
5. Severance
If you're lucky, your boss will stuff a couple weeks pay in your pocket as she boots you out of your cube. Parting gifts are not necessary (or even appropriate) when breaking someone's heart, but you should return whatever stuff they've left behind.
As for gifts exchanged during the relationship-that's a stickier topic, but a good rule of thumb is that the heartbreaker should try to err on the side of generosity.
6. Location
A pal of mine got the boot after his boss summoned him to a coffee shop. While he was out unwittingly enjoying his last cappuccino as an employed man, the IT guy was busy changing his email password, while his assistant filled a box with his personal effects.
Classy! I know ditching while dining out is a popular move, but it's one I've never understood. Unless you're actually afraid of the dumpee, make the breakup as private as possible. Public humiliation on top of rejection is overkill.
7. Exit report
Many times when you leave a job you're asked to write a report tying up any loose ends. The times that I've been made romantically redundant, I've found that dashing off a nice follow-up note (along with a performance review or two) goes a long way toward healing my shattered heart and giving him the information that he needs to be a better boyfriend the next time around.
E-mail to a friend

TM & © 2009 TMV, Inc. | All Rights Reserved
All About Relationships • Dating