Editor's note: Clark Howard, the Atlanta, Georgia-based host of a nationally syndicated radio show, is host of a television show designed to help viewers save more, spend less and avoid getting ripped off during these tough economic times. The show airs at noon and 4 p.m. ET Saturdays and Sundays on HLN.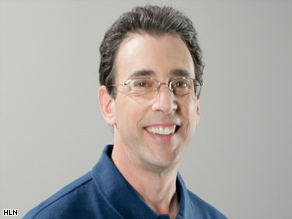 Clark Howard says you don't create long-term prosperity with a big dose of federal spending.
ATLANTA, Georgia (CNN) -- When it comes to stimulus packages, people want to believe that Washington can just come up with an answer that spreads pixie dust and makes everything OK. That's just not the case.
This isn't a knock against the Democrats or the Republicans; it's just cold, hard economics.
President Obama has now signed into law the massive $787 billion federal stimulus package. I'm not at all excited about this package, just as I was unenthused last year when the $150 billion stimulus package was unveiled during former President Bush's tenure. At the time, I decried the $150 billion plan as the "Politician Protection Act of 2008" because I believed that its chief aim was to secure re-election for the incumbents.
So as you can see, I have a history of not "doing" stimulus packages. I think about it like this: If the problem is that we've all been spending money that we didn't have, you don't solve that by legislating more spending, right?!
Money Expert
Clark Howard offers a road map to financial stability every weekend.
At noon and 4 p.m. ET Saturdays and Sundays on HLN

I also don't "do" politics. So you won't hear me saying, "I can't believe they designated this or that money to this or that worthless cause" when it comes to the Obama plan.
But I do want to share with you why I would have gone a different direction with the current stimulus effort.
This Christmas tree with ornaments -- as I like to call the Obama plan -- has about $2 in new spending for every $1 in tax cuts. Most tax cuts apply to those who have household incomes of below $200,000. These tax cuts will come in the form of rebates or credits of between $250 and $800.
For me, the real problem with the stimulus package is that we're crowding out what we need -- an ultimate private enterprise recovery -- by doing enormous amounts of government spending to artificially prop up the U.S. economy.
Make no bones about it; this $787 billion plan will create economic growth temporarily. But it will only be a false recovery, and it could be followed by a possible second recession. What will the government do then? They'll simply have no ammunition left.
Even though the provisions have been watered down, the issue of trade barriers also really irks me. "Buy American" may be a populist (and popular) sentiment, but you have to remember that the Great Depression was hastened by trade barriers and trade protectionism.
Don't Miss
I'm an ardent dyed-in-the-wool free trade advocate. I know that some of you reading this may have even lost your jobs because of free trade. But the long-term danger to economic growth at home and abroad is just too great if other nations follow our lead and start putting up trade barriers.
In my view, the U.S. economy has to be given time to correct. And in the meantime, we've got to cushion the blow that the unemployed are feeling.
If it were up to me, I'd direct $50 billion to provide a social safety net through increased unemployment compensation, increased food stamps and assistance to food banks, and more money for health care.
And that's it.
We just need to provide the basics so people can limp along with food, health care and jobless benefits until the economy starts to recover as part of a natural cycle. Yet the reality is that we will spend in the trillions to fix the banking sector in the United States. I'm no fan of the giant banks, but this is a necessary evil if we want to have long-term prosperity. Capitalism needs a functioning capital sector in order to work.
I don't want to sound like a Dr. No about the Obama plan, but if we want to grow our economy, we need to deal with the tough times. You don't create long-term prosperity with a big dose of federal spending. Down cycles are fundamental in capitalism; we cannot outlaw our economic cycles.
E-mail to a friend

All About National Economy