By Lisa Respers France
CNN





This story is part of an ongoing series of profiles by CNN about economic survival in this time of financial crisis.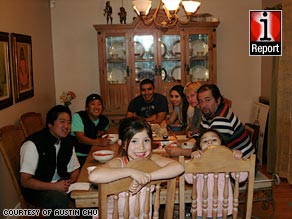 Some members of the Frankel household gather around the dinner table at their home in New Mexico.
(CNN) -- Chris and Georgia Frankel have no idea what it must be like to live alone as a married couple. They started out their life together staying with relatives and later friends.
Those early years proved to be good training because their house in Albuquerque, New Mexico, now has 12 people calling it home.
In addition to their three daughters, ages 3, 6 and 17, the couple shares their space with five adults and two teens.
The family started taking in people before the economy soured, and now they say they are weathering the downturn better than some, in part because of their unconventional living arrangement. iReport.com: Tell us how you're surviving
In the Frankel household, everyone has pulled together to make the way a little bit easier for them all.
They are all there for various reasons, from difficult family situations to trouble with former roommates.
Some are there daily, and others come and go based on school schedules and work commitments.
Rent -- if the person can afford it -- is minimal and sometimes even shunned.
Don't Miss
"It's difficult with Georgia, because she doesn't like to take money from anyone," said Jamie Cooper, a co-worker of Georgia's who has lived in the Frankel home for more than a year. "She wants to take care of everyone all the time."
Not that the Frankels are wealthy.
Georgia works as an executive assistant at Heel Inc., a homeopathic pharmaceutical firm, and Chris is director of programming for Fitness Anywhere, a company that sells exercise equipment.
But even with a lifestyle Chris describes as "living paycheck to paycheck," the couple say they are fortunate to have a large house (it's more than 3,800 square feet) that has become a haven for those living there.
"People were there for us and helped us when we needed it," Chris said. "We wanted to do the same."
It was just a few years ago that the family needed care.
First, the eldest Frankel daughter got sick and ended up in the hospital. Then Chris' father moved in while in the final stages of cancer.
"We were under the impression that he had six months to live, but he had nine days to live," Chris recalled. "I went through a battle with depression, and my wife was taking care of the kids and actually taking care of me quite a bit."
Undone by stress and grief, Chris stopped working some of the personal training jobs he held to supplement his income teaching in the exercise science program at the University of New Mexico.
The family finances plummeted, he said.
"We learned how to get by when there was not enough food in the house for the kids," Chris said. "We had to beg and borrow money from people to get by."
Gradually, things stabilized, and as times got better, the Frankels found themselves in a position to pay it forward.
Rachel Balkovec was the first to move in two years ago.
Chris was her professor, and when he offered her a job as a personal trainer during summer break, she declined because she had nowhere to stay.
"I said, 'I have to go home and work and save money. I can't stay here if I don't live for free,' " said Balkovec, who hails from Omaha, Nebraska. "The next day at school, he was like, 'Hey, my wife said you can move in whenever you want.' "
After getting over the surprise of the offer, Balkovec moved in and has been there ever since.
"They ended up being like my own family," said Balkovec, whose boyfriend later moved in also. "[The Frankels] are really open. There is every type of person living in this house. They don't judge, and they love everyone. They just want to help people."
Everyone agrees that the driving force behind the living arrangement is Georgia. She is a woman with a big heart whose door is always open.
It's not rare for the kids' friends to be found hanging at the house, and every Thursday, the family hosts a group of local Mormon missionaries for dinner.
The couple has converted spare rooms into bedrooms to accommodate everyone, and even with a food bill that averages about $1,000 a month, Georgia swears she wouldn't have it any other way.
"I feel like everyone needs a good environment to live in," Georgia said. "We have a home we were blessed with, and it has a lot of room for everybody. We work well as a family."
A typical day at the Frankel household is not as hectic as you might imagine. The presence of four bathrooms helps, and everyone's schedule varies.
The group divides up chores and enjoys gathering around the crowded dinner table at the end of the day.
A Wii they saved up for has helped the house develop a fondness for a little healthy video game competition on the weekends.
And although they may not all share blood, they are bound by respect and affection for each other, they say.
Alfredo Loda is a chef who calls Casa Frankel home when he is not working in various parts of the country.
Finding work has gotten tougher and tougher, he said, and he has been able to secure only seasonal jobs here and there.
Were it not for the Frankels, said the Italian-born chef who speaks three languages, he probably would have left for Europe to try to find work.
"This is how people used to live, looking out for and taking care of one another," said Loda, who cooks and helps with the care of the children as a way to contribute to the household.
iReporter Austin Chu posted a clip of the Frankels to share the story of a family he says "embodies what we all need to embody." iReport.com: Inspiration in Albuquerque
Austin and his brother Brian are traveling the United States filming a documentary they have titled "The Recess Ends," about the country's current economic plight.
Austin Chu said the Frankels are an example of America at its best.
"Imagine if every family was like the Frankel family," Chu said. "In times of real trouble, these are the values we need to hang on to."
Chris Frankel's job is based in San Francisco, California, and he is on the road quite a bit these days.
He said he considered moving his family and selling his house, but the current real estate market and the expense of living in California made it impossible.
Instead, he travels with the knowledge that his wife and daughters are in good company.
"My kids get to experience different cultures and different kinds of people," he said. "At the end of the day, if it comes down between saving a dollar or helping someone else out, we have been pretty good about seeing the investment in our friendships and our family. That's what keeps us going and keeps us pretty happy."
E-mail to a friend

All About Unemployment Rate • Layoffs and Downsizing