(REAL SIMPLE) -- Ah, love. It made Patsy Cline "Crazy." Madonna crooned "Crazy for You" from the bottom of her heart, and Billie Holiday was "Crazy in Love" long before Beyoncé came onto the scene.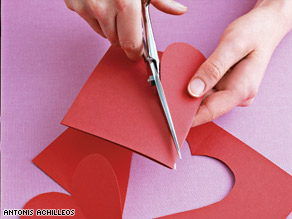 From skydiving to eloping to shaving their head, some people share their lovely moments.
But they all have nothing on these readers who have performed all sorts of nutty acts in the name of love. For some, it was marrying a man they barely knew; for others, being crazy enough to make a relationship work. Either way, here's to that special madness that's worth singing about.
Great adventures
I flew from Toronto to Atlanta to see my boyfriend, wearing nothing but a negligee and a coat over it. I must say, the reception when I landed was warm. We just celebrated our 19th wedding anniversary.
Suzanne Diaz
Athens, Georgia
In college I took skydiving lessons and jumped out of a perfectly good airplane to impress a new boyfriend who was really into adventure and risks. On my first and only jump, the parachute malfunctioned, forcing me to do away with it and then struggle in free fall to pull my reserve chute (thank goodness I had paid attention in class!). Tell us how YOU met your sweetheart
Needless to say, the relationship also ended up malfunctioning.
Susan Hart
Nashville, Tennessee
Most of our friends' first homes are in the suburbs, but I got hitched and moved to the country, into a log cabin built in the 1800s. We find ourselves in a true fixer-upper, downwind from a neighbor's rather large hog operation, unable to drink the water from our hand-dug well, cold now that winter is here, without cable or high-speed Internet, and an hour from anything worth visiting. Real Simple: The mysteries of love
But living here with my best friend and the love of my life is magical. We are looking forward to fresh eggs from our chickens, learning to can vegetables from our garden, and having friends and family over often.
Katy Markey
Lynchburg, Ohio
Because my husband was yearning to see Alaska, I got on a single-engine plane in the town of Skagway, with a pilot younger than my luggage, despite my fear of flying. We took off in the rain, over a river and between mountains, trying to stay under the fog.
Earlier, in the one-room terminal, the pilot had asked the five passengers to write down their weights so he could balance the seating. What, I wondered, were the chances that the woman next to me would be honest? I added 50 pounds to my weight and prayed we wouldn't hear her saying, "Wait, wait, I lied!" as we tried to lift off over the river.
Lynne Alpern
Atlanta, Georgia
Leap of faith
I eloped 36 days after meeting my husband. Everyone said that he and I, then college sophomores ages 20 and 19, respectively, wouldn't last a year. Since then we have both graduated from college, my husband has graduated from law school, and we have become the rock-solid couple in our circle of family and friends. Almost 13 years and a beautiful baby boy later, we can look back at our whirlwind college elopement and say that while it may have seemed crazy from the outside, it worked for us.
Rebecca Dluski
Morton, Illinois
Three years ago, I left my family, my friends, my career, my apartment -- basically my whole life -- and moved from France across the Atlantic, just to be with a man I had met only five months before. It was the best decision of my life, and I am the happiest I have ever been with my wonderful husband and my beautiful seven-month-old daughter.
Marie-Pierre Murray
Libertyville, Illinois
Hello, stranger
Some time ago, my commute would bring me through the turnpike every day. A tall collector caught my eye, and we would chat every day when I paid my toll. There was a special sparkle in his eyes and, crazy as it seems, I asked him out on a date. We've now been married for 27 very good years.
Susan Phillips
Warwick, Rhode Island
I married a man I had never met in person. We encountered each other on Match.com; I was struck by his photo (I thought he was the sexiest man alive), but it was his profile that made him seem like the man for me. We e-mailed, then spoke on the phone from halfway around the world -- I was living in Atlanta, and he was working in Micronesia. We both knew we were perfect for each other. Real Simple: A marriage proposal
He popped the question two weeks into our telephone courtship, and I accepted without hesitation. We decided to marry in Hawaii, halfway between the two of us. The moment we met was magical, and we married hours later on a secluded beach. My husband returned with me to Atlanta, and we are now moving to Hawaii. Odd as it all sounds, we are living happily ever after.
Valerie Clark
Atlanta, Georgia
In 1988 I stepped on a plane in London and embarked on the biggest blind date ever. I flew to Detroit to meet a man with whom I had developed a friendship over the phone and through letters (the old-fashioned kind -- with stamps). We were married six months later, and we will celebrate 17 years of marriage in December.
Jayne Rogers
Algonquin, Illinois
When I was 16, a friend was showing me some photos he had recently taken of his band. There was something about the dark-haired boy playing the keyboards that struck me, and I insisted on getting his phone number (he lived several towns away). Real Simple: Create a first date momento
I called up this stranger out of the blue and said, "You don't know me, but I think you're really cool." He was no doubt a bit shocked, but he seems to have gotten over it -- we've been married for over six years.
Gayle McDonnell
Dix Hills, New York
My husband and I spent a month in Kazakhstan adopting our daughter, Jane. I spent 34 days in a country I had barely heard of a year earlier. She was worth every second.
Hillary Brotherton
Nashville, Tennessee
Acts of love
I went against my instincts and pretended that a touchdown was worth standing up and screaming for.
Loretta Wang
Honolulu, Hawaii
It was my husband who did a crazy thing for love. When I was having chemotherapy for breast cancer, my husband shaved his head. It wasn't until we went out together after he had done it that I realized how much the gesture meant to me. It made my baldness seem more normal during a very abnormal time in my life. Real Simple: How to win someone's heart
Deb Svoboda
Boulder, Colorado
My wife is the most amazing person I have ever met, so I was willing to change some of my stubborn ways to be a man and start a family. People don't talk about these things often enough -- we get caught up in the "meant to be" or "love at first sight" stuff that rarely happens. The bottom line is that if you find someone you absolutely love, change is easy. No one who knew me thought I would ever marry. The fact that it has happened is itself the craziest thing, and the best.
Steve Sullivan
San Jose, California
The craziest thing I've done for love was never walking away over the first five years of my marriage. Ryan and I have survived two unplanned pregnancies and two years of on-again, off-again employment following 9/11, along with the usual issues people face when they spend their lives together. We just celebrated our fifth anniversary, and I have no regrets. I am proud -- and more determined than ever to celebrate our 10th, 20th, and 30th anniversaries and beyond.
Katie Earhart
Minneapolis, Minnesota
E-mail to a friend

Get a FREE TRIAL issue of Real Simple - CLICK HERE!
Copyright © 2009 Time Inc. All rights reserved.