(REAL SIMPLE) -- Every household has financial leaks -- the surprising ways in which money escapes. Find out how to plug them up.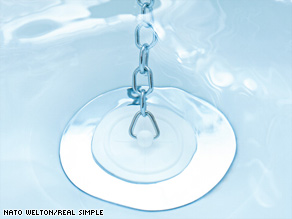 Every household has financial leaks -- the surprising ways in which money escapes.
The leak: Paying bills by snail mail.
The fix: The average household receives about 15 bills a month. With stamps now at 42 cents each, you spend about $76 a year just on postage -- and don't forget the late fees if your checks get lost in the mail.
Save time and money by signing up with the billers' customer-service departments to have your bills paid by credit card or automatic debit; payments will be documented on your monthly bank statement. If you want more control, almost all major banks offer free online bill payment, which lets you schedule payments in advance.
The leak: Paying an annual fee of $60 or more for a frequent-flier credit card.
The fix: Frequent-flier cards make sense only if you charge $10,000 or more annually. For most people who pay off balances monthly or don't charge much, a no-annual-fee cash-back card, such as the Citi Dividend Platinum Select MasterCard (citibank.com) is a wise bet.
It offers a 5 percent cash-back rate on grocery, drugstore, and gas purchases for the first six months (and then 2 percent after that) and 1 percent on all other purchases (standard maximum rebate is $300 a year).
Other cards may have a higher maximum cash-back reward, but you have to spend more or follow complex rules to earn it. If you carry a balance, forget reward or cash-back cards altogether and opt for a card with a lower interest rate.
Switching from a cash-back card with a 17 percent rate to a no-frills card with a 10 percent rate can save you $350 a year on a $5,000 balance. Compare credit-card offers at bankrate.com.
The leak: Paying airlines for extras.
The fix: "Everybody charges for everything nowadays," says travel expert Joe Brancatelli, whose website, joesentme.com, chronicles the airline-fee frenzy. Some airlines now charge $15 to check one bag, $20 or more to check a second bag, and the prices escalate from there for additional luggage. Curbside check-in could cost you $2.
Almost all domestic carriers charge for meals on domestic flights; US Airways charges $2 for water and other nonalcoholic beverages on domestic coach flights. JetBlue charges $7 for a take-home pillow and blanket. Northwest even charges extra for prime seats. Dodge fees by:
• Packing efficiently to limit yourself to one bag. If you can carry it on, even better.
• Skipping curbside check-in and using a time-saving kiosk or checking in online at home.
• Bringing your own snacks and meals.
The leak: Using cash to pay tolls.
The fix: Sign up for an electronic toll device, such as E-ZPass (ezpass.com), which is now good on a number of toll roads, bridges, and tunnels in 12 states from Illinois to Maine; FasTrak in California; SunPass in Florida; or PikePass in Oklahoma.
You'll save time and fuel by not idling in toll lanes, and some toll roads offer regular commuters discounts of as much as 50 percent. The International Bridge, Tunnel, and Turnpike Association lists websites for local toll authorities and their discount details. RealSimple: Your one-day financial makeover
The leak: Subscribing for cable TV, Internet access, and phone service from three different providers.
The fix: Consider a package deal from your local cable or phone company. You can get digital phone service, which is provided by a broadband Internet connection, high-speed Internet, and digital channels for much less than you'd pay separately.
Start by shopping for Internet access at BuyTelco (buytelco.net); then ask local providers what deals they offer when you bundle with phone and TV service.
The leak: Paying the minimum on credit cards.
The fix: The average U.S. household carries about $9,600 in credit-card debt, according to CardWeb, a payment-card research site. At an average annual interest rate of 15 percent, you'll spend more than $1,000 on finance charges alone in one year.
Savings accounts earn little to no interest, so dip into them to pay off your balance. If you don't have savings, pay double the minimum and slowly increase your payments each month.
"You will work off the balance faster and reduce the total amount of money that you will pay out over the long term," says Nick Jacobs, a spokesman for the National Foundation for Credit Counseling.
Pay off higher-interest credit cards first, and never skip a payment, which can result in a late fee of $35 or more and an increased rate on all your credit cards. To calculate the most efficient payment schedule, visit creditcardnation.com and click on "Debt Zapper."
If your bills are out of control, contact a nonprofit credit-counseling service, such as the Association of Independent Consumer Credit Counseling Agencies (aiccca.org), to locate a counselor who may be able to help you negotiate lower rates with your banks. RealSimple: Credit cards 101
The leak: A cell-phone plan that doesn't match your needs.
The fix: Too many minutes and you're wasting money. Too few and the overages can send your cell-phone bill into the stratosphere. On average, according to the consumer research firm J.D. Power & Associates, cell-phone subscribers use only 64 percent of the minutes they pay for.
If you're still under contract, call your cell-phone company and ask it to analyze your usage. You may find that buying fewer monthly minutes but, say, getting unlimited evening and weekend minutes may work better than a more expensive plan -- and you won't pay a termination fee of $100 or more.
If your contract is up and you're thinking about switching carriers, shop for the best plan on myrateplan.com/wireless.
The leak: Paying online shipping fees.
The fix: Pool purchases with friends to qualify for free or flat-rate shipping offers. For example, several sites, such as Amazon, Barnes and Noble, and Tower, offer free standard shipping on most orders of $25.
For other deals, use a shopping search engine, like shopzilla.com or shop.com. Enter your ZIP code and compare retailers' prices, including shipping and handling. You can even specify "Free Shipping" as an option in your search (on Shopzilla, search for "Special Offers" and then "Free Shipping Offers").
The leak: Taking your time to redeem gift cards.
The fix: Read the fine print on the back of the card: Some cards expire as quickly as six months after their purchase, while others charge $1 to $2.50 for dormancy, maintenance, or inactivity fees if they're not used within 6 to 24 months. The fees are deducted from the card's balance, so a $45 gift card could disappear in two years.
The worst culprits: shopping-mall gift cards good at any store in a given shopping center. A survey conducted by the office of U.S. senator Charles E. Schumer found that these cards often had the fastest expiration dates and the highest dormancy fees.
Because of the bad publicity, these fees may be on their way out: Starbucks dropped its fee after the study was published; some states, including California and Rhode Island, have outlawed them; and new offerings, like McDonald's Arch Card, tout their lack of an expiration date and extra fees. RealSimple: Money-saving secrets of the pros
The leak: Letting the water run.
The fix: Turn off the tap while you're brushing your teeth or shaving -- every minute the water flows wastes up to 2 1/2 gallons, according to the Environmental Protection Agency.
Run full loads in washing machines and dishwashers. Water plants in the early morning to ensure that the water goes into the ground instead of evaporating. And use a bucket to wash the car, hosing it off for a quick rinse, to save 90 gallons of water per wash. For more conservation tips, go to the California Urban Water Conservation Council site, at h2ouse.org.
The leak: Keeping six months' worth of salary in a savings account as an emergency fund.
The fix: Littleton, Colorado--based financial planner Sal Miceli advises clients to sock away two months' salary into a savings account and invest the rest. Otherwise, you lose out on the interest that extra four months' salary could be earning in a CD or a money-market fund, or you're wasting money paying finance charges on credit-card balances you could be whittling down.
For an unexpected expenditure, a home-equity line of credit, which usually costs nothing until you use it, can be tapped in an emergency.
The leak: Not taking advantage of flexible-spending accounts.
The fix: Employers offer flexible-spending accounts that let you sock away up to $5,000 per household tax-free for medical expenses, which you can use for health-insurance copayments, prescription drugs, eyeglasses, contact lenses, and even nonprescription drugs, such as aspirin.
Estimate your needs carefully when open enrollment comes along. The IRS now offers a grace period of an extra 2 1/2 months to spend the money, so you don't have to rush to spend it all by the end of the calendar year.
You can also set up transportation-reimbursement accounts to save money on parking fees and bus and train fares -- $2,640 for parking or $1,380 for transit. Just save your receipts and fax or mail them in with the required form and you'll get a check in the mail or have the reimbursement deposited into your bank account.
The leak: Bounced checks.
The fix: Sign up for overdraft protection and link a savings account, credit card, or line of credit to your checking account. Almost all banks offer this service for free or for a nominal annual fee, and they typically charge a fee per transfer. You're responsible only for paying the interest on any credit you use, and you can avoid that by using the money in your savings account as your backup.
The leak: Purchasing a supplemental life insurance policy through your employer.
The fix: A healthy woman in her late 30s could save 20 percent annually by purchasing a $500,000 life-insurance policy independently, estimates P.J. Patierno, a financial planner based in Greenwood Village, Colorado.
Why? The rates charged at work are designed to cover the liabilities of everyone in your office. "The overweight guy down the hall or the smoker upstairs is getting the same coverage as you," he explains.
Buy your life insurance independently, from a broker, an estate planner, or a financial planner. An independent broker will know details about different policies in recommending one suited to your lifestyle.
Before setting up an appointment, get a general sense of ultrapreferred rates (what the healthiest consumers pay) by visiting a website such as insurance.com or bankrate.com. To find a certified financial planner, who often functions as a broker, consult the Certified Financial Planner Board of Standards at cfp.net.
The leak: Paying for credit reports.
The fix: The Web abounds with ads for free credit reports, but many sites try to get you to pay extra for fancier reports. Federal law entitles you to a free credit report from each of the three major bureaus, Equifax, Experian, and TransUnion (annualcreditreport.com).
One thing to be aware of: A credit report will show your payment history and any identity-theft activity, but it doesn't include the all-important credit score. For that, go to myfico.com, a site operated by Fair Isaac Corporation, the company that originated the credit-score system most lenders use. A simple credit score costs $16.
The leak: Eating out on vacations.
The fix: Book a suite with a kitchen at an extended-stay hotel, which charges on average from $30 to $100 per night, according to a 2005 report by the Highland Group, a hotel-industry market-research company.
Even if you have to pay a bit more for the accommodations, you'll easily save money by not taking your family out for breakfast, lunch, and dinner. RealSimple: Spend money to save money
The leak: Thinking that "all-inclusive" means "all-inclusive."
The fix: "An all-inclusive vacation can be a great buy for those who don't want to worry about what they're spending, but they have to understand what is included," says Steve Gorga, president of American Express Vacations, who recommends booking with a travel agent who will do the homework for you.
An all-inclusive golf vacation, for example, might include unlimited greens fees but not cart rental. Some resorts offer free drinks at the bar but charge for in-room liquor. Others offer all-you-can-eat food -- except for lobster. To get to the bottom line, says Gorga, travelers must ask a lot of questions up front.
The leak: Too much insurance.
The fix: Review your insurance policy annually with your agent or a customer-service representative. Does your home owner's insurance include the value of the land, for example? The land isn't going anywhere, even in a twister, so you don't need to insure it -- just the structure and your belongings.
If you have an older car, the annual premiums and deductible might make collision and comprehensive insurance cost more than the car is worth. On any insurance policy, auto or home, think about a higher deductible. Because filing numerous small claims can raise your insurance rates, you may be better off covering minor losses yourself and getting a lower rate with a high-deductible policy.
You may also have unneeded special riders on high-value items you no longer own -- an heirloom ring you gave to a daughter for her wedding, for example. Or you may be paying for off-premises property coverage, which covers loss of goods outside your home, when you rarely if ever carry around valuables.
If you think you might be overinsured and want an opinion from someone besides your agent, go to the Insurance Information Institute site, at iii.org.
The leak: Springing for a pricey renovation to boost your home's value before putting it on the market.
The fix: Renovating your kitchen at a national average cost of about $43,860 doesn't always mean you'll make it back when you sell your house. In fact, you'll probably recoup only 91 percent, or $39,920, according to Remodeling and Realtor magazines.
On average, you'll recover 85 percent of the cost of a new roof ($9,460 of $11,160) and 90 percent of the cost of new windows ($8,680 of $9,680). A bathroom renovation is the project least likely to lose money (a return of $10,730 on the average cost of $10,500, or 102 percent).
A wiser option is hiring a professional who can give your home an inexpensive makeover. "A home stager adds furnishings, decorative touches, and details," explains Alan Montgomery, a real estate agent in Seattle, "down to setting your dining-room table."
Montgomery had a client whose home sat on the market for six months at an asking price of $334,000. After spending $5,000 on staging, the owner sold the place in three months for $379,000. Ask your real estate agent or broker if she knows anyone in the home-staging business, or go to interiorredesigndirectory.com, a directory for interior decorators, many of whom also stage homes.
The leak: Frequent trips to the ATM to withdraw moderate amounts of cash.
The fix: On average, consumers withdraw $60 from an ATM four times per month, estimates David Gosnell, an editor at ATM & Debit News. That's about $240 a month in unaccountable spending.
"As soon as you turn money into cash, you have no paper trail," warns Deena Katz, a financial planner based in Coral Gables, Florida. Instead, withdraw the exact amount of cash you'll need each week from your bank (to avoid other institutions' ATM transaction fees).
E-mail to a friend

Get a FREE TRIAL issue of Real Simple - CLICK HERE!
Copyright © 2009 Time Inc. All rights reserved.
All About Personal Finance • Consumer Credit and Debt