By Jen Haley
CNN





NEW YORK (CNN) -- Jessica Marquez was facing the exorbitant expense of living in New York City with nothing but a newly minted Masters of Arts degree and $70,000 in student loan debt.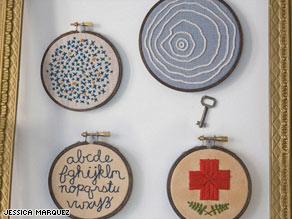 Skill with a needle and embroidery thread has helped Jessica Marquez with her finances.
The recent transplant to the Big Apple has the enthusiasm of someone with her whole life ahead of her, but as bills rolled in, so did reality: Her day job as an image archivist at a Chelsea art gallery just wasn't cutting it.
So to earn extra income, Marquez, 27, started selling her embroidered artwork online at Etsy.com.
"It's become an obsession," she laughs. "My boyfriend says he's widowed to Etsy."
Etsy.com is an online marketplace for homemade goods. Sellers create a profile on the site and upload photos of the crafts they want to sell. There's a 20 cent per item listing fee and Etsy.com takes 3.5 percent commission on sales.
On the site you can find handmade candles, needlepoint, pottery and purses. "People are really passionate about what they make and the DIY movement," says Adam Brown at Etsy.com. Plus, it's a way to make some extra cash. And that's what Brown says is fueling the site's popularity.
Marquez had never sold anything online before. But the process wasn't difficult, and then of course, there's the paycheck. To date, she figures she made about $600.
"I had no idea if people would be able to find me and actually like what I do," she says.
"I was so shocked when I made my first sale. I did a dance. When I do make sales, it makes me feel like I can do this! Maybe I can be my own boss."
Selling your stuff online may not allow you quit your day job, but more people are finding that it's a viable way of making ends meet.
And that's a trend that's likely to continue says Ina Steiner, who runs the e-commerce and online auction industry newsletter, AuctionBytes.com.
"Some people got into selling online because they got laid off or they needed to make extra cash. I definitely foresee that people will be selling more online to make a little extra cash and buying online to save more money," says Steiner.
Aside from eBay -- which Steiner says can be challenging for newbies -- there are a number of smaller venues that make it easy for casual sellers to make a buck.
This is a very visual and shopper-friendly online marketplace, says Steiner. It's geared toward more unusual items such as collectibles, antiques, unique fabrics or furniture. You can sell your items at a fixed price but there's also a live booth chat feature that lets buyers and sellers haggle back and forth. Listing is free and your item remains posted until it's sold, or until you remove it. You will pay a fee when your stuff is sold.
You can create your own online store for free at this online marketplace. Upload your photos and descriptions of the things you want to sell. You'll be able to customize the look of your "store" with different color templates and fonts. There's also a feature to allow sellers who list on other venues to import listings to eCrater.com. Listing is free and you don't pay any fees.
IdoNowIDont.com
If your engagement didn't work out, you can sell that ring or other jewelry on this Web site. It was created by a guy whose own engagement was broken off. Items for sale also include wedding dresses, watches or necklaces.
This site specializes in selling used wedding dresses, bridesmaid dresses or other special-occasion gowns. There's a $25 listing fee and you can upload photos and descriptions of the dress you want to sell. Dresses on this site generally sell for less than $1000 says founder, Eva Lo.
For sellers, Steiner recommends visiting a number of sites to see what layout and design is most appealing, before listing with a service. Check out the forums and see what people are complaining about or discussing. And don't be afraid to ask for help. Other sellers are usually pretty friendly.
Consignment shops
If you don't have some specialized items and you don't want to sell things separately in a virtual marketplace or a yard sale, there are good old brick and mortar stores where someone else will handle reselling your lightly used clothes.
Here's how it typically works: You drop off your items at a consignment store and when they are sold, you get a percentage of the proceeds.
For example, if you bring in a leather coat, you may be given 50 percent of the final price if it sells within 30 days. If it takes longer than one month, the shop may drop the price and you may only get 40 percent of the final price. Generally after 90 days, you have to pick it up or give it up, says Susanne Dennis of Consignmentshops.com.
But there are rules. You can't just drop off any old, tattered thing.
"Consignment stores aren't looking for old things," says Dennis. They want things that are in demand for the current or upcoming season. Go through your closet in February for what you're not going to wear this spring. That's the way to approach your merchandise.
Designer clothing, shoes, purses and jackets are typical consignment fare, but some stores will also stock furniture, toys and accessories. If you're interested in selling at a consignment store, Dennis recommends you spread out your wares over a few stores. And before you do any business with a shop, check out the organization with the Better Business Bureau to make sure there are no complaints on file.
E-mail to a friend