By Wendy Atterberry






(The Frisky) -- For about four years in my mid-twenties, I dated and lived with a guy who was as wrong for me as a double-breasted blazer. He certainly wasn't the only guy I ever got involved with who wasn't Mr. Right, but he's only one I stayed with about three years longer than I should have.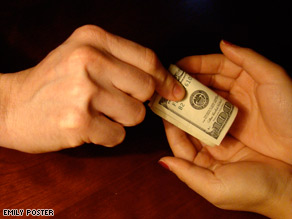 I could cite plenty of reasons why it took me so long to leave him: he was comfortable, I was afraid of being alone, I got free turkey sandwiches at the restaurant he managed, but if I'm being honest, it was my financial dependency on him that made it so hard to end the relationship.
Even now, I'm embarrassed to recall how I, an "independent woman," allowed myself to be dependent on a man, but the truth is I was lazy and spoiled.
At 24, 25, 26, I couldn't fathom having a roommate again, like I'd had in college, but in a big city like Chicago, I knew it would take more sacrifices than I was willing to make to afford my own place. I'd have to get a better-paying job, work longer hours, and give up the luxuries I'd grown accustomed to, like cable and my expensive shopping habit.
Plus, there was no guarantee I'd be any happier on my own or that I'd ever meet someone who was a better match for me. So I convinced myself it was just as well I stay with the safe bet -- the nice, but boring, guy who could provide a stable lifestyle while I bounced around from one dead-end job to the next, trying to "find myself."
It all came to a head the summer I turned 27, when my boyfriend spent three months in another city, opening a new restaurant. For the first time in years, I was on my own.
My boyfriend made sure his half of the rent was paid for the entire time he was away and even offered to give me a "spending allowance" while he was gone, a gesture I'm happy to report I refused. It was my chance to see how well I fared without him, and I wanted to get a real idea of what life would be like without his support, emotionally and financially.
By the end of the summer I had my answer: I needed to leave him, even if it meant getting a --gasp --roommate. When he returned home, we had a serious talk, I made some big lifestyle changes, and we began the untangling of our intertwined lives, a process that proved much easier than I'd always imagined -- mainly because we had so little in common to begin with.
Writer Karen Karbo asks, "Is it better for the longevity of a marriage if one party (usually the woman) feels financially trapped?" While I can't say with absolute certainty that it is, I can say that based on my own experience, it's much harder to end a relationship when it means making certain lifestyle downgrades.
The question is no longer: "Would I be happier without him?" It's: "Would I be happier without him ... and the nice apartment and the digital cable that he pays for?" The financial aspect muddles the compatibility issue, making it harder to see the forest for the trees, making it easier to stay in a relationship that's no longer satisfying.
In the end, hard as it was to pack up, move out, and, yes, find a roommate again, it would have been so much harder to continue lying to myself about being happy in a relationship I'd long since outgrown.
The funny thing is, all the stuff I thought I'd hate giving up? I really didn't miss it. Well, except for HBO. There was still one more season of "Sex and the City" left to watch, after all.
E-mail to a friend

TM & © 2009 TMV, Inc. | All Rights Reserved