(CNN) -- President-elect Barack Obama put America's economic situation in dire terms on Thursday, saying Congress must take "dramatic action" as soon as possible.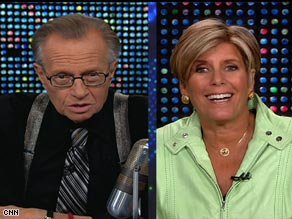 CNN's Larry King talked with Suze Orman on Thursday about Barack Obama's proposed stimulus package.
"For every day we wait or point fingers or drag our feet, more Americans will lose their jobs. More families will lose their savings. More dreams will be deferred and denied. Our nation will sink deeper into a crisis that, at some point, we may not be able to reverse," Obama said.
Personal finance expert Suze Orman, whose new book, "Suze Orman's 2009 Action Plan," debuted No. 1 on the "New York Times" best-seller list, appeared Thursday on "Larry King Live" to discuss Obama's plan and how to protect your money this new year. The following is an edited version of the interview.
Larry King: (Obama) said that a bad situation could become dramatically worse. Do you agree?
Suze Orman: Well, he says it will become dramatically worse if the government doesn't step in to save everything, and the government is the only entity, according to the new president, that will be able to save everything that's happening.
I think we have a very dire situation here, and I think we have all known that it's dire. I think we have been on the brink many times of us going over the cliff, but I have a feeling this time that the government is going to throw everything possible into this situation, and that eventually it will be OK. Will it be easy? It will not. Will it be OK? It absolutely will.

Watch Obama's entire speech on economy »
King: Do you compare this to Roosevelt and the New Deal in 1932?
Orman: A little bit. It's a little bit different however, in that it's massive; it's worldwide. This is an economic crisis that has dramatic proportions that I don't think we even know what we're dealing with still. You know, so many of us are saying, "Well, give us some meat here, president, give it to us. Tell us what you're going to do." I think it's very difficult, Larry, to say what you're going to do when you don't really know how deep the problem is. What's really wrong? Where is everything going?
I think we're going to have to find our way through this one, because I have a feeling every time we solve one problem, another problem is going to pop-up. It's going to be up, down, up, down, up, down for quite awhile to come.
King: He's also pushing the multi-billions in tax cuts for businesses as well. What do you make of that?
Orman: I'm actually thrilled that he's coming off of his stance that we're going to raise taxes. I wanted him to be president forever, but the one part of his presidency that I wasn't loving was that we're just going to raise taxes. Now he's come off of that, so I have to tell you I'm loving that he's going more for tax cuts across the board. I'm supporting him with that 100 percent.
King: Should people not be in the stock market?
Orman: People who need their money within one, two or three years should not be in the stock market at this point in time. Remember, the stock market and the economy are very different entities. Just because the economy is doing one thing doesn't mean the stock market is going to go up and down. They're very separate things.
If you have -- and this has always been my rule of thumb -- 10 years or longer, preferably longer, until you need this money. I think the best thing you all should be doing right now is taking little amounts of money every month and dollar cost average into these markets.
I have been telling you for a while now, look to buy high-yielding safe, dividend-paying stocks, exchange-traded funds or mutual funds. You can get four, five, six, seven, eight percent right now in certain entities where the dividend is not going to be cut. Those are the types of investments I would be buying, if I were you, little by little. But you need time for them to come to fruition for you.
King: CNN's Ali Velshi says the worst thing people can do in this crisis is nothing. Do you agree? Quiz: Are you a risk-taker?
Orman: I do agree, which is why I wrote the "2009 Action Plan." You have got to know what actions to take. Actions such as taking a loan from a 401(k) or withdrawing money from a 401(k) or doing things that you think are good, that in the end are going to backfire, is only going to hurt you in the end. You have to know what actions to take. You have to have a plan.
There are special things that have come in just for 2009 that people have to be aware of. That's what the book is about. That's what we're doing, and that's what I'm going to spend this year making sure all of you know.

King: Are you optimistic?
Orman: I'm optimistic because I have tremendous faith in the new president. When I watched him speak today, I believed him. Even though there wasn't a lot of details in what he was talking about, I had a sense that this was a man who knew exactly what he was going to have to do, the severity of the situation and he was going to do whatever it took to change what's happened in America.
E-mail to a friend

All About Personal Finance • National Economy