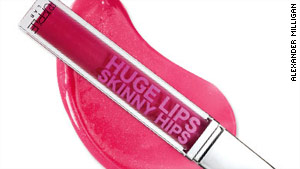 Use bright pink lip gloss and avoid dark, matte colors as you get older.
STORY HIGHLIGHTS
Experts offer some tips on how women can turn back time on their looks
Stylist: Good bra elevates your chest, giving you longer, slimmer-looking waist
LILightbright lip gloss make lips appear fuller, younger and smoother
Make sure jeans have at least 2 percent stretch, like Lycra
(InStyle.com) -- Here are some simple and easy tips to turn back the clock.
1. Brighten up with concealer
Why stop at undereye circles? Dab it on the inner and outer corners of eyes, the outer sides of nostrils, and either end of the lips and -- bam! --everything will suddenly lift up. Says New York makeup artist Mally Roncal, "People will start asking who your surgeon is."
2. Be careful with color
Leave the hair extremes to Lady Gaga. "If you over-highlight your blond hair, you lose the golden tones that keep it looking youthful and pretty," says New York colorist Louis Licari. "And hair that is dyed too dark is unnatural."
3. Perk up a saggy butt
The hollows of our cheeks aren't the only places that succumb to gravity as we age: Our bottoms tend to be less buoyant too. To give them a lift, Susie Crippen of J Brand recommends checking the label of every pair of jeans before buying. "Make sure they have at least 2 percent stretch, like Lycra," she says. "Pants with more than 98 percent cotton can stretch out as soon as you wear them and give no support."
4. Shine on
Years of blow-drying and styling take a toll on hair, leaving it lackluster. Restore the healthy shine with a clear, conditioning gloss (you can do it at home with Fekkai's). For everyday sparkle, apply a shine serum (try Redken Color Extend Shine Enrich serum).
5. Find the perfect bra
Get a professional bra fitting, and don't get hung up on the numbers (or letters). "A good bra elevates your chest to a higher altitude, giving you a longer, slimmer-looking waist, both of which read younger," says New York stylist Annabel Tollman.
6. Give some lip service
It's undeniable: Even the juiciest lips lose volume as we get older. Dark, matte lipsticks only accentuate that fact. Switch to pink gloss the brighter color makes your kisser appear fuller, younger and smoother.
7. Fake an eye lift
To correct a droopy upper eyelid, New York makeup artist Paula Dorf recommends artful contouring. Use a light-colored shadow near the lash line and a deeper shade in an arc above the crease where the lid is dropping. "The lighter shade makes the bottom of the lid more visible, while the darker shade makes the puffy top part recede," says Dorf. The result? A more wide-eyed, youthful look.
8. Get a little cheeky
"As we age the fat pads in our cheeks fall," explains Beverly Hills plastic surgeon Gabriel Chiu. But you can defy nature: Prevelle Silk, a new hyaluronic acid dermal filler ($250--$400 per syringe) "lasts for three months, and you can see the skin-plumping effects right away." Searching for something subtler? A bright pink blush has a similar payoff, illuminating the cheekbone and drawing the eye upward.
9. Lose the powder makeup
Dry makeup makes skin look crêpey and old, says Dorf. As you get older and your skin produces less oil, dewy makeup is more flattering. Consider switching to a lightweight tinted moisturizer with luminizing effects (we love By Terry's new formula) and cream versions of blush and bronzer. And don't forget highlighter: A few drops of well-placed shimmer on cheekbones are the makeup equivalent of good lighting.
10. Mix things up
Matchy-matchy style isn't modern -- at any age. "Always throw in something unexpected, like messy hair, a casual jacket, or flats with a fancy dress," says Annabel Tollman. "It will energize your look by a decade."
Get a FREE TRIAL issue of InStyle - CLICK HERE!
Copyright © 2011 Time Inc. All rights reserved.