STORY HIGHLIGHTS
Top 10 CNN Heroes honored at Hollywood tribute recently related their experiences
Budi Soehardi spoke of helping fellow CNN Hero Jorge Munoz deliver food in Queens
CNN Hero of Year Efren Peñaflorida described receiving award from Philippines president
Comments were e-mailed in response to a series of written questions from CNN.com
(CNN) -- Fresh from last month's star-studded tribute in Hollywood, the top 10 CNN Heroes recently related their experiences both during and after the show.
Betty Makoni told of her shock at meeting presenter Nicole Kidman, Budi Soehardi spoke of helping fellow CNN Hero Jorge Munoz deliver food in Queens, and CNN Hero of the Year Efren Peñaflorida described receiving an award from the president of the Philippines.
Their comments and others came in response to a series of written questions from CNN.com. Here is an edited version of their remarks, which were sent by e-mail:
CNN: What has it been like since the show? Are there any developments regarding your projects that you'd like to share?
Brad Blauser, Wheelchairs for Iraqi Kids: I've had some very moving e-mails. One is from a family who lost a child to birth defects after years of caring for him. They were keeping the child's wheelchair in the living room for a number of years until they saw the CNN Heroes show. After watching my segment, they were able to come to terms with giving up their child's wheelchair and donating it to an organization that could redistribute it to another child in need.
Roy Foster, Stand Down House: [An] increasing number of veterans and active duty families are seeking services through [the] First Stop Veterans' Resource Center. Calls are coming in for assistance in communities throughout the United States for technical assistance or from families [and] veterans needing a helping hand. Our administrative office ... has been inundated with the overflow of calls and walk-ins for services. It is clear that urgency is required to locate a facility to house the center. However, no funds [are] in place to purchase or lease.
I'd like to ... travel to see the other nine Heroes and experience the wonderful work that they are all doing.
--Jordan Thomas, top 10 CNN Hero
Doc Hendley, Wine to Water: With the money from the Annenberg Foundation we will begin a well-drilling program in Peru. [Each of the top 10 Heroes received $25,000; Peñaflorida received an additional $100,000; and Wallis Annenberg of the Annenberg Foundation pledged $100,000 to be shared equally among the top 10 Heroes' nonprofit organizations.] We have also had two major donors in the last few days who saw our CNN piece.
Andrea Ivory, Florida Breast Health Initiative: We are planning for our 2010 door-to-door campaign to reach 9,000 additional homes, which begins in February.
Betty Makoni, Girl Child Network: We have received thousands of e-mails. We have created a Facebook fan page to keep our fans together as we now move ... towards the creation of a global girls movement under Girl Child Network Worldwide. I have been invited by many groups to speak in [the] U.S. in 2010. GCNW Canada was formed as direct result of [CNN Heroes].
Budi Soehardi, Roslin Orphanage: Some people from young to old are offering themselves as volunteers for the orphanage. One person is interested to work on our banana farm project. A cosmetic company is willing to help us upon building our planned kindergarten soon.
Derrick Tabb, The Roots of Music: Many kind people around the country have been reaching out making donations via PayPal, instruments and services. We have also been awarded small grants from the New Orleans City Council. The city of New Orleans granted us a $20,000 donation! DePaul University of Chicago has donated their time in developing a strategy to enhance our funding potential.
Jordan Thomas, Jordan Thomas Foundation: The response really has been remarkable. The next big thing that I'd like to do is travel to see the other nine Heroes and experience the wonderful work that they are all doing. I feel like we all created a special bond throughout this journey and being able to see them in their own environments would be an honor and a privilege.
CNN: What kind of interactions have you had with others that you hadn't had before the show, or before you became a top 10 CNN Hero?
Blauser: I've spoken online with Budi a number of times, and am trying to get Jordan Thomas over here. I'm also profiling the other top 10 Heroes on my Facebook [page] to try to give them more attention.
Being with Pierce Brosnan was the one to the top 5 "wow" moments in my life.
--Andrea Ivory, top 10 CNN Hero
Foster: It has given me the platform to bring awareness [to] the plight of those soldiers returning and those veterans [who] are struggling here at home with PTSD, addictions, mental illness and physical limitations.
Hendley: I would say that our interactions with potential donors has increased by at least 75 percent, maybe more.
Makoni: I stayed in California until December 12 and managed to speak to at least 13 groups ... and they pledged support . I also received the Humanitarian Award from the Women's International Film & Television Showcase in L.A. ... BBC Panorama wants to do a special on [the] "virgins cure AIDS" myth and take the story further. ... Wherever we went everyone wants to see how they can get involved and make a difference.
Munoz, An Angel in Queens: There is a soldier from the Army stationed in Japan who will be here from December 11-19 and he ... would like to help us in any way. There is a couple [who] drove from Florida on November 26 just to help us deliver the food that day. There is another couple coming from England [who] will arrive on December 23 and they want to help us on December 24 and 25. There are a few Colombian radio stations that called for an interview. ... We are getting a lot e-mails from the whole world, like Singapore, China, Japan, Uganda, Australia [and] a person stationed in Baghdad, Iraq.
Peñaflorida, Dynamic Teen Company: I was able to meet personally the president of the Philippines and received [an award] ... in honor of my fellow volunteers, my mentor and the children we reach.
Tabb: Several interactions have developed. We are now in negotiations with Essence to help sponsor the program.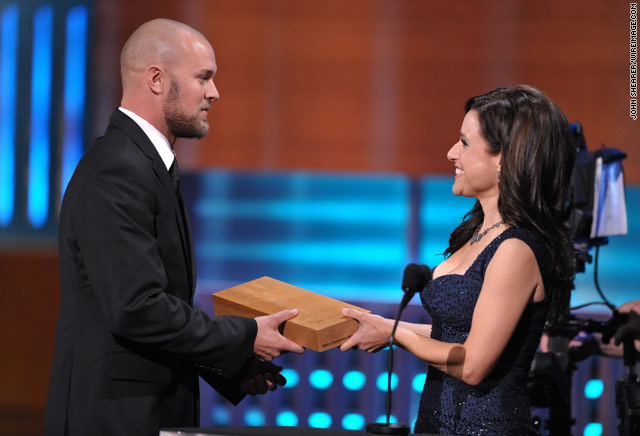 Gallery: CNN Heroes: An All-Star Tribute

Video: CNN Hero of the Year named

Video: CNN Hero: Win unexpected
CNN: What kind of donations or offers of help have you received since the show, or since you were named a top 10 CNN Hero?
Blauser: I've had people here and there e-mailing to offer donations, some of them sponsoring one or even four wheelchairs. I'd estimate between $5,000 and $7,000 has been donated through my Web site if all donors have e-mailed me. McClaren strollers is providing 12 of their highest quality strollers (over $400 each retail) designed for children with disabilities and extra accessories to meet their needs. They should come over on the next shipment in the next 4-6 weeks and be distributed shortly thereafter.
Foster: Monenary and in-kind donations have increased. George Lopez and Lou Gossett have shown interest in assisting us in generating revenue through fundraisers.
Hendley: Christmas is our busiest time of year. But I do know that we have raised approximately $57,000 in donations in the first 10 days of December. Last year we probably raised 25 percent of that the first 10 days of December.
Ivory: Being a top 10 Hero has increased our volunteer base and we have received over $1,500 in online donations since the show.
Makoni: In our PayPal account we have $15,000 [in] cash donations from 146 people in the U.S. Checks amounting to $3,000 have been received. A family foundation in the U.S. has pledged $10,000. One girl from Zimbabwe is about to get a full scholarship to the U.S. Ten groups have pledged to do fundraisers across the U.S. Five schools in Canada and the U.S. have pledged books, uniforms and pens. I will be traveling to Botswana [in] early January 2010 to help train a girls project sponsored by a woman in San Francisco who saw me on CNN.
Munoz: We are getting donations of non-cooked food, and more local restaurants are willing to donate, and we have more people who want to donate their time helping giving out the food.
Peñaflorida: We received cash donations from different individuals, in-kind donations like more school supplies, food, gift certificates, additional pushcarts. Other groups have made customized shirts to raise additional funds for DTC's center for learning, others like artists, celebrities and restaurant and resort owners offered their services and facilities free of charge.
Soehardi: We are getting some $10,000 from a person who is unknown to us. We are getting some donations via PayPal, so far about $16,000.
Tabb: Nationally, donations have been very generous. Citizens of our country have been reaching out to us to send their old instruments.
Thomas: The donations have gone through the roof. We have been getting donations from all around the world. We've made about $45,000 from the show itself up to this point, and hopefully that number will continue to expand.
CNN: What was it like the night of the show, being with the celebrity presenters and your fellow top 10 CNN Heroes?
Blauser: When I arrived at LAX, the driver was holding a placard with my name on it. That's a first for me! The driver told me he was Armenian from Iran. I told him about [our work] and he became very emotional. When he dropped me off at the Renaissance he bear-hugged me, thanking me for helping the forgotten disabled children of the Middle East that nobody else has helped. ... I told Efren on Friday that he would be the winner. I felt it, and was thrilled for him when his name was called. The monies will go so much further in the Philippines than in the U.S. ... He'll be able to do so much more with it to help further his cause in rescuing kids from gangs and getting them educated. I was very happy for him, and I'm sure the others were also.
Ivory: The other nine Heroes are my heroes. The unanticipated camaraderie deeply touched my heart. ... They have inspired me to step up my game. Being with Pierce Brosnan was the one to the top five "wow" moments in my life. His introduction was so personal, so touching, so compelling, and so heartfelt. It was very difficult to follow his introduction. He was everything I expected from 007 and more.
Makoni: The moment I saw my face next to Nicole Kidman, I froze internally and took some time to put myself together. ... I have never in my life interacted with such high-profile celebrities, and it will remain a total shock. I joked with someone it was my first time to sit down next to someone with more than $2,000 in the bank. ... Because myself and Andrea were the only women [top 10 Heroes], I felt a sense of closeness and spent some time learning more.
Soehardi: Yesterday I was helping Jorge to distribute food in Queens. Jorge is a real hero. He never turned down a hungry person who came to him. I am proud to be his friend. Maybe we will work together with Doc Hendley for a water project in Timor.
Thomas: It was very surreal. I really loved it and it was so great to see that all of the celebrities were involved in their own causes and genuinely wanted to be there for the show. The day before the show I went up on stage to practice my lines and the stage manager quickly whisked me off the stage so that Pierce Brosnan could do his lines. At first I was a little miffed that my practice was interrupted, but then I realized, "Holy cow, that's James Bond," and it was all good.
My dream is to get a place where [people] can sleep, take a shower, learn and get better in their lives.
--Jorge Munoz, top 10 CNN Hero
CNN: What are your plans for the future?
Blauser: I remain hopeful that I may meet just the right person in the future who can make my dream of a national wheelchair program turn into reality. I'd hate for us to leave [Iraq], being the world's most powerful and wealthy nation, and not have made a significant impact in helping the most vulnerable population of Iraqis -- their disabled [children].
Foster: Continue to seek opportunities to generate revenue to open a permanent site for the First Stop Veterans Resource Center.
Hendley: My goal now is to reach 1 million people with clean drinking water in the next five years. I'm feeling pretty optimistic.
Ivory: We are planning an outreach this later this year in another county of Florida, which brings us another step closer to the goal of taking our door-to-door campaign nationwide.
Makoni: We want to mobilize at least 3 million girls in the [U.S., U.K. and Canada] ... each donating a dollar in solidarity. I am working on [a] Girls Empowerment and Education Fund.
Munoz: Our plan for the future is to get a bigger place to store all the cooked food, get a bigger kitchen and have a bigger place for [people] to sit down and eat like a normal person. My dream is to get a place where they can sleep, take a shower, learn and get better in their lives.
Peñaflorida: We are in process of building our center for learning for the poor children. This center will have the same components like the ones in the pushcarts. It will also serve as a transient house for street children who have no option but to sleep in the streets. We are also replicating the pushcart classroom to other parts of the country to reach more children.
Tabb: I plan to expand my organization to accommodate all the children on the waiting list to enroll into Roots of Music. In the near future, I would like to purchase a building in a central/neutral location of New Orleans and build a recording studio/rehearsal spaces to be rented to help support the Roots of Music. Eventually, I would like to also offer a Roots of Music Production course to adolescents of my city.
Thomas: My No. 1 concern right now is to graduate from college on time and then go from there. My foundation will always be a big part of my life, and I'm going to work for the rest of my life in order to help kids who desperately need prosthetics.