By Greg Clary
CNN





WASHINGTON (CNN) -- People in big cities walk past them every day -- street performers, or buskers. Some are talented, some are not, and most aren't performing for a cause greater than themselves. But on Monday, 12-year-old Abby Miller was.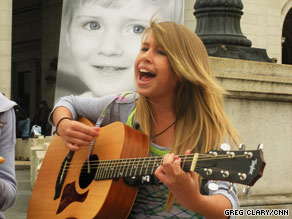 Abby Miller sings for her friend Taylor Love outside Washington's Union Station on Monday.
She was performing outside Washington's Union Station to help her 4-year-old friend, Taylor Love, who is suffering from cancer.
Abby sat in front of the station with a couple of her friends, singing songs and strumming a guitar. Passers-by seemed to notice the girl's singing talent, stopping to listen in the chilly weather, with a few putting money in a bucket at Abby's feet. Abby said the money will help support Taylor's family.
A few more stopped to write messages on "Love Notes," little cards designed to encourage Taylor Love through the tough time.
"Her mom reads them to her before she goes to bed at night," Abby said. "Taylor gets excited for them and she loves getting them read to her because she likes knowing that people are supporting her and people are actually thinking of her."
Taylor has neuroblastoma, a cancer that affects the nervous system. According to her Web site, she is in remission, but this type of cancer has a high risk of recurrence. There has been little research on the illness, of which there are about 650 new cases in the United States each year.
Mike Gillette, a family friend of both Taylor and Abby, brought the two girls together. While raising money and support for Taylor is important, he said, he thinks Abby's outreach can help bring more critical awareness for the devastating disease.
"She really wanted to reach people all over the country," he said.
Gillette said he has taken Abby to do similar performances in the District of Columbia, New Jersey and Virginia, and estimates they've raised thousands of dollars and have gotten people to write several hundred "Love Notes."
Abby does more than just raise money and awareness for her friend. Taylor's mother, Aimee, said that although Abby is eight years older than Taylor, the two see each other often and have a special connection that helps her get through her daughter's illness.
"I think it's amazing for a 12-year-old Abby to be drawn to my daughter, who is 4 and wants to inspire other children," Aimee Love said. "The joy I see in Taylor when she sees Abby brings a light into my life."
Taylor's family said her treatments are terribly painful. But Abby said Taylor has enormous character.
"She's the most happy girl in the world, which I think is just incredible," Abby said. "She's so much fun to be around. She's a little 4-year-old girl but she's got a heart of like a thousand grown adults."
Aimee Love said her daughter feels the same way about Abby.
"It gives her someone to aspire to, someone to be inspired by," she said.
E-mail to a friend

All About Cancer