By Jessica Ravitz
CNN





ATLANTA, Georgia (CNN) -- Caring for a car has you a befuddled. The honeymoon's over, and bureaucratic tasks are beating out bliss. You're meeting with a prospective babysitter or housekeeper, a stranger you'll entrust with much of your life.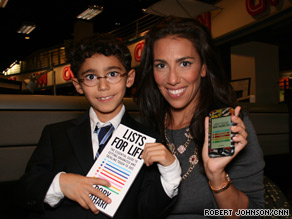 Rory Tahari, with son Jeremey, hopes to make life's to-do's more manageable with a new book and iPhone app.
How do you know what to do? Where should you go and when? What should you ask these people?
You need a list!
If figuring out the answers to these kinds of questions leaves you loopy, Rory Tahari has a new book that may have your name on it.
"Lists for Life: The Essential Guide to Getting Organized and Tackling Tough To-Dos" is just what it says it is: a compilation of lists to help readers navigate everything they might need for weddings and funerals, household maintenance and vacations, divorces and diaper bags.

Watch Tahari discuss the book »
Along the same lines, she's behind a new iPhone application -- a travel packing list, available through the iTunes store -- that she said has been downloaded in about a dozen countries.
"It's just how my brain is wired. It's part of my DNA," said Tahari, vice chairwoman and creative director of Elie Tahari, the fashion design house bearing her husband's name. "I don't know how to operate other than to make a list."
CNN sat down with Tahari to discuss when her list-making started, what she's passed on to her children (son Jeremey, 8, weighs in) and how being stuck in a snowstorm inspired her. Here are excerpts from that interview.
CNN: You've earned the nickname "The List Mistress," but when did this, dare I say, obsession start?
Tahari: From a very young age, I was a compulsive list-maker. I was always organizing something or doing some kind of list. The first list I really remember making was taking an inventory of every piece of clothing in my closet and seeing how many different outfits I could make. I think I came up with 112 combinations.
First list after a death
Preliminary information needed:
- Family doctor's name and number
- Estate lawyer's name and number
- Location of will
- Social Security number
- Mother's maiden name
- Address
- Date of birth
- Place of birth
- Father's name
- Proof of military service (if applicable)
- Date, place, cause of death
- Occupation and date last worked
- List of people important to deceased (closest friends, boss, etc.), their names and phone numbers
- Location of the family plot
- List of bank accounts, bank safe deposit boxes and IRA account information
- Life insurance policies

Source: "Lists for Life" by Rory Tahari

CNN: The book covers such a wide range of topics: weddings, the home, pregnancy, travel, medical, emergencies, divorce and more. How many of these lists are or were based on your own organizational needs?

Tahari: Ninety percent of the book came from actual experiences I've lived through myself. The other 10 percent, I basically did the research. [She has a degree in journalism and is a former TV producer.]

I fell off a horse two years ago, and I broke my back. I'd never been hospitalized before, so I never knew what it was like to be hospitalized. If you have a friend or family member who's in the hospital, bring them a blanket. They're always going to be cold, and the blankets they give you in the hospital don't cut it. And the nurses? You need them; they don't need you. A little batch of cookies or brownies goes a long way with the nurses. And you know what? You'll have a lot better hospital stay.

CNN: Some of these to-do lists seem more fitting and standard than others. How did you decide what would go in the book?

Tahari: People say, "Why the emergency chapter? If you're in the middle of an emergency, you're not going to grab the book." Obviously, you're not going to have the book with you in the middle of the emergency. ... But I lived through at least three tornados in Atlanta [Georgia], one terrorist attack in New York and one blackout in New York. And after the blackout, I realized my family doesn't have a plan. I wanted to at least stimulate the idea of having a plan.

CNN: Can you give me an example of a topic you had to research?

Tahari: Cars. I had to have help with cars. Although, in fourth or fifth grade, there was some crazy snowstorm in Atlanta [where she grew up]. I was stuck in carpool on the way home from school with eight people for eight hours. I had one Tootsie Roll in my backpack, and let me tell you, a Tootsie Roll between eight people did not go far. So I decided in the car section that I wanted to have an emergency road list, a check list of things to have in the car. I was stuck in the car for eight hours, starving to death.

CNN: You've used list making to help friends figure out practical things they need to do, but do the lists you've made over the years ever venture into the emotional or psychological -- say, for example, pro-con lists for staying in a relationship?

Tahari: This book is not an advice guide. It's a to-do list. There's not a lot of prose in the book. I just want to be told what to do. I don't really want to hear advice. I don't need to hear the story. Just tell me what to do.

CNN: So, Jeremey, how organized are you?

Jeremey: In school, I don't have such an organized desk because I'm always busy and don't have time to clean up. But I do make some kinds of lists. I sort of have a list in my head. I memorize it.

CNN: How about when you go on a trip, Jeremey? Are you a good packer or unpacker?

Jeremey: I would write down stuff on paper and then stick it on the drawers in the hotel [so he knows where everything is]. My dad, when he's packing, he just takes all the clothes and goes like this [imitating his dad's voice], "Jeremey, help me throw in the clothes." I try to fold them up and put them in. I'm like, "Dad, you're not supposed to do that."
Tahari: I definitely think he is taking after me.
E-mail to a friend

All About Books