By Lesley Alderman





(Real Simple) -- You can tackle the laundry... and have time and energy to spare, too. Try these smart, helpful tips from real women and experts who tackled the ghastly scenarios you posed to us in a recent survey
Finding the time (and the dirty clothes)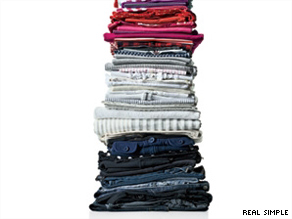 Instead of just letting the laundry pile up, follow these easy tips to make it go by faster
The first big challenge with laundry is simply carving out the right time to do it. (When is better: Tuesday evening or Sunday afternoon? After dinner or before breakfast?)
Second to that dilemma is locating the dirty clothes, which tend to accumulate everywhere. (Why, exactly, is a used pot holder under the sofa?) Here, when to do the washables and how to track them down -- without losing your marbles.
You don't have enough hours to do all the laundry from start to finish.
The fix: Break the process up into small tasks that can be undertaken at different times. "I collect clothes in the evening and put them in the washer around 10 p.m.," says reader Nicole Klemens of Rye, New York. (Experts say it's generally OK to let clothes sit in the machine overnight.)
"I throw them in the dryer when I wake up at 6 a.m. and fold while watching Sports Center at 7 a.m. I never really feel like I'm doing laundry, it's just part of my daily routine." Real Simple: Problem-solving laundry products
With a large family, you lose your entire weekend to laundry.
The fix: Create a schedule that divvies up the work throughout the week, such as sheets on Monday, dark clothes on Tuesday, and lights on Friday, suggests Cathy Bloch, a mother of three in Bronson, Michigan. Real Simple: Unexpected uses for laundry room items
Or wash each child's clothes on a different weekday, suggests Lori Gaskill, a mother of four in Eagle River, Alaska.
The best part of such a system? "By Saturday, I don't have to think about laundry at all," says Bloch.
Carrying the wash down the stairs is breaking your back. (What genius decided laundry rooms should go in the basement, anyway?)
The fix: One load typically weighs eight pounds, and some bags and baskets hold two or more loads. If your laundry room is a flight or two away, use bags that close at the top and gently roll them down the stairs.
Or try a roomy bag or backpack that fits over your shoulder.
"It's more convenient to carry my laundry load downstairs in a huge plastic shopping bag," says reader Viviane Imperiale of San Francisco.
"That way, I can hold the stair railing, which is safer than when I carried a big laundry basket requiring both hands."
If you prefer a basket, choose a flexible model, which can mold to your body and is easier to schlep than a stiff one.
Minimize back strain by holding the basket close to your body at waist level, says Karen Jacobs, a clinical professor of occupational therapy at Boston University.
Asking your child to help with the laundry is like talking to a wall.
The fix: Unfortunately, Yo Gabba Gabba! has yet to dedicate an episode to doing the wash, so it's up to you to teach your kids the basics.
Preschoolers can help you sort by color and can gather clothing items off the floor. But once children are old enough for grade school, they can take on more responsibility, with some assistance from you.
For 6- to 11-year-olds, consider posting a list of laundry reminders above their hampers.
For example: turn your clothes right-side out before throwing them in here, pull your socks off from the toes, and have you checked your pockets??? Real Simple: Laundry room essentials
If you don't want to make your own checklist, download the Laundry Tips Worksheet.
For older kids, go with another gimmick: humor. Reader Dianne Phelps of Lockport, New York, recalls, "Once, after my teenage son had left for school, I looked into his room and saw a pile of dirty socks on the floor.
I got a Sharpie and an index card and set up a display that read, EXHIBIT A: ARTIFACTS FROM POST-MILLENNIAL TEENAGE BOY WHO APPARENTLY SUFFERED FROM AMNESIA.
When he got home, my son smiled and, a minute later, put the socks down the chute."
Every time you're about to toss clothes in the washer, you notice ketchup splotches on shirts and ink marks on jeans.
The fix: Stash a pretreatment product, like Spray 'n Wash in or near each hamper.
Tell teen and adult family members to treat stains (on both sides of the garment) right away -- this will save you a step when you wash. Plus, the sooner the stain fighter goes on, the more likely it is that the spot will come out.
Speeding Up the Washing and Drying Don't expect miracles: Your machines can work only so fast. But it is possible to shave a few minutes here and there and do fewer loads overall.
The washer seems to take forever.
The fix: Consider using shorter cycles.
The light setting (six to eight minutes) is optimal if clothes have been worn just once or twice and aren't stained, says Mary Zeitler, a home economist at the Whirlpool Institute of Fabric Science, in Benton Harbor, Michigan.
The dryer seems to take forever.
The fix: Wash a load, immediately toss stuff in the dryer, and repeat. "Once the machine is warmed up, subsequent loads will dry faster," says Zeitler.
Start with lightweight clothing and end with heavier items, like towels, which won't be damaged by the heat that builds up in a hot dryer drum. And don't over- or underload the dryer.
Shoot to fill it up about halfway for maximum efficiency.
You're not picky about your kids' clothes (they'll grow out of them soon enough), so sorting lights and darks feels like a waste of time.
The fix: Wash all the clothes together in cold water. There are some cases in which this is not a good idea -- for example, with whites that need bleaching and items that are prone to bleeding. But by not sorting you'll save a lot of time.
"I throw everything in cold water, and the clothes look fine," says reader Gabrielle Bedell of Aurora, Colorado. "And, yes, my mother thinks I'm nuts."
Folding (Without Becoming Undone) Remember: It's not about perfect piles and precise corners.
It's about making the clothes easier to transport and getting them to fit in your drawers. These tips will help you get the job done faster.
You can't get comfortable while folding.
The fix: Frankly, the most relaxing folding position is lying on the couch and watching your husband do it. But short of that, there are little adjustments to make the task less taxing.
Fold on a large table that's about waist high, says Anita Perr, an occupational therapist who teaches at New York University, in New York City.
If you work on a lower surface, you'll have to bend over repeatedly. And if you fold on a higher surface, you'll have to lift your arms. Both positions will tire you out more quickly.
If you're prone to backaches, place a thick rug or an anti-fatigue mat (try the 18-by-30-inch Cushioned Household Mat) on the floor.
A cushioned surface is easier on your legs and promotes blood flow to the muscles, says Mark Redfern, a professor of industrial engineering and an ergonomic expert at the University of Pittsburgh.
You spend precious time folding T-shirts, only to have them get messed up when they're stuffed into drawers.
The fix: When folding clothes, consider the space you'll put them into. If your drawers are deep, fold clothes into rectangles to take advantage of that. If they're shallow, fold clothes in squares so they don't get scrunched up.
You hate to fold. Period.
The fix: Hang most of your clothes (space in your closet permitting). Sure, it also takes a few minutes to hang items, but many women say they find the process less frustrating than folding.
If you carry your clothes directly to your closet, here's a trick to ensure that you have free hangers at hand:
"When I take clothes off a hanger to wear, I put the empty hanger at the front of the closet. Then, when I go to hang up my clean clothes, I can easily find the free ones," says reader Kim Denton of Tulsa.
That said, you can also save time by choosing to fold fewer items. For example, simply roll up T-shirts and jeans.
Stack and toss workout clothes, baby Onesies, and bras in bins. And lay small children's T-shirts flat in a drawer; they're nearly too small to fold anyway.
Putting it away -- finally
Sorry, but there's no effortless way to put away the laundry. You just have to do it.
Two-thirds of Real Simple survey respondents said that they dislike this step the most (all those staircases, all those dressers). And even women who say that they actually enjoy laundry -- yes, some do exist -- dread this particular step.
"I love doing laundry. I love folding laundry. I even love to iron," says reader Kym Kinsley of Detroit. "But to put it away, I need someone to force me into it. Usually it's my three-year-old begging, 'Somebody help me find my underwear in this basket -- puh-leeze!'"
E-mail to a friend

Get a FREE TRIAL issue of Real Simple - CLICK HERE!
Copyright © 2009 Time Inc. All rights reserved.