By Chris Kokenes
CNN





EDISON, New Jersey (CNN) -- More than 100 purveyors of adult entertainment waited hours for Edison's giant convention hall to fill last month, a slow attendance that reflected recessional challenges that nearly all industries have faced.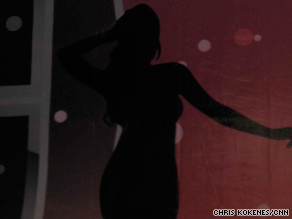 Companies are slashing lavish parties, seeing bottom lines fall in the adult entertainment industry.
The adult entertainment industry certainly hasn't been in freefall like the auto manufacturers, but it has felt the pinch of consumers with shallower pockets than they once had.
Most adult entertainment companies are privately owned, making it hard to quantify overall sales from year to year. But many agree the multibillion dollar industry is finding it harder to sell sex.
XBIZ, an organization that covers all sectors of the adult entertainment business, says piracy, free online content and legal challenges have all adversely affected the industry.
"The adult entertainment industry is facing its first downturn ever in its history," said Alec Helmy, president of XBIZ. Helmy also added that attendance figures at several trade shows have declined steadily in the past several years.
Dan Adams, editorial director at Magna Publishing, said that the print business has changed and that there is some belt-tightening going on.
"Print publishing as a whole is down," Adams said. "Everyone has felt a change."
Magna, which claims to be the largest publisher of adult magazines in the country with 60 titles and sales that average over a million dollars a month, has learned to adapt, Adams said.
"Everyone has felt a change. Larger companies know what readers want, and the ones that are thriving are the larger ones. The stronger ones will survive," he said. "We've re-examined budgets and streamlined other areas."
Magna purchased Club magazine, considered a strong brand in the industry, adding it to its stable of publications such as Genesis, Swank and Gallery. But Adams still voiced a cautionary tone, citing that free Internet "tube" sites have also cut into profits. While Adams' exudes a mood of optimism, the drop-off is in the double digits from just a couple of years ago.
Even the more broadly known magazines have had to cut back. Photographer Ted Karpovich has seen international men's magazine Penthouse slash the number of premiere parties it once held.
"They used to fly in the Pet of the Month and have a party and make the rounds. They pretty much eliminated those monthly parties. They're not as lavish with everything anymore," said Karpovich.
And the women Karpovich photographs have fared worse. With so many models willing to pose for little or even for free, the prices offered by photographers have significantly come down.
But the adult entertainment industry is all about content and the talent that drives the industry.
Playboy model Daniela Victoria, a veteran after six years in the business, has seen some changes.
"You have to be willing to work for less than usual. Anyone who says they aren't lowering their rates is lying," she said.
In better times, the auburn-haired model said she used to average $1,000 to $1,500 a day. But no more.
"There's more stuff you can get for free," she said. So many models are willing to work for free. Photographers will now work with cheaper amateur models."
Vivid Entertainment, which produces about 60 features a year and has contracts with popular adult stars such as Jenna James, Tera Patrick and Heather Hunter, also displayed its wares at the show in Edison, which was called the Exxxotica Expo and billed as "the largest adult consumer show in the country."
Vivid co-owner Marci Hirsch has mixed feelings on the recession.
"The recession has hurt business, including DVD sales," she said, "but the Internet has offset any hit to profits."
Eager to promote their wares, several big name industry stars were at the expo signing autographs and plugging their Web sites. And although some businesses, such as Vivid Entertainment, reported solid Internet sales, some of those stars said it wasn't the case for them.
Seka, a platinum blonde performer from the 1970s and '80s who says her Web site gets 600 million hits a year, said that the Internet has "been good to me. It's been great."
But, she said, she has noticed a drop in the past two months.
"Business has dropped off about 5 percent, and that's a big drop," she said. "It takes money to run a Web site, which involves Internet servers, maintenance, providing updates -- all costs which cut into your bottom line."
Seka, a native Virginian, said part of the problem is that women on the Internet are "a dime a dozen" and lacking in the kind of variety the industry once had.
"We didn't have the same type of competition that exists today," she said. "Everyone looks the same now."
Meanwhile, some other businesses reported that the recession hasn't hurt very much. The catalog sales company Adam & Eve, based in Hillsborough, North Carolina, employs more than 350 people and posted annual sales of $13 million in 2007. And spokeswoman Katy Zvolerin said 2008 was "surprisingly good."
"We were all collectively holding our breath," Zvolerin said. "While DVD sales were down, toys or novelties sales were holding strong."
The recession has posed a challenge, she said, but "we've seen toy sales increase because so many people are staying home and having fun."
Some 18,000 consumers, about the same as last year, attended. Scott and Michelle, a New Jersey couple, shelled out $50 a pop to attend the exposition. They said the recession hadn't affected their spending habits.
"There's always money to be spent on sex," said the couple, who asked to remain anonymous.

E-mail to a friend

All About Pornography