By Leslie Morgan Steiner
Special to CNN





Editor's note: Leslie Morgan Steiner is the author of "Crazy Love," a memoir of domestic violence. She lives in Washington with her husband and three children.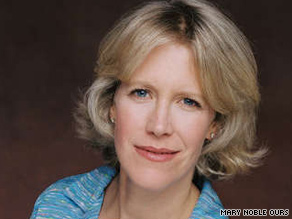 Leslie Morgan Steiner says crimes against women must be taken as seriously as other crimes.
WASHINGTON (CNN) -- Historically, women's rights and status in America have been viewed by both men and women as "soft" issues -- worthy but marginal.
Real problems are the serious ones -- financial crises, international confrontations, nuclear arms, trade disputes, Mafia murders, the Steelers/Ravens game (if it looks close). But ills that plague the daily lives of women like rape, incest, prostitution and domestic violence -- not so much.
However, with Hillary Clinton perched atop the State Department, Michelle Obama in the White House, Oprah, Katie and Diane dominating television, and Arianna Huffington running the blogosphere, so-called "women's issues" may finally get the attention they deserve.
Which perhaps explains why a 76-year-old French man who pleaded guilty to "unlawful intercourse with a minor" 30 years ago is a front page news story and one of California's prosecutorial priorities despite the financial and international crises crippling various segments of our country and the world today.
Maybe you've not heard of Roman Polanski, the 76-year-old French-born filmmaker who directed "Rosemary's Baby," "Chinatown" and "The Pianist," for which he won an Oscar in 2002.
In 1943 he survived the Nazis in Krakow, Poland; in 1969 he survived the trauma left by the Charles Manson family, which murdered his wife Sharon Tate and their unborn child; in 1977 he also survived the American criminal justice system when he fled the United States before being sentenced after he was accused of drugging and raping a 13-year-old girl.
Don't Miss
Unexpectedly -- and inexplicably to some Polanski fans and supporters -- changing times have caught up with Polanski, and he was arrested in Switzerland this past weekend in response to an extradition request from the Los Angeles County district attorney's office.
With astonishing lack of understanding of the dynamics of psychological manipulation of a child, people have expressed outrage over Polanski's arrest, protesting that the following factors weigh persuasively in favor of releasing Polanski and forgetting about his 32-year-old crime:
• The 13-year-old rape victim was an aspiring actress, nearly 14 and pushed by her mother onto Polanski to advance her career -- all variations of the centuries-old game of "let's blame the victim."
• Polanski is not a "RAPE rapist" -- a new descriptor, used by Whoopi Goldberg among others, that seems to imply internationally accepted gradations of cruelty and humiliation when it comes to sexual assault of women.
• Eventually the victim forgave Polanski -- OK, good for her, but a victim's pardon does nothing to mitigate the original crime, or prevent a criminal from repeating the act.
An online petition has been signed by directors such as Martin Scorsese, Woody Allen and Pedro Almodovar, and 130 other so-called "heavyweights" in the Hollywood film industry. I'm not sure about you, but I'm not too surprised that 130 "masters of the universe" in the notoriously male-dominated film industry (including Allen, who seduced and married his companion's adopted daughter) have come out full force in support of the inexcusable behavior of one of their own.
What troubles me most is that almost no one seems to be asking the only question that matters here: How do we as a society prevent violence against women, and minimize suffering of women who've already been victimized?
As a female crime victim myself -- I was physically abused by my ex-husband as a young wife in my early 20s -- I know all too well what it feels like to have my life destroyed, and then to be considered a "worthy but marginal" victim by our society. Sure, people who knew I'd been beaten for two years felt sorry for me. But as with Polanski's victim, many expressed the view that I was complicit in my own victimization.
Not once did the police, my divorce lawyer, my parents or anyone else suggest I press charges against my abuser. Despite police records, protection orders and family court documents verifying the abuse, my lawyer advised me to pay a financial settlement in order to avoid a prolonged divorce battle and the risk that a judge might believe my ex-husband, not me.
The hitch with society's views of violence against women is that in blaming victims, we often get victims to blame ourselves, preventing prosecution of perpetrators. It took me years to realize I was a battered wife; I believed instead that I was a loyal wife in love with a troubled man.
When I mustered 10 years worth of courage to write a memoir about the experience, the two most common questions I got were "Why would any woman stay with a man who beats her?" and "What does your ex-husband think about you writing the book?" These are hardly the questions that victims of "real" crimes get asked.
So I'm proud of the California criminal justice system for doggedly pursuing Polanski, even though, as some people have argued, the damage is already done, and the man has surely become a victim himself, of both the slow-moving criminal justice system and our society's condemnation.
But if you share the opinion that Polanski committed a victimless crime, let me ask you to think about the women and girls in your life -- your mother, your daughter, your sister, yourself. In the United States each year nearly 250,000 women and girls over the age of 12 are the victims of sexual assault, rape and attempted rape, according to the Rape, Abuse and Incest National Network.
Only 6 percent of rapists will ever spend a single day in jail. Ninety percent of rape victims are female. Fifteen percent of sexual assault victims are under age 12 and 93 percent of these juvenile sexual assault victims know their attackers personally. The number of rapes has declined in past decades but any such violence is unacceptable.
As a woman who was once a vulnerable 13-year-old girl myself, and is now the mother of two daughters, I feel safe in America only in my conviction that crimes against women and girls in our country cannot be described as "soft."
The only way to stop rape, abuse and other forms of violence against women is to prosecute the perpetrators as the deadly serious, destructive criminals they have proven themselves to be. And for everyone to agree that a crime is a crime, no matter the gender of the victim.
The opinions expressed in this commentary are solely those of Leslie Morgan Steiner.
E-mail to a friend

All About Roman Polanski • Sharon Tate • Crime • Sexual Offenses