Eric Marrapodi
CNN





WASHINGTON (CNN) -- You can learn a lot from people by listening to their stories.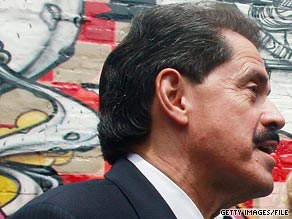 U.S. Rep. Jose Serrano said the "Historias" project gave him a chance to talk about the struggles of his parents.
That has been the driving idea behind StoryCorps. Since 2003 the nonprofit project has been collecting oral histories from everyday Americans across the United States.
One copy of the recorded history goes to the participant and one copy to the American Folklife Ceter at the Library of Congress. To date, StoryCorps has recorded more than 27,000 stories, many of which have been broadcast on public radio stations.
The project is now turning its attention to the stories of Latinos -- on Thursday, StoryCorps launched "Historias" ("Stories" in Spanish) as its latest effort.
Historias, funded by the Corporation for Public Broadcasting, aims at collecting the stories of Latinos in the United States, including the territory of Puerto Rico. StoryCorps staffers will be traveling across the country in two mobile radio studios, Airstream trailers with a small soundproof room in the back. Inside each studio there is a table with two microphones and two sets of headphones. Participants sit and share their stories.
A facilitator from StoryCorps listens along to help guide the flow of the interview, and to point out the occasional gap in logic.
The studios and staffers stay in cities and towns for two to four weeks to collect interviews. For "Historias," they will travel to cities with large Hispanic communities.
Rep. Jose Serrano, D-New York, represents a heavily Puerto Rican section of New York City, and Serrano took part in Thursday's launch program.
"It gives us the opportunity to talk about my father and my mother, and how they struggled here so I could become a member of Congress," he said of 'Historias.' "That's an American story, and a lot of people don't know that Latinos have the same American story."
Serrano shared a personal story with the small crowd of supporters and reporters in the shadow of the Capitol dome:
"There are two of us in my family, my brother Eli and I, and we were together once and my father was there. At that time my brother was a school teacher and I was state assemblyman, and a gentlemen came up to my father and said, 'You're such a lucky man. You have two children -- one is a teacher and one is a state assemblyman.' My father looked at him, and in beautiful broken English said, 'I busted my back to get lucky.' And it was, 'Yeah, they're there because we worked hard.' That is the American story."
"Historias" will collect the life experiences of Latino-Americans such as 62-year-old Ronald Ruiz, a retired bus driver from New York City. He attended the launch Thursday and recorded for "Historias" as something of a veteran behind the microphone. He first stepped into a StoryCorps booth in New York's Times Square several years ago.
'Latino in America'
The Latino population is set to nearly triple by 2050. This October, Soledad O'Brien journeys into the homes and hearts of a group destined to change the U.S. Witness the evolution of a country as Latinos change America and America changes Latinos.
October 21 & 22, 9 p.m. ET

On Thursday, he shared some of his memories and thoughts with CNN.
"For me it's so important now that I'm retired that my daughter can go to StoryCorps or pick up the [StoryCorps] book and say, 'That was my father and he was Hispanic.' "
Ruiz said he hopes the stories that will make up "Historias" will serve as guideposts to all young Hispanics.
"Maybe they'll hear these stories on the radio, and hear these stories from Hispanics and know that they're not lost, and they're not given up on, and there are normal people -- a cleaner, a person wiping the walls, your father working in a restaurant -- you think is a nobody is actually a somebody. He's a somebody."
For Ruiz, his story began in the Bronx.
"I was born and raised in New York and went to Catholic school. They didn't really want you to be Hispanic, they wanted you to be in Catholic school. I remember once being caught saying, 'Mira,' ['look' in Spanish], and I just felt the wind as the nun smacked me in the back of the head. 'You are an American and you are to speak English!' and that was the last time I was Hispanic until I went to high school."
StoryCorps -- and now "Historias" -- collects the kinds of real-life experiences that say much not only about time and place, but about the people who lived in those times and those places.
One of the stories Ruiz recorded about his bus route ran on National Public Radio, the media partner for StoryCorps. Ruiz had helped an elderly woman find a restaurant where she and her friends were meeting. She had forgotten the name of restaurant, so Ruiz stopped the bus outside every restaurant along his route, and went inside himself until he finally found her friends.
Don't Miss
As he escorted her in "like a fancy limousine driver," she told him she had cancer and thanked him for his kindness, saying he helped her forget the diagnosis for one day.
"To me, I find it a story of simplicity. I did something nice for a woman but she did more for me than I did for her," Ruiz said.
Ruiz has never again seen the woman he helped. He hopes telling this story will one day help them reconnect.

"How I would love to meet her again before I leave this world," he said.
He wants to see how she is and tell her, "You did more for me than I could ever have done for you."
E-mail to a friend

All About Hispanic and Latino Issues