(CNN) -- The economy may be taking a toll on teenage dating in America, in an uglier way than you think.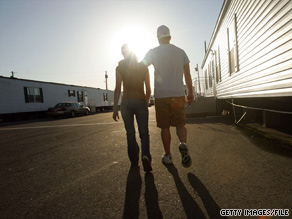 Study: Teens who have witnessed domestic violence will experience abuse themselves at a higher rate than others.
U.S. teens were already experiencing high levels of violence and abuse in dating relationships.
These days, financial stress may be making things worse, according to a report released Wednesday by the advocacy group Family Violence Prevention Fund and Liz Claiborne Inc.
It's a hidden problem that's getting worse as Americans suffer through tough times, said Esta Soler, president of Family Violence Prevention Fund.
Nearly half of all teens whose families experienced economic problems in the past year reported having witnessed their parents abusing each other, the report said. Those teens reported a higher incidence of abuse in their own relationships.
"In hard times, parents don't have the coping mechanisms," Soler said. "They may resort to less-than-model behavior. Children are watching. They're going to copy those behaviors."
Abusive parental behavior often spills into a teenager's own interactions, Soler said.
A girlfriend calls 20 times an hour on a cell phone to keep track of a guy. A boyfriend tells his date she is stupid, worthless or ugly. He pressures her to have oral sex. Or punches, kicks or chokes her. Those are the kinds of abuses Soler's group documented.
Nearly half of all teens involved in a relationship reported being controlled, threatened and pressured to do things they did not want to do. Almost 75 percent of the 1,233 teens surveyed nationwide said their families were affected by the economic downturn. Forty-four percent of those same teens witnessed violent or abusive behavior between their parents and 67 percent experienced some form of dating abuse themselves.
The conversations in those households focused heavily on pocketbook issues, not abuse, the survey found.
And it said teens who have witnessed domestic violence and abuse will experience abuse themselves at a 50 percent higher rate than those who have not witnessed any.
Soler says the purpose of the study, conducted from April 10 to May 5, is not to indict parents but to urge them to get help, for themselves and their children. Soler said a majority of parents, 82 percent, feel confident they would recognize the signs if their child was being abused, but 58 percent were not able not identify all indicators.
The survey found that typically, conversations between parents and children about abusive dating are not effective -- 78 percent of teens stay in abusive relationships despite parental advice.
Though schools actively engage in dialogue about pregnancy or drugs, few programs address dating abuse, Soler said. Now, she fears the problem is worsening as increasing numbers of mothers and fathers lose jobs, or make less money and spend sleepless nights trying to figure out how to make ends meet.
"We need to build programs for young people and to give parents the tools they need to cope," Soler said. "Even in times of stress."
E-mail to a friend

CNN's Moni Basu contributed to this report.
All About Domestic Violence