By Thomas Shapiro
Special to CNN





Editor's note: Thomas Shapiro is director of the Institute on Assets and Social Policy and Pokross Professor of Law and Social Policy at Brandeis University's Heller School for Social Policy and Management. He is the author of "The Hidden Cost of Being African-American: How Wealth Perpetuates Inequality," and co-author, with Dr. Melvin Oliver, of "Black Wealth/White Wealth."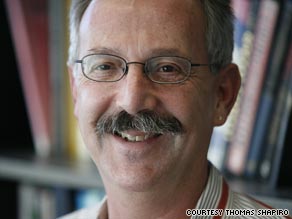 Thomas Shapiro says the gap in wealth between blacks and whites has grown.
WALTHAM, Massachusetts (CNN) -- Closing the racial wealth gap needs to be at the forefront of efforts to achieve economic opportunity in the 21st century.
Without sufficient assets, it is difficult to lay claim to economic security or true opportunity in American society.
Fifteen years ago, my work with Melvin Oliver identified the racial wealth gap as a fundamental axis of racial inequality, finding that African-Americans owned eight cents of wealth for every dollar owned by whites.
The good news is that the wealth (median net worth) of non-whites increased $6,600 per person from 1998 to 2007. The bad news is that the racial wealth gap is widening.
The latest Survey of Consumer Finances (SCF) data indicates that a much wider breach has opened up in racial wealth inequality from the mid-1990s to now. This pattern reflects a firmly embedded racial stratification.
In 1998, the net worth of white households on average was $100,700 higher than that of African-Americans. By 2007, this gap had increased to $142,600. The SCF survey, which is supported by the Federal Reserve Board, collects this data every three years -- and every time it has been collected, the racial wealth gap has widened.
In short: non-white wealth grew slowly and incrementally while wealth in white families grew 40 percent. Why such a huge gap?
'Black in America 2'
This July, Soledad O'Brien investigates what African- Americans are doing to confront the most challenging issues facing their communities. You'll meet people who are using ground-breaking solutions in innovative ways to transform the black experience.
July 22 and 23, 8 p.m. ET

As demonstrated in my books, "Black Wealth/White Wealth" and "The Hidden Cost of Being African-American," wealth is accumulated in specific historical contexts that produce varying levels of wealth for different families and social groupings. Even now, social forces serve as a powerful deterrent to black ambitions for wealth.
Even when blacks have similar educations and incomes, they lag far behind their white counterparts in their quest to accumulate assets. For African-Americans, equal achievement does not translate to anything near similar wealth.
Some white families historically have enjoyed the benefits of government support and tax policies to buy homes, start businesses, grow wealth and prepare for retirement. Looking at one important historical example, few if any African-Americans were able to take advantage of the Homestead Acts that provided landowning opportunities for many whites.
Recent history continued this pattern of blocked opportunity because African-Americans were mostly shut out of the greatest wealth-building opportunity of the post-World War II generation -- home ownership.
Don't Miss
Residential segregation, Federal Housing Administration practices and restrictive covenants on land titles blocked many African-Americans from owning their own homes for many years. Home equity is by far the largest bucket of wealth for middle-class Americans.
The basis for excluding African-Americans from opportunities and creating different rules in the competition for success is no longer just about who is a capable worker, but also about who is a worthy credit risk.
As wealth accumulation among African-American families had begun to expand recently, recession, declining stock prices, the foreclosure meltdown and processes of financial institutions converged to shrink, strip and consume it.
Inheritance is another critical factor creating and maintaining the huge racial wealth gap. My work shows how even small inheritances or gifts can become "transformative assets," which jump-start a child with college, a career and little debt. This puts him or her on the road to economic success. The starting line for young African-Americans is very different because they are less likely to inherit money from their families.
Residential segregation is the linchpin of race relations in America, producing far less housing wealth in African-American communities. Homes appreciate more in value in predominantly white communities than in integrated communities, and homes appreciate even less when located in minority neighborhoods, especially in urban minority neighborhoods.
Hence, the home appreciation calculus is more about location, location, location -- the racial and ethnic makeup of the community -- than the home itself. Also critical is the way in which substandard, inferior schools are located predominantly in neighborhoods where minorities and low-income families are concentrated. The integral connection between residential segregation, housing wealth and education is a fundamental challenge to be faced.
The current housing meltdown and foreclosure crisis affects all communities. But it has a greater impact on minority communities, because subprime and predatory loans are disproportionately located in those neighborhoods. Wealth is thus being stripped from these communities while opportunities to build wealth through home ownership are riskier.
The racial wealth inequality is the hidden fault line of American democracy. We need a new civil rights movement for the 21st century that focuses on economic opportunity and inclusion and closing the racial wealth gap.
This means focusing on reforms that make tax code benefits like the home mortgage interest deduction more equitable; that enforce fair housing and lending laws already on the books, that provide consumer protection in home and education loans and credit cards and that insure equity in federal programs to rework risky home mortgages. These measures would be a good start.
The opinions expressed in this commentary are solely those of Thomas Shapiro.
E-mail to a friend

All About Racial Issues • Civil Rights • Home Financing • Property Values