By Paul Vercammen
CNN






RIALTO, California (CNN) -- The baseball diamonds and bleachers are filled with tales of moms and dads pitching in to put their kids on the field -- Foreclosureville's version of "Field of Dreams."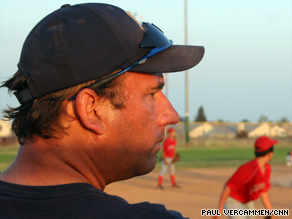 Jim Underwood says the league has provided parents and children with relief from the economic hard times.
North Rialto Little League has seen its annual $45,000 sponsorships shrink to a mere $3,000. Parents have lost their jobs, even houses, amid the nation's economic woes.
But the families in this corner of California's economically ravaged region known as the Inland Empire have kept the aluminum bats swinging and the crowd roaring.
Not a single game has been missed because of hard times. "Even though we are in bad times, it still brings out something good," says Janis Strong, the president of North Rialto Little League. "What worked for you a long time ago, it'll work for you now. ... That's what we're supposed to do, have family involvement."

Watch Foreclosureville's field of dreams »
The families and the league had no choice but to rally around each other when the sponsorships plunged. Bread-and-butter small-business sponsors closed up or lost too much revenue to help the league. The links to other financial donors were severed when parents lost their jobs at the sponsoring businesses.
It's a story echoing across America's fields, gyms and rinks for youth sports programs. Parents are often struggling to raise money, even in elite leagues that in the past had large financial treasure chests.
"Some of the parents who are used to putting money out every summer for these travel teams, they are saying that the dollars are a little tighter," says Abe Key, president of PONY Baseball and Softball, a nationwide organization of elite travel teams. "Those teams are not traveling as much."
Don't Miss
At North Rialto, the parents of roughly 200 kids turned to both new and old fundraisers, from cars washes to candy sales to candle sales. They kept the games going while the economy kept tanking. One T-Ball team raised $990.68.
North Rialto sits in San Bernardino County, which consistently ranks in the top five for highest foreclosure rates in the country. The county's unemployment rate is 12.5 percent. The Little League is steeped with tradition; some of its players have gone on to the Majors, including All-Star Jeff Conine, who played 17 years in the bigs.
North Rialto coach Steve Thompson, and Cheryl Johnson, his common-law wife of 23 years, are enduring life's equivalent of a strikeout. Both got laid off this year, they're four payments behind on their home mortgage, and they lost health insurance.
Johnson worked as a contract clerk at a Pontiac dealer and would be fine with a new lower-paying job. "I've been told too many times that I am overqualified and I won't stay," she says.
Thompson lost his job as an automotive technician at a Chevy dealership. But that didn't stop this tireless volunteer. "This is my outlet," says the coach. "This is where I come to be out with the kids. Because it's not about me, it's about them."
The couple could not afford the league fee of $100, so a little creativity was put into play. With the league unable to pay for field maintenance, it allowed some families' children to play for free or at a discount, in exchange for their parents' labor.
Thompson and others water the field, lay chalk in the batters' box and compact the holes in the pitchers' mounds.
Junior Padres coach Jim Underwood pitches in with the labor too. He and his family -- wife Tammy, 14-year-old son Tyler and 7-year-old son Tayler -- have been on the financial bubble. "Life was good, work was good, and everything was good," says Underwood, a land surveyor. "Then all of a sudden, bills come due, and all of a sudden, there is not enough money. It happens fast."
Underwood had to start paying for his own health insurance. And without warning, the bank posted the notice for sale on their house. "We caught it three or four days before the auction," his wife says. "My mom and dad got involved and refinanced their house and lent us a lot of money to save our house."
Underwood adds, "We're all just trying to come up with enough money so that our kids can play baseball and we can have an outlet."
Tayler and Tyler find refuge from the family's financial troubles between the chalk lines laid down by their father. "I don't think about that stuff," Tyler says of his family's economic status.
Scanning the baseball field, the boy says, "It's just an escape for me to get away from it. And I don't worry about nothing. I love it."
These aren't isolated stories. Coach Danny Ruiz of the minor division Pirates, made up of mostly 9- and 10-year-olds, says his team's parents have suffered through foreclosures and job loss. Many of the parents are working extra hours to try to make up for plunging commissions or work once done by laid-off colleagues.
"We had to ask some of our parents to gather up some of their used cleats that maybe their kids had outgrown, or maybe some used gloves," Ruiz says. "We had to supply some kids with used equipment just so they could play."

After the game on this day, a 10-year-old boy spits sunflower seed shells through a wide smile. The Pirates found him a fielders' glove and shoes, and the league let him pay for free.
"We're a nonprofit group," league president Strong says. "So we don't have to make money. We just have to have enough so the kids can come out and play."
E-mail to a friend

All About Job Losses • Unemployment Rate • Baseball