By Jessica Ravitz
CNN





(CNN) -- Carl Kurlander was a struggling writer, living in a converted laundry room in a seedy part of Hollywood, when his five-year high school reunion rolled around.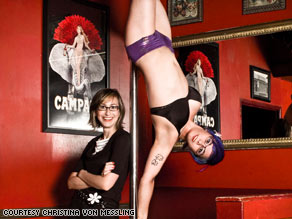 Andrea Wachner hired Cricket, right, to attend her 10-year high school reunion for her.
Even so, the guy who described his teen self as "nerdy," managed to impress his former Pittsburgh, Pennsylvania, classmates -- not because of anything he said or did, but because of a lie spun by his best friend.
"He went around and told everyone I'd written 'Tootsie,' " said Kurlander, now 49, who still laughs at the absurdity. "And here I was living on fried rice."
While a high school reunion can simply bring together old friends, it also can turn back the clock on insecurities. Fitting in, catching the eye of an old crush, impressing your peers (or at least not embarrassing yourself in front of them), the pressure can make some want to hide under the bleachers.
In fact, revisiting high school years, even decades, later can be a chance to "disprove negative prophecies" or earn the acceptance and respect that might have been denied before, said Florence Kaslow, a south Florida psychologist of more than 30 years who's studied reunions of all sorts.
"People try to convey the message they want others to think of them now," she said. "It's like returning to the past to have a second chance."
For those who choose to go, reunions can spawn all kinds of behavior. iReport.com: Share your reunion stories
Armed with his Rogaine, gym membership and willingness to "fake bake," Curt Peterson of Des Moines, Iowa, is gearing up for his 20th, which is one year away.
"I won't show up in a Mercedes, but I'll have a flat stomach, muscles, hair on my head and a tan," he wrote in an e-mail. "I think that will be good enough for me."
The impression someone makes when walking into a reunion can become legendary, even if inaccurate.
Mark Feighan's 10-year reunion entrance 20 years ago still leaves one former classmate awestruck.
To hear Michael Foulks of La Jolla, California, describe the moment, the music changed and all eyes turned as Feighan, flanked by two supermodels (who might have been wearing beauty pageant sashes), swept down the stairs in a tuxedo with tails.
"You know how your memory goes over the top?" Foulks said. "In my mind, that's what happened."
But Feighan insisted by phone from San Diego, California, that he dressed casually. He also clarified that he came with three scantily clad women -- one on each arm, and another who played the part of chauffeur. All of them were loaners, one was his brother's girlfriend, and they took off minutes after he arrived, he said.
"I had to play the part," he said of the over-the-top entrance. "I was just having fun."
Sometimes, however, the fun can backfire.
In the case of Kurlander, who had nothing to do with "Tootsie," he returned for his next high school reunion after legitimately co-writing "St. Elmo's Fire." The irony of what happened was thick, he said: "Like the boy who cried wolf, no one believed me."
Pushing the boundaries to see what people might believe was, at least in part, what drove Andrea Wachner to do what she did for her 10-year high school reunion.
Simply put, the 31-year-old comedy writer hated high school. She had no desire to attend the 2005 event, but she came up with an alternative plan that got her excited. She'd hire a stripper to go in her place.

Watch the pair discuss their plot »
"I went stripper shopping," Wachner said. And at "Jumbos Clown Room" in Hollywood she found "Cricket," the perfect reunion stand-in.
"I'm open for all life adventures," Cricket said. "If you have a chance to live life, to have fun, to do something exceptional, you should just do it."
Wachner hired a film crew to capture the evening and even coached Cricket through an earpiece. The result was a 40-minute documentary, "I Remember Andrea."
"What I wanted was the gray area, the shadow of the doubt. I wanted to leave people wondering," Wachner said. But the stunt ended soon after Cricket took off her clothes.
"Apparently you're not supposed to strip at reunions!" Wachner said with a laugh.
More tame, and fully dressed, was "Lynn Miller," a character introduced by Will Preuss, the 1993 class president of Kirkwood High outside St. Louis, Missouri, who organized his 10-year reunion. His sociological experiment involved hiring an actress, Lindsey Stoddart, and registering her to attend as if she were in the class, too.
While people at first pretended they knew who she was, by the end of the night Preuss said there were two camps: those who assumed they just didn't remember "Miller," who claimed she'd moved to the area as a troubled freshman, and those who were sure she was a fraud. All of this, too, was caught on camera and is the basis of a short film called "Crash Reunion."
Stoddart, who flew out from Los Angeles, California, for the part, got into the improv role. She said she was a three-time divorcee, a former hand model who'd run in a fast crowd and a wannabe psychic bookstore owner. She told people she was trying to start her life over and asked if she could crash on classmates' couches.
"I just tried to make people a little uncomfortable," said Stoddart, who didn't even think about going to her own 10-year reunion, which was around the same time. "I was an outcast rocker chick [in high school]. I had much more fun going to Will's reunion than I would have had going to my own."

Only after the reunion did Preuss, of Los Angeles, reveal the truth. Some former classmates didn't take the news well.
"There was a movement to impeach me as class president," he said. "I doubt they're going to let me throw my 20th reunion. I'm not even sure I'll be invited."
E-mail to a friend