By Marian Salzman
Special to CNN






Editor's note: Marian Salzman is chief marketing officer and a partner at Porter Novelli Worldwide and is co-author of "The Future of Men" and "Next Now." She was named among the "top five trendspotters" by VNU in 2004 and has been credited with popularizing the term "metrosexuality." She blogs at http://pnintelligentdialogue.com/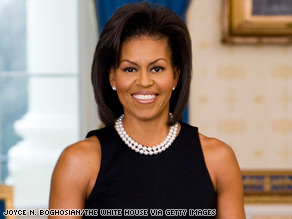 Author says more people will begin asking themselves: WWMD?
(CNN) -- Michelle Obama is the real national stimulus burst we need. With a twinkle in her eye, and maybe a small tear, she makes us believe in ourselves, because she's proof positive that there is an American dream. And with her take-no-BS attitude, she's a true role model for all of us, including our rising graduates (you just know she'd stand down anyone who crosses her kids, her mother or her husband, or the policies she's passionate about).
We all know that Superwoman is a comic-book invention, but look hard at Michelle and you'll see plenty of elements of the modern superwoman, down to her sensible gear for inclement weather. She's a mom; she's a lawyer; she's active in her community; she's glamorous in a real-woman, size-10 way; she even finds time to work out!

So WWMD? That is the question more young women and men will be asking themselves, as they look past the banal, filthy-rich celebrities of yore toward role models of substance.
Michelle is a champion of community values and local leadership, encouraging retirees to volunteer and young people to choose a career path of service. WWMD? Invite local students to the White House to be mentored by staff, and use her time and resources to support causes she believes in. We'll see more and more women reaching out and looking for creative ways to engage in their community -- ways they can make a difference while still maintaining their commitments to work or family.
While Michelle had to leave many of her close friends behind in Chicago, Illinois, she places great value on those relationships and remains fiercely loyal to those friends. As women worldwide take on more stress at work and at home, they are leaning on their friends even more. WWMD? Invite new friends over to watch a rom-com in the White House.

Women are making special efforts to carve out "girl time," mini escapes from life's pressures -- whether a night out or a weekend trip -- that provide a chance to recharge and reconnect without any guilt. And luckily, social media allows even those separated by distance to stay connected with important friendships by sharing stories, photos, songs and videos.
Michelle seems to feel no insecurity or sense of secondary citizenship because she is first mom and not CEO of the free world. She does no apologizing for having put a Harvard J.D. on hold. Her career for now is running the family, and that is her concern.

She's setting the tone for a dynamic that's occurring in families nationwide. Over the past several decades, the traditional income structure shifted from a single earner (the man) to double earners, and now we are moving back to a single earner in a lot of cases, whether the man or woman.

WWMD? Develop an elastic family strategy -- partners willing to swap roles as circumstances change, sharing the burdens and the rewards. In the new unions, he brings and she brings, and together they produce best-in-class operations. Maybe the new New Feminism means picking life partners who will encourage each other to nurture the family enterprise.
On a larger scale, this kind of flexibility will hopefully translate to a general shift from selfishness to altruism, individualism to solidarity, "every man for himself" to "we're all in this together," cornering resources to pooling resources. Families may be the most promising social group when it comes to making this kind of change work.

The Obamas openly leaned heavily on their family members for support and child care during the brutal and exhausting campaign grind. And now Michelle's mother lives in the White House, too, maintaining that tight-knit family circle despite the move to Washington.
Before 2008, success had a lot of "self" in it (self-expression, self-development, self-realization). But now, it makes a lot more sense for families to stick together, pool resources and seek success collectively. WWMD? Live the family values, not just talk about them.
Michelle has emerged as the role model for the modern woman, as well as the modern family caretaker. A shift in priorities in order to take care of business doesn't have to mean a shift in what a person stands for.
So what does this mean as we approach graduation season and young women burst forward ready to face the world, dreams and hopes in tow? My prediction: The goal of being a highly educated, fully engaged citizen who is prepared to make family, friends and community a priority -- perhaps even by taking a few years off mid-career -- has a lot less stigma attached now.

Michelle Obama has shown people that being COO of the family enterprise is a seat at the top table, and a role worthy of years of toiling at Princeton, at Harvard, in law firms and in the community. That when a parent stays home, it's a choice -- one that will re-emerge as aspirational.

Perhaps it's time for market researchers to rethink the role models we put in front of young men and women. Will the power couple galvanized around one career be the new role model?
E-mail to a friend

All About Michelle Obama