By Thelma Gutierrez and Wayne Drash
CNN






LOS ANGELES, California (CNN) -- Megan Cavallari looks up from her stack of hundreds of faxes and documents, proof of her efforts to try to save her home from foreclosure. She's been on hold for over an hour, trying to get details for a loan modification.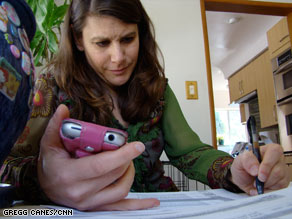 Megan Cavallari said that trying to get through to her bank for a loan modification was a nightmare.
Finally, she's transferred to another line. But she doesn't get a human. Exasperated, she sighs. Once again, it's the "automated lady."
"Every report says the banks are helping, and everything on the radio says they're helping," Cavallari said. "You call and call and call; you're not getting a voice. You're getting a recording."
Cavallari, a music composer who does scores for films, is like hundreds of thousands of Americans going through foreclosure. But she says the process of trying to save her home -- and her $92,000 down payment -- has worn her out. She recently filed for bankruptcy and is moving out of her home with her young daughter.

Watch banks diss homeowners by putting them on hold »
The entire ordeal has been draining, especially trying to reach somebody at the bank. "You call them. After being on the phone with them, they send you to an automated lady. [Then] they send you to a Web site after you've been on the phone for an hour."
No Bias, No Bull
Nothing's off limits when Roland Martin steps in! Watch weeknights at 8 ET on CNN.
8 p.m. ET

Banks and lenders say that they have been overwhelmed with calls and that they're doing all they can to help ease the situation for Americans in distress. Some calls get sent to the homeowners' Hope Now hot line of 1-888-995-HOPE, funded by the lending industry as a resource to provide free counseling and foreclosure prevention help.

See what states are being hammered by foreclosure »
"Servicers are working hard to triage those calls and help borrowers," said Faith Schwartz, Hope Now's executive director. "We are working hard on that capacity issue. There a millions of people who want help, but there are also millions of people who don't need help but might call in on other issues. So I think servicers are dealing with extraordinary call volume."
Nearly 250,000 homeowners received either mortgage modifications or repayment plans from their lenders in February, according to Hope Now. Schwartz added that 3 million more Americans are 60 days past due on their mortgages and need help.
"I always say it's never enough, but do understand there has been a lot done, and I think [banks] are working hard to do a better job of communicating with their customers -- and we're trying to help people do that," she said.

Interactive: How the government is trying to help »
Critics charge that's not good enough when you're dealing with the loss of one's home and ruining a family's credit rating.
Yvonne Mariajimenez, an attorney with the nonprofit Neighborhood Legal Services of Los Angeles County, says she deals every day with clients who have tried to reach their lenders. Sometimes, people hold for 20 minutes; in some cases, the wait is 2½ hours with nothing resolved in the end.
Don't Miss
"Homeowners are calling. They're not getting calls back. The waiting time is ridiculous," she said. "They called 800 numbers that went into a black hole."
Her firm has worked with homeowners and banks to meet in person to try to negotiate modifications. "That has proven to be better, but even so, they're slow in reviewing loans and coming back with modification efforts.
"In the meantime, lenders are continuing to move forward with foreclosure," she said. "Even with thousands of people in foreclosure, we do not have anywhere near the advocates needed in order to deal with these homeowners on a one-to-one basis."
Maria Quesada is a single mother who faces losing her home. When her commissions started drying up in the insurance business, she says, she started calling her bank to work out a modified loan. Half a year later, she's still waiting.
She says it's a frustrating routine trying to reach anyone with the power to modify her loan. The responses, she says, are typically "call back in a week; call back in three days; call back, call back, call back."
"Even if you ask for a supervisor, they just won't let you talk to anybody else," Quesada said.

She's learned that her home is to be auctioned off. There's a lock box on her front door.
"I have to stay strong, but sometimes it's difficult when you're alone," she said.
E-mail to a friend

CNN's Traci Tamura and Gregg Canes contributed to this report.
All About Economic Policy • Job Losses • Job Searching