By Lisa Respers France
CNN





(CNN) -- When Angela D'Arcy and her husband, Daniel, decided that they wanted to pay off debt and set up a budget, they did what seems to come naturally to many people researching a topic they don't know much about.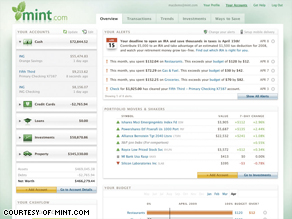 Web sites like Mint.com are attracting young adults trying to get a handle on their personal finances.
They went online.
If ever there was a time when budgeting, saving and keeping track of spending was important, now seems to be it, and Web sites that specialize in such services are attracting more users every day.
People who are trying to get a grip on the new financial realities and who are used to living in a world of social networking and technology are gravitating toward them and chucking those old checkbook ledgers aside.
D'Arcy, 27, and her 28-year-old husband signed up for Mint.com and SmartyPig.com to help set them on the path to fiscal freedom, which includes paying off a student loan and saving for a trip to Spain.
The couple lives in Sacramento, California, and said the recession served as a strong wake-up call to get a better handle on their finances.
Don't Miss
"People are starting to pay more attention to what they are spending their money on, and this is a really easy way to set up all of your accounts so you can really see where all of your money is going," D'Arcy said. "It helps you to better manage it, and it makes it feel less overwhelming."
Mint.com founder and Chief Executive Officer Aaron Patzer said that's just what he had in mind when he started his online money management site.
The 27-year-old CEO said the average person has a great deal of financial information to keep track of, from savings to mortgages, student loans and credit cards.
Patzer said that being able to see how much you are spending can really help users make their dollars stretch.
"It's just illuminating to a lot of people to see on the pie chart that this is what I spent on travel, food or housing expenses," he said. "They can then see where they can cut back just by having an easy way to see their spending."
Patzer said his free site -- which recently hit the million-user milestone -- brings together all of that data in an easy-to-use format that allows for a fuller personal finance picture.
Mint.com also helps save users money by directing them to credit cards that offer lower interest rates, displays investment performance and allows users to compare their portfolio to market benchmarks to learn whether their investment growth is meeting their goals.
Those extra dollars then need a home, and that's where sites like SmartyPig.com come in.
Co-founders Jon Gaskell and Mike Ferrari know how hard it can be to save some dough. The idea germinated when Ferrari opened a college savings account a few years ago after the birth of his son and started considering ways to save for short-term goals.
Users can open an account for free, set a savings goal and then stash that extra cash. The site lets the user know exactly how much he or she needs to save over the allotted time in order to reach his or her goal.
With so much mounting debt among credit card holders, especially young Americans, both Gaskell and Ferrari said, there needs to be more of a focus on saving.
"Two years ago, the average American spent $101 for every $100 they made," Gaskell said. "As of January of this year, they are spending about $95 of that $100 and putting away $5, so what we are seeing is pretty phenomenal in the uptick of customers."
Such customers also crave guidance on what to do with their hard-earned dollars.
Avi Karnani is co-founder of Thrive, a company whose mission is "to provide financial advice to anybody who needs it for free on the Web."
Like some of the other sites, Thrive bundles all of the user's financial data to help formulate a budget.
The site also helps its users analyze their financial information and calculates their financial health, aiding them in predicting their financial stability in the long term.
Young people aren't always finically savvy, Karnani said, and they need sites like his to help educate them as well as lessen some of the stress that comes from dealing with money.
"You might start out at 22, when you graduate college, with the attitude that 'Maybe I don't need to put a ton of attention onto this stuff,' but that's kind of a typical fallacy that many people are realizing is not that case," Karnani said.
"That 22-year-old is eventually going to be 35, and they are going to want to get a house, get married and have a child or any of these big financial life events."
The D'Arcys are focusing on a smaller life event. Since they have been so successful in chiseling way at their debt, they are now looking toward another goal.
"We are using SmartyPig to save up for a trip to Spain for my husband's 30th birthday," Angela D'Arcy said. "We don't always like to get birthday presents or Christmas presents, and the cool thing is that with this site is, you can send the link to your family and friends and say, 'Don't buy me that weird sweater. You can donate some money to this big trip we are going on.' "
D'Arcy will even be able to keep track of financial dealings while she is away. Mint.com has an iPhone application as well as a feature where users can text to receive real-time balances, and SmartyPig recently launched a mobile site.
E-mail to a friend

All About Personal Finance • National Economy